Bear Hunting in Wisconsin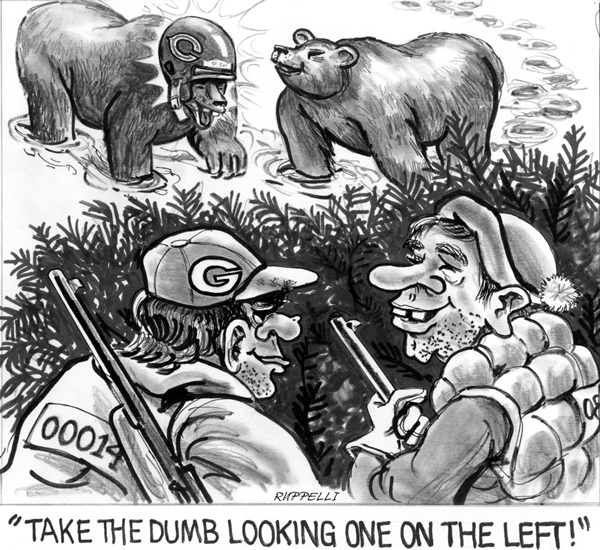 << 1 2 3 4 5 6 7 8 9 10 11 12 13 14 >>
8/21/2012 9:50:00 AM

Hunters and trappers, now that the 2012 waterfowl seasons have been finalized, you can view all hunting and trapping season dates on the DNR website. You can also download a 2012 Wisconsin Hunting and Trapping Seasons factsheet in portable document format [PDF]

8/14/2012 11:00:00 AM

By Mike Foss Good news. My brother David is back home recovering from his injuries. He will take months to get back on his feet but he is doing well. Thank you for all the prayers. This little yearling is trying to figure out how to get at the goodies. Bear baits are very active with more and more pronounced trails leading to and from th...

8/8/2012 3:05:00 PM

Weekly News article published: August 7, 2012 by the Central Office MADISON – As of Tuesday morning, August 7, the Wisconsin Department of Natural Resources has sold 7,286 applications for wolf hunting permits. This included 7,150 that were purchased by Wisconsin residents and 136 purchased by nonresidents. Hunters and trappers interested i...

8/6/2012 10:50:00 AM

By Mike Foss After a long weekend family reunion, good food and yes the 100 screaming kids, Monday found me full of energy and excitement. Finally, peace and quiet. I was once again all alone; just me and my ATV and the smell of bear bait and fresh baked apple pie. Yes, fresh baked. When I fill my bait buckets up the last bait to go in is pie fill...

8/1/2012 10:15:00 AM

July 31, 2012 – MADISON – On the eve of the wolf hunting application period start date, the Wisconsin Hunters Rights Coalition (HRC) today applauded the Wisconsin Department of Natural Resources (DNR) leadership and staff, the Natural Resources Board (NRB), Wolf Management Act authors Representative Scott Suder and Senator Terry Moult...

7/30/2012 5:10:00 PM

7/30/2012 11:20:00 AM

By Mike Foss Had to laugh while baiting. We have a bait station we call Big Red Hill Bait. You have to travel by ATV to get to it. We round the corner and there she is; 150 yards of steep red clay. We push the button for 4-wheel drive, lean forward, white knuckles all the way up the trail. Any passenger with you has to get off and walk the hill, f...

7/26/2012 4:05:00 PM

By Dick Ellis Reader note:"You never know what you'll find in a Mike Foss bear camp. But at least the opportunity for success is as close as a hunter can come to a guarantee. Hunters over many years have achieved a near 100 percent shot opportunity due to the guide's hard work in pre-season. Craig Cichanofsky of Green...

7/25/2012 2:10:00 PM

2012 Bear Regulations Connect with the Bear Pages on the DNR website at: http://dnr.wi.gov/topic/hunt/bear.html

7/25/2012 2:05:00 PM

Harvest goal, number of permits issued, bear kill and percent success, by zone for the 2011 black bear season. Zone Harvest Goal Permits Issued Black Bear Kill Permit Success A 2,200 3,465 1,592 46% B 1,075 1,510 969 64% C 860 2,550 715 28% D 1,100 1,480 975 66% Unkown 6 ...

7/25/2012 2:05:00 PM

By Kevin Wallenfang, Scott Roepke, and Dan Hirchert The 2012 Wisconsin bear hunting season promises to provide excellent hunting opportunities for those pursuing one of the state's most prestigious big-game species. Across the north, bears are abundant! Annually, Wisconsin ranks among the leaders in bear harvest in terms of...

7/25/2012 12:10:00 PM

DATE: July 25, 2012 CONTACT: Scott Loomans - 608-267-2452 http://dnr.wi.gov/news/BreakingNews_Lookup.asp?id=2439 MADISON – Hunters and trappers interested in participating in Wisconsin's inaugural wolf hunting and trapping season must apply for a permit between August 1 and August 31, 2012. The permit application fe...

7/23/2012 12:55:00 PM

By Mike Foss Finally, great weather to put up more stands and bait. While baiting, my mind was searching for the right word I could use to describe the number of bears we have here in northern Bayfield County and the state of Wisconsin. Initially, nothing I came up with seemed to give the roaming population that we are seeing in the field justice....

7/20/2012 9:40:00 AM

DATE: July 17, 2012 CONTACT: Bill Cosh, DNR spokesperson - 608-267-2773 STEVENS POINT -- The Wisconsin Natural Resources Board has approved the 2012 wolf hunt quota, zones and rules for Wisconsin's fall 2012 wolf hunting and trapping season. The emergency rule was approved on a unanimous vote.The Wisconsin Natural Resource...

7/16/2012 11:30:00 AM

By Mike Foss Northern Wisconsin Outfitters welcomed another youth hunter this past week. Mitch Hamm and his youngest son, Peyton Hamm, 12, of Tomahawk, Wisconsin trekked a few hours North to help out. We set this bear hunt adventure up a few months back and decided I would not set up Peyton's tree stand or bear bait station until they arrived. Pey...

7/12/2012 10:15:00 AM

MADISON -- The Wisconsin Department of Natural Resources has released its final proposal for Wisconsin's fall 2012 wolf hunting and trapping season. The Wisconsin Natural Resources Board, the policy-making body for the Department of Natural Resources, will meet at 9 a.m. on July 17 in the Spruce/Sands room at the Holiday Inn Convention Center...

7/12/2012 9:45:00 AM

You are subscribed to the DNR's gray wolf depredation alert. On July 6th, Wildlife Services confirmed that wolves from the Atkins Lake pack killed two Plott hounds on private property in the Town of Crandon, Forest County. Both dogs were 5 years of age - one male and one female. This pack consisted of seven wolves last winter. Hunters and dog tra...

7/10/2012 11:55:00 AM

By Dick Ellis Dear Wisconsin Bear Hunter, Change is easier to see when looking back and the Wisconsin bear population and some season stats are no exception. The following story from August 2008 focuses on bear baiting in Bayfield County in preparation for the Wisconsin season in September. I followed Guide Mike Foss on his daily trek to r...

7/9/2012 3:35:00 PM

By Mike Foss Reader Note: Send questions on bear hunting to professional guide Mike Foss to his contact information concluding this column. Send stories and photos for posting on this website to ellis@onwisconsinoutdoors.com. Baiting early as possible due to the heat. On my first bear bait at 6:30 am and done with baiting by 3:00 pm. ...

7/5/2012 2:35:00 PM

By Mike Foss Scouted on Tuesday, Wednesday I set up 4 new bait stations on private land. Couldn't decide if I wanted to go deep into the property, sometimes its best to let the bears come to you and that's what Ive decided on this piece. I always have to take into consideration that all hunters will not have an ATV to go deep so some b...

6/28/2012 12:10:00 PM

By Dick Ellis This Column by Dick Ellis was originally published in 2002 Dancing in the mud and water of a distant swamp in the Namekagon Barrens near Minong, Max, Judd, Libby and Josie send their best hound-dog harmony to the skies to announce that the black bear is finally treed. Hundreds of yards to the east, Jason Schroeder stops his be...

6/28/2012 11:50:00 AM

Guide Mike Foss carries a bucket of goodies during another summer day spent baiting bears. A 639 pound bear is taken on a September hunt in 2009 with Northern Wisconsin Outfitters after a summer of baiting by Guide Mike Foss.

6/28/2012 11:20:00 AM

By Mike Foss After a long game of cat and mouse with the two Saskatchewan boars unwilling to share the bait, the blond sow Bill Engler had waited for saw an opening and took it. Camera rolling to capture the confrontation and hopefully, the kill, I stood above the bowhunter from Green Bay and felt our tree literally shake; the fever of the moment ...

6/26/2012 10:20:00 AM

By Mike Foss The September Mike Foss bear camp in Washburn, Wisconsin is a place for good food and good stories. On Wisconsin Outdoors' black bear expert Mike Foss operates Northern Wisconsin OutfittersIn Bayfield County. His hunter success rate over a decade as a professional guide is more than 95 percent with a near 100 percent sh...

5/29/2012 11:45:00 AM

May 24, 2012 – MADISON – The Safari Club International (SCI) Chapters of Wisconsin are proud of the recently announced partnership between the Safari Club International Foundation (SCI Foundation) and the Wisconsin Department of Natural Resources (DNR). SCI Foundation representative Jim Hamill presented a $25,000 check to DNR Secretary...