Bear Hunting in Wisconsin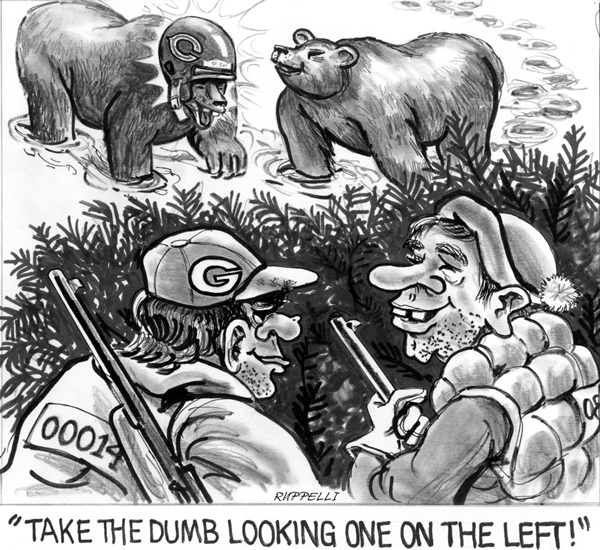 5/22/2013 2:20:00 PM

Free Fun weekend coming June 1 – 2; prepare now to enjoy your ride MADISON – For people thinking of joining the fun on June 1-2 when registration and trail fees for all-terrain vehicles and utility-terrain vehicles are waived in Wisconsin, now is the time they should review safety tips so they can enjoy the trail time. Department of N...

5/20/2013 12:40:00 PM

May 17, 2013 – MADISON – Today the Wisconsin's Hunters Right Coalition (HRC) thanked members of the Joint Finance Committee for their actions regarding stewardship and implementation of the Kroll Report. "Knowing how concerned the legislature is with state debt, Wednesday's actions by the Joint Finance Committee will help...

5/14/2013 11:30:00 AM

May 14, 2013 By: Bureau of Law Enforcement Capsized boat rescue, brazen bird blocks door, perch too plenty, fire probe, dogs and deer among warden cases Kewaunee, Brown, Manitowoc and Oconto counties Warden David Allen of Kewaunee responded to a capsized boat off of Algoma where 4 fishermen were plucked from the icy waters of Lake Michigan. The...

5/7/2013 10:50:00 AM

DATE: May 6, 2013 Contact: David MacFarland, DNR carnivore specialist, 715-365-8917; Bill Cosh, DNR spokesperson, 608-267-2773. MADISON - The 2013 Wisconsin wolf count indicates there are a minimum of 809 to 834 wolves in the state, including 215 packs and 15 lone wolves, according to Department of Natural Resources officials. This count compares...

5/1/2013 1:50:00 PM

May 1, 2013 By: Bureau of Law Enforcement A Wisconsin game organization is offering a $500 reward to the person whose tip to the DNR conservation wardens results in the conviction of the person or persons responsible for a February poaching of a black bear in St. Croix County. DNR wardens were called about a dead bear discovered on February 24. ...

4/17/2013 12:10:00 PM

Animals' parents most often hiding nearby Drive with caution, care during animal rush hours of dusk and dawn MADISON -- With the arrival of spring so, too, will be the arrival of baby wildlife. Well-intentioned animal enthusiasts may mistakenly assume some wildlife babies are abandoned and in need of their help without realizing the babies&...

4/10/2013 2:10:00 PM

MADISON – As the remaining signs of winter melt away and black bears begin to emerge from their dens, homeowners statewide are encouraged to take precautions to reduce the potential for problems with these hungry bruins. Natural food sources are limited at this time of year, and bears are often attracted to bird feeders, garbage cans, grills...

4/10/2013 10:25:00 AM

MADISON -- David MacFarland, who has worked as the wolf, bear and furbearer research scientist for the Wisconsin Department of Natural Resources since 2010, has been named to the position of carnivore staff specialist for DNR Bureau of Wildlife Management. David McFarlandWDNR Photo "David was a valuable member of the wolf season framework...

2/28/2013 10:05:00 AM

MADISON -- The Wisconsin Natural Resources Board has appointed five members to the new Sporting Heritage Council, the first of its kind to advise Gov. Scott Walker, the Natural Resources Board and state legislature on fishing, hunting and trapping issues. The council, established by 2011 Wis. Act 168, will largely focus on recruitment, retention a...

2/14/2013 9:15:00 AM

February 12, 2013 – Today the Wisconsin Hunters Rights Coalition (HRC) applauded portions of a Dane County Judge's ruling on the use of dogs to hunt wolves. Last month, Judge Anderson issued an encouraging oral ruling and has since released his written ruling. In the ruling, Judge Anderson vacated the temporary injunction blocking th...

2/13/2013 5:35:00 PM

Feb. 12, 2013 MADISON -- Department of Natural Resources Secretary Cathy Stepp issued the following statement on Tuesday's filing of a lawsuit against the U.S. Fish and Wildlife Service by The Humane Society of the United States and other groups, to restore federal protections for gray wolves in the western Great Lakes region: When federall...

2/13/2013 5:25:00 PM

Enroll today so you are ready for opening day of all seasons MADISON – More than 40 percent of the Wisconsin Department of Natural Resources Hunter Education courses are held in spring, making this an opportune time for you to enroll to complete the class to ensure you can hunt when you want to hunt. "This truly is the best time to ge...

2/13/2013 4:55:00 PM

EDITOR'S ADVISORY: This news release has been updated with 2013 grant recipients. MADISON – Seven Wisconsin municipalities have been awarded an Urban Wildlife Damage Abatement and Control grant to aid them in development and implementation of long-term management solutions for dealing with problems caused by white-tailed deer or Canada geese...

2/6/2013 10:10:00 AM

MADISON – Hunting continues to account for the largest number of adult white-tailed deer mortalities in Wisconsin, while predation accounts for the highest death of fawns, according to recent results from an ongoing deer mortality study. "Hunter harvest continues to be the greatest cause of death of both adult and yearling bucks,&rdquo...

2/5/2013 11:40:00 AM

Classic case of poachers stealing from public And thanks to teamwork involving the Wisconsin Department of Natural Resources, the Kentucky Department of Fish and Wildlife Resources and the U.S. Fish and Wildlife Service, the long-running case of illegal trafficking of black bears in Wisconsin northwoods is over. Last week, U.S. Attorney James L. ...

1/24/2013 1:55:00 PM

January 23, 2013 Contact(s): Kevin Wallenfang – 608-261-7589 MADISON – The state Natural Resources Board today approved the Department of Natural Resources' recommendation to offer just over 8,500 bear harvest permits for the 2013 Wisconsin black bear season. "We will issue 8,560 permits for the upcoming season with a har...

12/21/2012 11:55:00 AM

Denny Murawska Not for the faint of heart The nights are long and every day cold penetrates to the bone. Still, cabin fever in the north is a very real thing. This is why we must get out and seize the moment whenever possible. For some, it is cross country skiing. For the nostalgic, perhaps snowshoeing is a good option. Of course, ice fishing, hi...

11/6/2012 2:55:00 PM

By Mike Foss The Rut Begins Trail cam activity is picking up. While venturing down dirt fire roads out in the Chequamegon National Forest the deer trails crossing the roads are more defined with tracks all over. Strong evidence that the rut and chasing has begun. A nice buck I am hunting shows himself early on a scrape line. The on...

10/26/2012 1:55:00 PM

Mike Yurk Tales to warm you As I write this article, western Wisconsin, where I live, is having the first blizzard of the season. It is early fall and this snow is completely unexpected, but it does tell us that winter is not far behind. There will be a lot more blizzards and freezing temperatures coming our way that will keep us indoors this wi...

10/26/2012 12:45:00 PM

The DNR has received a notice of tree stand recalls and with some groups buying their own hang-on tree stands we need to make sure you are aware of these two brands having problems. The WI hunter Education program does not believe it has ever bought these models.Click links below for details: Rivers' Edge brand manufactured in Cumberland an...

10/26/2012 12:00:00 PM

By Mike Foss Once again the weather was not cooperating with me this week. I was only able to set up one more deer stand and also checked trail cameras. Less bear activity and more deer movement mostly at night. The Rut is getting closer, and bigger bucks are on the move. This 3-1/2 year old 8-pointer was captured on trail cam...

10/26/2012 11:40:00 AM

You are subscribed to Wolf Harvest for Wisconsin Department of Natural Resources. This information has recently been updated, and is now available. As of 10/26/2012 at 8:30 am, 29 wolves have been harvested in Wisconsin. Wolf harvest bulletins will be sent every Friday. For daily updates of the harvest, please visit our website: http:...

10/18/2012 11:45:00 AM

By Mike Foss Not an exciting week due to the rain. Did manage to set another archery/muzzle loader deer stand but it's not totally finished yet. Bears, bears, bears. I just can't get away from them, no matter where I place my trail cameras. Regardless if I'm setting up over trails, scrapes, food plots whatever…...

10/11/2012 3:45:00 PM

By Mike Foss The 2012 bear season is in the books; the last day for bait sitters was September 10. I finally took down the outfitter tents, sealed all bait barrels, secured them outside so no critters could get at them, cleaned the garage, and took inventory of all stands and equipment. I still have a nuisance bear tag I am working on and wo...

10/11/2012 10:30:00 AM

By: Bureau of Law Enforcement 2011 Act 252 expands the types of weapons that may be used under the authority of the regular (gun) deer, elk, spring and fall wild turkey, small game, and Class A bear hunting licenses, to include the use of a crossbow, and in the case of the regular (gun) deer license, the authority to use a bow and arrow. It is no ...