Bear Hunting in Wisconsin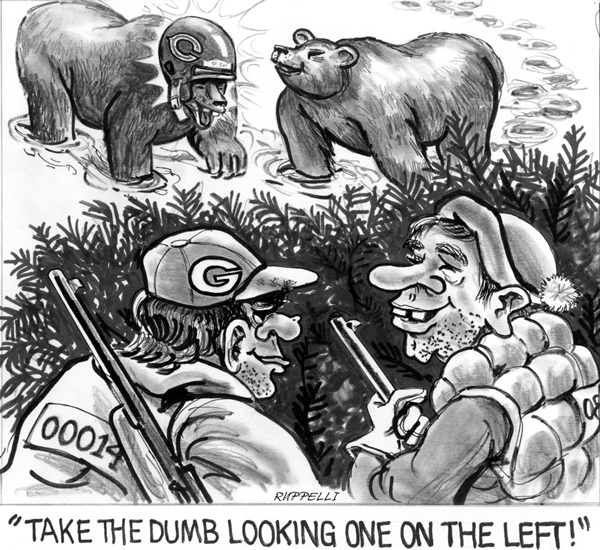 << 1 2 3 4 5 6 7 8 9 10 11 12 13 14 >>
2/13/2013 5:25:00 PM

Enroll today so you are ready for opening day of all seasons MADISON – More than 40 percent of the Wisconsin Department of Natural Resources Hunter Education courses are held in spring, making this an opportune time for you to enroll to complete the class to ensure you can hunt when you want to hunt. "This truly is the best time to ge...

2/13/2013 4:55:00 PM

EDITOR'S ADVISORY: This news release has been updated with 2013 grant recipients. MADISON – Seven Wisconsin municipalities have been awarded an Urban Wildlife Damage Abatement and Control grant to aid them in development and implementation of long-term management solutions for dealing with problems caused by white-tailed deer or Canada geese...

2/6/2013 10:10:00 AM

MADISON – Hunting continues to account for the largest number of adult white-tailed deer mortalities in Wisconsin, while predation accounts for the highest death of fawns, according to recent results from an ongoing deer mortality study. "Hunter harvest continues to be the greatest cause of death of both adult and yearling bucks,&rdquo...

2/5/2013 11:40:00 AM

Classic case of poachers stealing from public And thanks to teamwork involving the Wisconsin Department of Natural Resources, the Kentucky Department of Fish and Wildlife Resources and the U.S. Fish and Wildlife Service, the long-running case of illegal trafficking of black bears in Wisconsin northwoods is over. Last week, U.S. Attorney James L. ...

1/24/2013 1:55:00 PM

January 23, 2013 Contact(s): Kevin Wallenfang – 608-261-7589 MADISON – The state Natural Resources Board today approved the Department of Natural Resources' recommendation to offer just over 8,500 bear harvest permits for the 2013 Wisconsin black bear season. "We will issue 8,560 permits for the upcoming season with a har...

12/21/2012 11:55:00 AM

Denny Murawska Not for the faint of heart The nights are long and every day cold penetrates to the bone. Still, cabin fever in the north is a very real thing. This is why we must get out and seize the moment whenever possible. For some, it is cross country skiing. For the nostalgic, perhaps snowshoeing is a good option. Of course, ice fishing, hi...

11/6/2012 2:55:00 PM

By Mike Foss The Rut Begins Trail cam activity is picking up. While venturing down dirt fire roads out in the Chequamegon National Forest the deer trails crossing the roads are more defined with tracks all over. Strong evidence that the rut and chasing has begun. A nice buck I am hunting shows himself early on a scrape line. The on...

10/26/2012 1:55:00 PM

Mike Yurk Tales to warm you As I write this article, western Wisconsin, where I live, is having the first blizzard of the season. It is early fall and this snow is completely unexpected, but it does tell us that winter is not far behind. There will be a lot more blizzards and freezing temperatures coming our way that will keep us indoors this wi...

10/26/2012 12:45:00 PM

The DNR has received a notice of tree stand recalls and with some groups buying their own hang-on tree stands we need to make sure you are aware of these two brands having problems. The WI hunter Education program does not believe it has ever bought these models.Click links below for details: Rivers' Edge brand manufactured in Cumberland an...

10/26/2012 12:00:00 PM

By Mike Foss Once again the weather was not cooperating with me this week. I was only able to set up one more deer stand and also checked trail cameras. Less bear activity and more deer movement mostly at night. The Rut is getting closer, and bigger bucks are on the move. This 3-1/2 year old 8-pointer was captured on trail cam...

10/26/2012 11:40:00 AM

You are subscribed to Wolf Harvest for Wisconsin Department of Natural Resources. This information has recently been updated, and is now available. As of 10/26/2012 at 8:30 am, 29 wolves have been harvested in Wisconsin. Wolf harvest bulletins will be sent every Friday. For daily updates of the harvest, please visit our website: http:...

10/18/2012 11:45:00 AM

By Mike Foss Not an exciting week due to the rain. Did manage to set another archery/muzzle loader deer stand but it's not totally finished yet. Bears, bears, bears. I just can't get away from them, no matter where I place my trail cameras. Regardless if I'm setting up over trails, scrapes, food plots whatever…...

10/11/2012 3:45:00 PM

By Mike Foss The 2012 bear season is in the books; the last day for bait sitters was September 10. I finally took down the outfitter tents, sealed all bait barrels, secured them outside so no critters could get at them, cleaned the garage, and took inventory of all stands and equipment. I still have a nuisance bear tag I am working on and wo...

10/11/2012 10:30:00 AM

By: Bureau of Law Enforcement 2011 Act 252 expands the types of weapons that may be used under the authority of the regular (gun) deer, elk, spring and fall wild turkey, small game, and Class A bear hunting licenses, to include the use of a crossbow, and in the case of the regular (gun) deer license, the authority to use a bow and arrow. It is no ...

9/28/2012 12:15:00 PM

By Mike Foss With a few bear bait stations still getting pounded 12 year old Payton Hamm from Tomahawk WI once again traveled to NWO with his Father Mitch to try his luck. I put him on a bait where I knew there was some daytime activity and sure enough, around 4:30 PM we got the call. The smile on his face said it all. I am ...

9/21/2012 12:20:00 PM

Thanks to Darwin Zwieg for sharing his trail cam photos from Clark County with On Wisconsin Outdoors.

9/21/2012 11:50:00 AM

EDITOR'S ADVISORY: This news release has been updated to indicate that people who applied for a wolf license can check on their application status through the DNR Online Licensing Center. The list of successful applicants is not available on the DNR website. MADISON – Successful applicants for Wisconsin's 2012 inaugural wolf hunting an...

9/21/2012 11:05:00 AM

By Mike FossNorthern Wisconsin Outfitters Sorry I have not been keeping up with the weekly update. I have been in the field with our bear hunters and am exhausted and working hard. The bear season is winding down with most hunters already successful. The task now is to take down some stands down and leave some active stands going. I...

9/17/2012 12:10:00 PM

First and foremost it is important for the 1,160 successful wolf license applicants to know that Wisconsin's first modern day wolf season will continue. The judge's injunction on the use of dogs still stands. We will continue to work on that issue and try to find a resolution prior to the end of November when the use of dogs for hunti...

9/11/2012 1:20:00 PM

By Dick Ellis "Photos by Dick Ellis" The weight of the moment and a nasty "bear" fever fell over 12 year old Jarrett Bolssen as the mammoth boar slipped slowly from the shadows and nearer the bait. Hunter confidence that builds with preparing properly for a hunt can melt away quickly at the moment of truth. A readine...

9/11/2012 10:20:00 AM

Bill Cosh - DNR Spokesman, 608-267-2773 MADISON – On Friday, August 31 Judge Peter C. Anderson issued a temporary injunction involving the use of dogs for tracking and trailing of wolves AND for the use of dogs for training to track or trail free ranging wolves. As part of his order, Judge Anderson ordered the DNR to make reasonable...

9/11/2012 9:40:00 AM

Eric Pacey of Wausau, who shared with OWO last week some of the photos captured on trail camera as he baited Iron County in preparation of the bear hunt with his brother, Jason, shares with us now the results of that labor. The Pacey brothers arrived at the family cabin neat Mercer last Sunday night and fished on Monday and Tuesday. On Tuesday, th...

9/10/2012 11:25:00 AM

News Release Published: September 7, 2012 Contact(s): Bill Cosh, DNR Spokesman, 608-267-2773; Tom Hauge, Director DNR Bureau of Wildlife Management - 608-266-2193; Bill VanderZouwen - DNR Wildlife Management, 608-266-8840 or Frank Trcka, DNR Wildlife Managment, 608-267-7472 MADISON -– The 2012 Fall Hunting and Trapping Forecast [PDF, 7.1 MB...

9/5/2012 11:05:00 AM

CPSC, RIVERS EDGE® TREESTANDS, INC. ANNOUNCE RECALL TO REPLACE PART OF TREESTANDS THAT PRESENT A SERIOUS SAFETY RISK Click here for Recall Treestand pdf

9/5/2012 10:40:00 AM

CONTACT: Bill Cosh, agency spokesperson (608) 267-2773 http://dnr.wi.gov/news/BreakingNews_Lookup.asp?id=2494 MADISON – This afternoon Dane County Circuit Judge Peter C. Anderson issued a partial injunction involving the use of dogs for Wisconsin's wolf season. Judge Anderson's partial injunction makes it clear that Wiscon...