BEARS, DEER, MONSTER CARP AND FLATHEAD KITTIES
7-12-2012
First, because he deserves it, we're going to say a sad goodbye to Charlie Brisky of Berlin this week. Charlie, a talented decoy carver and Sawbill Duck Club member, died unexpectedly in May. I heard about it recently.
"Most Wisconsin duck hunters have their standard 60-day season and that's it," said his friend and hunting partner Roger Ludwig, who annually coordinates the Decoy & Sporting Collectibles Show in Oshkosh. "Charlie hunted for 60 days and after that, he'd start carving decoys and planning for the next season. In 55 years that I've been duck hunting he is probably the most devoted hunter I've ever met"
I had the unique pleasure of hunting over Charlie's decoys with the Roger Ludwig group last November on Lake Winnebago, and wrote a column on the experience that we're posting on this website under "Waterfowl Hunting". In a nutshell, Charlie knew how to mislead ducks. Charlie had sent me a carved bluebill, a work of art, after the column appeared in print as a thank you. Thank you Charlie. The decoy will forever have a home on my office book shelf.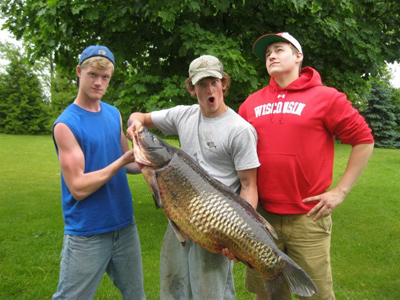 We've posted a tremendous amount of material from Wisconsin's outdoors this week; photos, columns, stories, reports, news. When I heard about a state record carp being shot by three young desperados from Campbellsport, I contacted archer Zack Seitz, who wrote a high-quality story for you and also sent an awesome photo of the monster. Link to that under "Inland Fishing" and "Archery and Bowhunting".
Mike Foss is heavy into his baiting responsibilities in Bayfield County as we look to the September bear season. If you haven't tapped in already, expect his weekly "Diary of a Wisconsin Bear Guide" under "Bear Hunting". Mike and I talk several times a week. This is an example of what you'll read, in addition to our photos and bear stories that we also post regularly: "One of our guys, Wayne Westling approached a bait station with a bucket of sweets and there was a huge bear we think was at least 500 pounds on the bait that wasn't moving," Foss said. "The standoff continued for five minutes. Wayne blew off one of those fog horns he carries three times like they use on boats and ships. The bear wasn't moving. Wayne said, 'I think I'll bait this station later' and backed out of there."
If you want to know a writer's perspective of bear baiting in Superior country, connect to my column under "Bear Hunting" too. Often in the pre-season and always during the season, I tag along with Foss as he maintains the baits and then takes care of his hunters. 22 hunters by the way, for the upcoming 2012 hunt. You know what I never find too fun? Following Mike following a bear after a hit that the hunter is unsure of. By law, Foss can carry bear spray but no firearm even in the black of night when trying to recover a bear. I understand safety factors and poaching factors but I don't get that one. I'm going to have some questions for my warden friends in the near future.
The final report from Dr. James Kroll on the Wisconsin deer herd and state management of the herd was posted minutes after it arrived under "Deer Hunting". Read a summary or the entire report, with initial responses also posted from DNR Secretary Cathy Stepp and DNR Division Administrator Lands Kurt Thiede. Because it all ties in, look also for as much as we can post on Wisconsin wolves under "Deer Hunting" "Bear Hunting" and "Outdoor News", including information regarding the July 17 public meeting in Stevens Point on the upcoming Wolf hunt, and information on the two hounds killed by a pack recently in Forest County.
Like each week, entertaining field stories from quality outdoor journalists Darrell Pendergrass and John Luthens can be found under "Flyfishing" and "Inland Fishing". Darrell waits out a hex hatch that may or may not come despite an army of mosquitos because if the hatch does come there will be fish to catch. Luthens basically loses himself on the many branches of the Oconto River and tells you how to get lost yourself.
All of our great guides and writers from throughout Wisconsin are back this week as usual, telling you what's working where from Ashland to Lake Geneva. Click on "Inland Fishing" or "Fishing Reports". Check out "Explore Wisconsin" too. We have tourism partners in 40 counties that will help you plan your trips. Click on your county of interest and link to websites that will help your travel planning.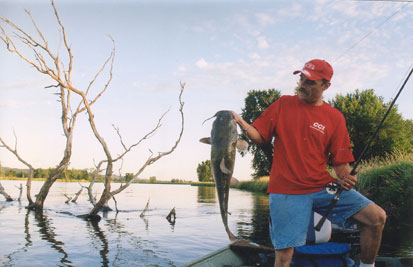 Also, when you read "Dick's Trips" posted each week, make sure to check out the conclusion of the column when planning the trip yourself because we include the guide's contact information and the contact information for the travel people from the area where the story was born. This week, we take you on a successful late July flathead cat hunt on Mississippi River Pool 8 near Lacrosse with cat expert Ron Gehrke. The Lacrosse Area Convention & Visitors Bureau and Director of Tourism Michelle Hoch are ready to make it easy for you. I guarantee this: There's much more to chase in the waters around Lacrosse than big Kitties and the wildlife and the Wisconsin scenery is unsurpassed.
"Outdoor News" and "Firearms" are also places you want to visit regularly. The DNR, waterfowl organizations, National Shooting Sports Foundation, and local hunter safety organizations are just a few of the many outdoor based groups asking us to post their material. We will, and for your organization too. Also under "Firearms" or "Outdoor News" don't forget to click on information for the 22nd Shoot for a Cure at the Hartford Conservancy and Gun Club August 25 and 26.
Finally, thanks for your support and visits to On Wisconsin Outdoors. . If you have not picked up the July-August print issue available at 700 Wisconsin businesses, you can read the whole thing on line on our "homepage". Like we did by introducing the bear hunting pages a month ago, On Wisconsin Outdoors will continue to expand page by page until we have this entire Monster website actively engaged every week. A few months ago, if you googled "Wisconsin Hunting", we were nowhere to be found. Today, we're on page one. With a lot of hard work and commitment to excellence in the field, in the future we hope to earn your trust as the one stop outdoor shop for news and quality writing entertainment
Thanks again. See you next week.
Dick Ellis