Schwacking to a Record Huge Carp Falls to Bowfishing Trio
By Zack Seitz, Nic Gerhartz and Matt Nelson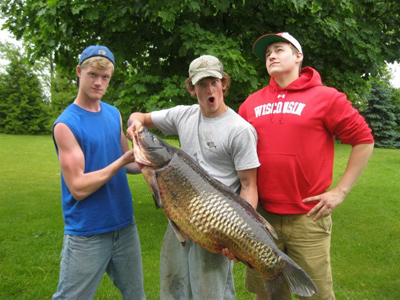 The Schwackers…Matt Nelson, Zack Seitz and Nic Gerhartz.
Bowfishing (or, as we call it, schwacking) has been one of my favorite pastimes for several years. I started about 3 years ago when my friends Nic Gerhartz and Matt Nelson introduced me to it. After shooting my first few carp, I was hooked. Nic, Matt, and I, aka "Team Schwack N' Stack", eventually saved up enough money to rig up a 14 foot rowboat with 3 halogen lights and a small generator so we could start going out at night. Last year was our first year going at night on our rig and we were very successful, at times shooting over 400lbs of carp in a night. We had landed a few fish that weighed in the upper 30's, and this year we were hoping to break the 40lb mark. Needless to say, I was very excited to start shooting again this year. We got off to a good start this spring, even shooting over 500lbs of carp in one night, but we weren't expecting what our next expedition would hold.
My friends and I planned to go out on a Friday night, and even though the weather looked quite iffy we decided to give it a try. Matt started out in front of the boat, I stood behind him, and Nic was on the oars. After a while Matt pulled back on a small carp, about 10lbs, and tried to shoot but as he pulled the trigger the arrow came unlodged from the string and he ended up dry firing the bow.
We decided to rotate positions anyway, so Matt took the oars and I stood up in the front of the boat, with Nic behind me on the shooting deck. Matt rowed for a short distance, maybe 15-20 yards, and then I saw two carp swim out from the darkness and into the light that our three 300 watt halogen lights emit. I quickly drew my bow back and took aim, but then a golden glow in my peripheral vision caught my attention. I glanced at the shape and instantly realized it was one of the biggest carp I had ever seen. Even though this fish was a couple yards further than the two underneath me I decided to take a shot at it anyway. I instinctively took aim and let the string slip from my fingers as the carp was swimming straight away. The arrow entered the fish near the dorsal fin, penetrating deep into the center of its body.
My line started tearing from my AMS retriever reel and I knew I had hit it. Hitting a fish is only half of the battle though; I then faced the task of getting this beast of a fish into the boat. As I was dealing with my carp, Nic pulled back and shot one of the two that I had aimed at originally. My fish fought for 5-10 minutes, which is a pretty long fight for an arrowed carp. I got it up to the boat multiple times but it kept making runs and I couldn't hold the fish close for a long enough period of time to get it gaffed solidly. After a few minutes of this I was finally able to hold it at the surface long enough to gaff it just behind the head. It was too heavy to lift up using only the gaff so Matt took the gaff while I grabbed the fish by its gill plates, and Nic pulled up on the arrow. The three of us dragged the carp up on the deck. I started freaking out a bit when I saw it, and I even said that it might be the state record but we thought there was no way that we were that lucky. Shortly after we boated the fish it started to rain and we started to see lightning, so we decided to call it a night.
The next morning I put the fish on my bathroom scale, and when it read 60lbs I started to realize how big the fish actually was. I then proceeded to take it to Loehr's Meat Market in Campbellsport where it was weighed on a certified scale. We set the fish on and the scale read 59lbs on the dot. I couldn't believe it! This fish would break the previous bowfishing record by 7lbs and the previous rod and reel record by 2. As I left Loehrs I stopped in their shop and bought some of their amazing venison sticks to chew on while I thought about what had transpired in the last 12 hours. My friends and I had just shot the biggest recorded common carp in the history of Wisconsin. All I had to do after that was get the fish verified by a Wisconsin DNR biologist. In this case Travis Motl was the man for the job. I took the fish up to his office and he verified that it was indeed a common carp and that it had no foreign objects inside of it that would add extra weight. He signed off on the application sheet and sent it in. Now all I have to do is wait for the DNR's acceptance letter