Crappie Fishing is Best in Lifetime
10-4-2012
Certain things make an outdoor writer take notice, not the least of which is news of hot fishing coming over the On Wisconsin Outdoors wire. That's newspaper talk. I don't really have a wire. Okay so it's e-mail. I still don't know how to twitter and it takes me an hour to "text" a sentence. Am I off track already?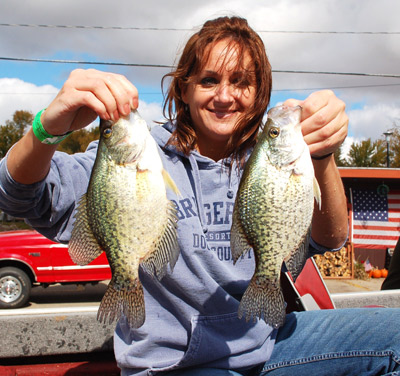 The headline came over from expert angler and Great American John Faucher, owner of Johnny's Little Shop of Bait in New London. The crappie fishing is the best in a lifetime on the Wolf River from the New London Area to Lake Poygan. That's a 40 miles stretch. Connect with "Inland Fishing" or "Fishing Reports" to read Faucher's initial notes and see his photos, but I couldn't let him get away with just that. So I called to ask John what a novice angler with some kids needs to know to get in on this unprecedented action. He gave me the whole scoop (That's newspaper talk. Ice cream talk too).
"The fish are here thick," Faucher said. "The crappies are literally on every tree from here in New London to Lake Poygan. You can find just one log and it's good stuff."
"First, we have low-water conditions. The river is plenty navigable but keep your motor trimmed up at the landing. I shouldn't even mention it because it's no big deal but just be aware of it. Then just find timber. There's lots of it. We've had lots of storms. There's new trees down and timber in the water from a big storm we had in 2009. The longer it's been in the water the more productive it is. The crappies don't like leaves from new timber."
According to Faucher, huge schools of minnows are in the river holding the crappies and other predator fish including walleye and whitebass. The gamefish are getting below and behind these baitfish and corralling their meal. The observant angler, he said, will be able to actually see the minnow activity.
"It's made the river come to life," he said. "Smallmouth bass and cats are feeding too."
Faucher's suggestions for rigging the rods for the kids to target the crappies is easy, but also somewhat surprising. Because of the stained water and high probability of snagging in the timber, use 8-pound test with a split shot and wire hooks in silver or bronze.
"When you get snagged you can just pull it out with that good strong line and rebend the hook," he said. "You'll have far less down time. We have shiners but most people are using the smaller fathead crappie minnows. Some people who don't like using split shots are using 1/16th or 1/32nd ounce crappie jigs. But they're doing just as good on plain hooks."
A side note. Outdoor writer and knowledgeable fisherman Gordy Pagel who works the Wolf religiously heard the rumors too. With 30 minutes to kill he put in, pulled up to the nearest brush pile and found fishing exactly as Faucher said he would. So…what are you waiting for? The only thing that's going to turn this off is if I take a spin up to the Wolf from New Berlin.
Speaking of fishing, connect with "Inland Fishing" or "Fishing Reports". We have new reports and photos posted from our experts on the Turtle Flambeau, Minocqua, Hayward, Ashland, Price County, The Wisconsin River and lakes in the Wausau area, Lake Geneva, Delavan with more scheduled to arrive (over the wire) soon.
The Department of Natural Resources Root River Steelhead Facility will be hosting its 4th public open house of the facility on Saturday October 13thin Racine, WI. The open house will showcase the facilities operations and promote Lake Michigan fishing opportunities. The open house will include guided tours, interactive demonstrations of fish spawning, fish and fishing information stations and hands on fishing rod casting lessons. In addition, knot tying, fly tying, hourly seminars focused on tips and techniques for getting started in Lake Michigan salmon and trout fishing will be highlighted during the event. A fishing boat used on Lake Michigan for trout and salmon fishing will be on display to give novice anglers the opportunity to ask questions from the experts. Get the details under "Inland Fishing" or "Fishing Reports".
OWO columnist John Luthens remembers a final goodbye to his father last September on a Lake Superior stream. If you have said that unwelcome goodbye yourself, you probably want to read it. Something about the spirit of a good father, or, respectfully, the memory of a good dog, that brings out some of the best writing from my friends who scribble for a living. Connect with "Inland Fishing" or "Flyfishing".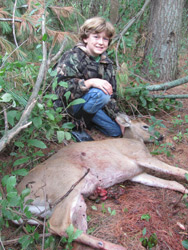 The spirit of deer hunting is also rekindled with a letter from Peter Werner of Plover who shares with us a poem penned years ago by the late George H. Heuer, superintendent for schools for Weyerhaeuser. Read "Palace in the Popple" and the introduction by Werner posted under "Deer Hunting". While you're there, Wausau hunter Jeff Kahlow shares some thoughts and photos of his son, Andrew's two archery tagged deer taken the during his first hunt; we also post a DNR release with deer numbers recorded as part of Operation Deer Watch, and a warden news item letting hunters know that tagged and collared deer may be legally harvested. Researchers are looking for your help.
Under "Firearms" we are pleased to introduce a new weekly column on Concealed Carry, "Everyday Carry" by Robb Manning. Upon getting out of the Marines in late 2000, Robb worked as a contractor for a brief stint at US Special Operations Command, before moving back to Wisconsin. He attended UW-Milwaukee where he majored in Political Science, took numerous English, journalism and writing classes, and served for two years as the Editorial Editor at the UWM Post newspaper. He graduated in 2006, with a Bachelor's Degree in Political Science. Robb has been a gun/hunting writer since 2010 and also enjoys filming videos about guns and gear for his Youtube channel, 762x51n8o.
Please check in with "Outdoor News" often. We post material daily or nearly so and you never know where it's coming from. Six young whooping cranes, for example, began their ultralight-led migration Friday from the White River Marsh State Wildlife Area in Green Lake County, Wis. This is the 12th group of birds to take part in a project led by the Whooping Crane Eastern Partnership (WCEP), an international coalition of public and private groups that is reintroducing this highly imperiled species in eastern North America, part of its historic range. Read the whole story.
Check with "Bear Hunting" for more Mike Foss client success photos and some of Mike's thoughts in "Diary of a Wisconsin Bear Guide". It's a different kind of "Dick's Trips" this week. We traveled in 2006 to the southwest part of the state for a fall turkey hunt, and ended up there and in Rock County getting a delicious lesson in autumn wild mushroom hunting. That is so good with maybe wild duck, turkey or venison. Check it out.
Thanks too, for checking us out online and in print at 700 Wisconsin locations. 50,000 copies of our November-December issue will be on the stands the last week in October.
Shoot straight.
Dick Ellis