Deer, Feral Pigs and Goose Assassins
10-26-2012
By Dick Ellis
The November-December issue of On Wisconsin Outdoors is posted on our homepage. Check it out. We have numerous deer stories with bear, waterfowl and pheasant hunting columns and great photos also grabbing the spotlight. Our fall fishing focus in print includes live-rigging for musky, walleye and sauger in the rivers and inland lakes, Milwaukee harbor heavyweight fights through winter, and much more. Tomorrow, October 27, 50,000 printed copies of OWO will be distributed to 700 locations. Pick one up, and please remember to take a close look at our advertisers and sponsors, many brand new, who allow you to do that at no cost.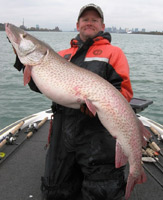 The problem with the paper is we have too many excellent stories to all be included. But, you can read just posted columns like Joel DeBoer's tactics and tips on vertical jigging for monster fall muskies or Mike Yurk's recommendations for winter outdoor reading online right here at www.onwisconsinoutdoors.com. How about photos and reports from the Turtle Flambeau, Wisconsin River, Richland Center, Price County, Ashland, Chippewa Flowage, Vilas County, Lake Geneva, Delavan Lake and more? Connect with "Inland Fishing" or "Fishing Reports" but explore the rest of our pages too to make sure you're not missing any new weekly postings. We're expanding.
We announced the upcoming "On the Trapline with Arnie Groehler" recently under "Trapping" as a weekly online column for "On Wisconsin Outdoors". The column begins with the new trapping season. Arnold already surprised me as we discussed trapping and the Wisconsin wolf season. The wolf is generally thought of as animal that makes its home in northern Wisconsin. Groehler, though, saw a black wolf in Horicon Marsh earlier this year, a sighting that was confirmed (although Arnold knows what a wolf looks like) last week when another visitor reported a close-up encounter with a black wolf and took photos of the track. By coincidence, under "Outdoor News" we also post a new Warden Wire entitled "Wolf or Coyote".
A couple days after talking to Arnie I needed to call him back and ask a "field" question. Across the road from my office, I watched a redtailed hawk on a goose carcass. I walked over, kicking the hawk off the goose that was picked virtually clean, and saw three other carcasses in exactly the same state of slaughter with the murder scenes all marked by a wake of feathers marking the path of impact to death. The owner of the property told me that seven geese had been killed in like manner in two nights and that he had apparently scared the predator off another goose that was missing only its head when he walked to the back of his property in the black of night.

"Can a hawk be a goose predator," I asked Arnold. "Or was this hawk a scavenger after the kill was made and what really killed the bird?" Go to "Waterfowl" to view the kill scenes. Am I sick or what?
Arnold guessed at first that the predator is a Great Horned owl, because his wife had lost all their domestic ducks to a Great Horned Owl last year at their home near Oconomowoc, Wisconsin. But when told that the predator had taken only a head before being chased from the last carcass, Arnold changed his initial guess to raccoon. And yes, he said to my question, a coon can be plenty fast enough to catch a goose when motivated and these kills are all nocturnal.
Back to the wolf and the wolf hunt. OWO columnist John Luthens confirms 16 wolves tagged after a week of hunting in a column we post under "Trapping" and "Deer Hunting". Make sure you check out the photo taken by Luthens in an abandoned hunting cabin near Lake Superior with a quote by Aldo Leopold on the wolf from 1949. Since we posted that column a day or two ago the DNR has increased the harvest total to date to 22 wolves, half by trappers. See the state report under "Outdoor News" or "Trapping".
Also under "Deer Hunting", good friend and Conservation Congress delegate Todd Cook sends us a stark reminder that we can't be too careful in the field. Todd had a treestand accident and sends us not only a report of exactly what happened, but four graphic photos that will literally make you watch your "step". Ouch. Also under "Outdoor News" and "Deer Hunting", we've posted a DNR notice regarding treestand recalls by a Wisconsin based company and an out-of-state company. The products have failed a few times recently leading to hunter injury. Check it out to make sure you or someone you know does not own one of the treestands. Also under "Outdoor News" and "Deer Hunting" check out the DNR information sent to us on hunting Wisconsin's feral pig during the 9-day deer season.
Scott Heitman and I tried the wood duck hunting in the northern unit of Kettle Moraine like we always do, but unlike past seasons, on this day we didn't see a bird. Connect with "Waterfowl Hunting" to see the photos. The trip to beautiful moraine country is never a waste, and also allowed us to check out some of the public land we will be bowhunting in upcoming weeks into the rut. I cut my teeth bowhunting here, and have clear but distant memories of bucks and does tagged and close encounters with monster bucks…not tagged.
We'll also be bowhunting our traditional haunts in Vilas County for bucks only. With this once-prime country producing few deer over the last decade and now making a slow but noticeable comeback, no one is in a hurry to tag a deer. In fact, two years before bucks-only was mandated by the DNR, this cabin of hunters who remembered the good hunting began regulating our own harvest and refused to shoot does. Lots of bears and wolves in Vilas still here to prey on fawns but at least no more antlerless only seasons. I also received a very welcome invitation from a former high school coach to join him on several hundred acres of QDM property during the rut. So I will be in the Eau Claire area and hopefully reporting whether my trophy comes via the bow or camera. Finally I will be in Iron County at my brother Steve's cabin also chasing deer. Ain't the whitetail rut like Christmas?
Find "Diary of a Wisconsin Bear Guide" under "Bear Hunting" and "Deer Hunting". This week Mike Foss turns his focus to the latter, and talks a bit about antler growth with a couple photos of the same Bayfield County buck from 2011 and 2012.
Have you checked out our weekly OWO column yet by firearms expert Robb Manning? You should. I know I am in preparation of applying for a concealed carry permit, although I doubt if I'll carry in public. It's more for exercising my right. This week under "Firearms" Robb brings us part 2 of "Choosing the right caliber for Concealed Carry". If you haven't seen the first column or two Manning has already written for OWO, you can always scroll back and get caught up. It's worth it, photos and all.
We post a weekly "Dick's Trips" to recapture the journeys I have written about over 25 years as syndicated outdoor columnist, mainly to give you some ideas at the same time of year for a trip of your own. This week under "Waterfowl" we post a duck hunting trip to Pool 9 of the Mississippi River in search of the canvasback with super-guide Todd Lensing. The column includes a lot of facts on the king of ducks and Lensing is still out there guiding and operating a motel with his gracious wife, Donna. You'll have to get on the line early to secure a date for 2013…if he's open at all.
Thanks for connecting with On Wisconsin Outdoors. We appreciate it. Vote freedom first, government intrusion last. As Americans, nothing else comes close in importance.
Shoot straight. And don't forget your sturgeon spearing application is due by October 31.
Dick Ellis