Bob Ellis Row Trolling Classic in the Books - DeerFest This Weekend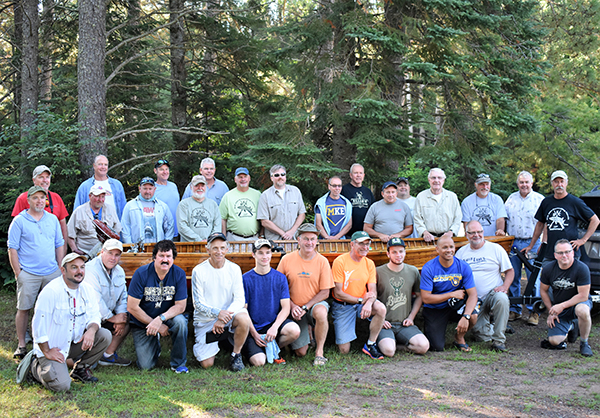 Approximately 40 row trollers gathered at the Skyview Lodge in Presque Isle prior to participating in the BEC.
The 15th Annual Bob Ellis Row Trolling Classic (BEC) held July 14th on lakes surrounding Presque Isle in northern Wisconsin drew approximately 40 rowers to a tournament that boasts no entry fee, no prize money, mandatory catch and release…and a ton of fun. We'd back that with a money back guarantee, but like we said, there is no money. Approximately 40 rowers "took the bait" this year, despite hot, humid, still conditions that made fishing especially tough.
Participants met for breakfast at Skyview Lodge in Presque Isle to view row trollers of numerous designs, and gathered to remember one of Wisconsin's best known musky anglers who is enshrined forever in the National Freshwater Fishing Hall of Fame in Hayward. Bob Ellis, who would have celebrated his 100th birthday in June, was a pioneer in rowtrolling credited for first using baitfish as deep water "structure", keeping his homemade lures among schools of cisco and perch to target the large, suspended predators waiting in ambush.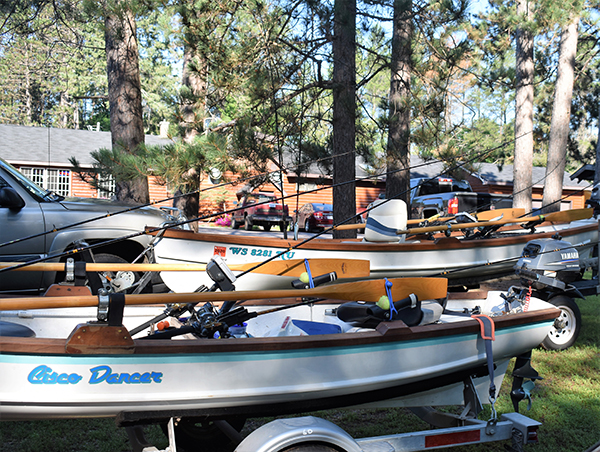 Part of the fun of the BEC is checking out the boats set up for row trolling by their owners to meet their every need on the water.
Ellis, who in his seventies would sometimes push his 12 foot skiff over ice to reach open water, caught his largest fish of 41 pounds taken on Papoose on a cold November morning. He caught approximately 1000 muskies, and countless bonus walleyes often stretching the tape to 30 inches or more. As a salute to Bob, Classic anglers must use the row trolling technique only on the water.
Rowers in the BEC must choose from a small list of lakes in the tournament; Big, Papoose, Crab, Presque Isle or Clear, gathering back at Sky View for dinner and to listen to Master of Ceremonies Kevin Wallenfang and team of great event volunteers Steve Reinstra, Geoff Crandall and Jeff Koser basically run the show of raffles, good food, music, and people's choice awards in several categories for the boats on display.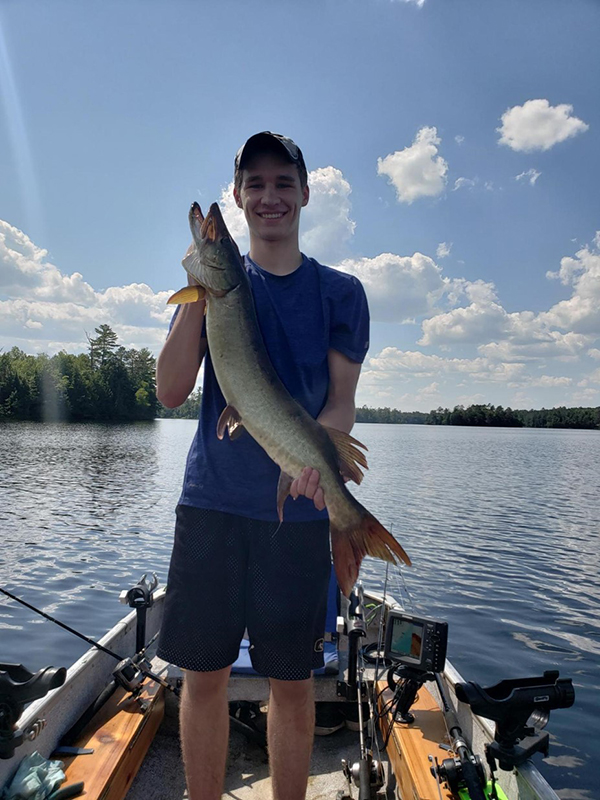 16-year old Evan Makuski of Stevens Point is the winner of the 2018 Bob Ellis Row Trolling Classic with his first musky, a 36 inch beauty caught and released on Crab Lake.
16 year old Evan Mukuski caught and released the only musky in the tournament, and winning fish of course, at 36 inches on Crab Lake. It was Evan's first ever musky in about 20 outings. Evan was fishing with his uncle Todd Jirous.
"Many thanks for a great day," said Todd. "Not only was this his first musky, but it 'made his summer' as he put it. Evan took his road test a couple days later and got his driver's license. But it pales in comparison to caching a musky in the Bob Ellis Classic."
Peter Stoltman was honored as the 2018 Bob Ellis Conservation Award Winner. The award was presented by Geoff Crandall. A long-time row troller, Stoltman is also a professional fishing guide in Northern Wisconsin, frequently seen at Rollie and Helen's Musky Shop in Minocqua.
"In 2015, he wrote resolutions for the Wisconsin Conservation Congress to increase the musky size limits from 40" to 50" on Trout Lake, North and South Twin Lakes with Katherine Lake added, as well as the Willow Flowage," Crandall said. "Due to his efforts all of the above resolutions were passed and became law this year!"
Crandall said Stoltman was one of the founding members of the Northwoods Chapter 61 of Muskies Inc. in 2013 and is the current President of that organization. "You have heard him on the radio with Muskie Matt discussing fishing tips and strategy on a WXPR Radio program," he said. "He is also a well-known instructor discussing fishing Vilas and Oneida County at the annual Muskie School held in Waunakee Wisconsin by the Capital City Chapter of Muskies Inc."
Stoltman, Crandall told attendees, has also set up local Muskie Fishing Schools in Northern Wisconsin, and started up a Row Trolling Facebook page which has been viewed by many row trolling enthusiasts throughout the years.
"Needless to say this individual has contributed greatly to conserving and promoting fishing throughout the State of Wisconsin and is very deserving of the Bob Ellis Classic Conservation Award for 2018," Crandall said. "Congratulations Peter Stoltman!"
Next year, according to Wallenfang, the BEC will be held on July 13 with more outdoor activities and a pig roast at the Sky View. Many of Bob Ellis's rods, homemade lures, and other family gems that made the man special on the water and off will be on display. The Ellis family thanks everyone still interested in keeping the man…the legend… alive and well in Wisconsin. See you next year. For more information, connect with www.row-troller.com or with Kevin Wallenfang at kwallenfang@charter.net.
Ninth Annual DeerFest Set For August 3rd-5th
The 9th Annual DeerFest, presented by Legendary Whitetails, will take on August 3rd-5th in West Bend Wisconsin. Located at the Washington County Fairgrounds, DeerFest is the nation's largest all deer festival, and this year is shaping up to be even bigger than before.
To show their appreciation to the passionate deer hunting enthusiasts, Legendary Whitetails will be giving away a $12 Promo Card (to match the cost of admission) and a free legendary bag to the first 2000 attendees through the gate each day of DeerFest. Click here for full press release.
Get all the details on 2018 DeerFest on this website.
Thanks for connecting with On Wisconsin Outdoors. Shoot straight.
Dick Ellis