Wolf River Walleye and Sturgeon Report - Monday March 19, 2012
Updates on Wolf River walleye and sturgeon activity and information on the dead gizzard shad washing on to shores on the Winnebago lakes:
Walleye
We've been capturing and tagging walleyes full tilt the last three days as the 2012 spring run is definitely approaching its peak for spawning activity. Today we captured, tagged and released over 2200 walleye in the Shiocton and New London areas. Although a majority of the females we captured today up and down the river system were not quite running eggs yet, they were very close to being ripe and ready to lay their eggs. We saw a lot of spawning activity taking place in the woods today adjacent to the spawning marshes and river. The nice relatively high flows we are experiencing are providing excellent spawning conditions throughout most of the wooded areas adjacent to the river and the traditional spawning areas from New London upstream to Lemann - thousands and thousands of acres of walleye spawning habitat working quite well at the moment. Hopefully we can get some rain in the next week to help maintain good flow and water level conditions for egg incubation and hatching. The warmer water should provide for a very rapid incubation period and early hatching this spring. We expect to be able to tag walleye for a few more days before the majority of spawning is done and the fish start to move back downstream. Our telemetry work has shown that females typically move back downstream to the lakes faster than the males when they are done spawning; with the males providing most of the lingering good fishing in the river after all of spawning is completed. We expect the good post-spawn fishing in the river to begin ramping up by the end of this week.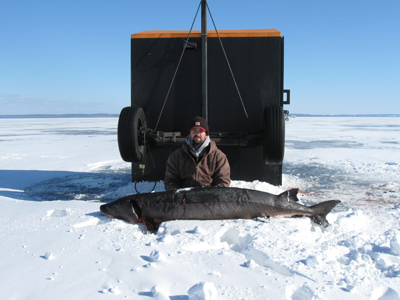 It's DNR Fisheries Biologist Ron Bruch's team working closely in the spring with area sportsmen and women including protecting spawning fish with the Sturgeon Watch program that enables Wisconsin to boast the finest lake sturgeon population in the world.
Sturgeon
Water temperatures in the river in the New London and Shiocton areas are actually at or above optimal for sturgeon spawning, but because of the rapid rise in water temperature this spring, the fish are not ready yet to spawn despite swimming around in optimal temperatures. We are seeing porpoising fish at Bamboo Bend by Shiocton, and along the Wolf River Sturgeon Trail west of New London, but have not yet seen any fish move into shore to indicate spawning is imminent. The pre-spawn onshore movement of males (cruisers) may not be far off though as warmer and warmer water is definitely pushing these fish hard to get ready to spawn. We could see some spawning activity begin by this coming weekend (if not sooner). We'll keep an eye on things and let you know as soon as we see any sturgeon spawning activity beginning. To get a little taste of what to expect to see, take a look at the video saved from the underwater sturgeon cam set up by the Wolf River Cam folks below Shawano dam last spring http://www.wolfrivercam.com/Shawano%20Dam.html. Once the fish start showing there, these folks intend to start that camera live so people can literally watch real time lake sturgeon spawning on their computer.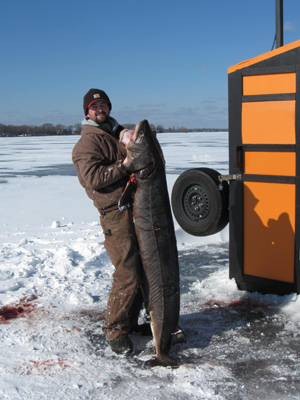 Spearers like Jake Tschirgi of Neenah reap the benefit of the work on the ice each February. Tschirgi's female sturgeon weighed 137 pounds and came in at just under 77 inches.