Reports of Dead Fish on the Winnebago Lakes and Little Lake Butte des Morts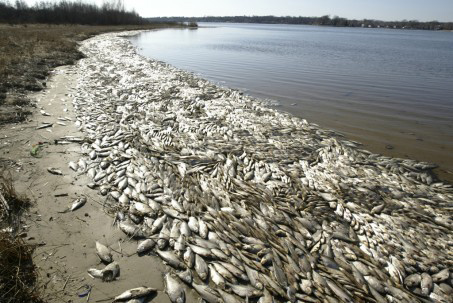 I have received numerous calls about the "fish kill" on the Winnebago lakes and Little Lake Butte des Morts. These are not white bass as some have reported - these fish are dead adult gizzard shad (similar to the situation we experienced in the winter 2007-08 (see attached DNR photo). Gizzard shad are occasionally abundant in the Winnebago lakes typically as yearlings (see attached DNR photo).
The species has a natural winter die-off every year. The main differences from year to year are the amount of shad in the system and the size. We had a large natural hatch of shad in 2010, which are now adult size, and they died this past winter as they always do every year under the ice. The ice went out early and the fact that these were adult shad (vs what we normally see - yearlings or much smaller shad) prevented them from mostly decaying under the ice or drying up on shore before they made a stinky mess on the shorelines. We get calls every spring from people about dead shad after ice out, more in some years and less in others, again depending on the abundance of shad in the system. We are going to attempt to collect some fresh dead or dying shad (although we are not likely to be able to do this as they die under the ice each winter). If we do find any we will have them tested for fish diseases including VHS virus. Hopes this helps if you were wondering about the dead fish.