2013 Whooping Crane Spring Migration is Underway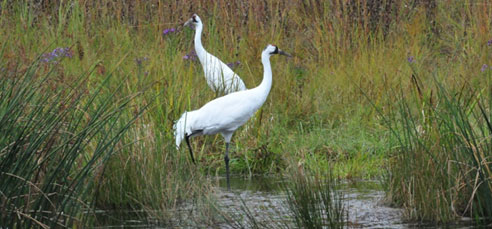 April 10, 2013
Contacts: Joan Garland, 608-381-1262 or Davin Lopez, 608-266-0837
The Whooping Crane Eastern Partnership (WCEP), an international coalition of public and private groups that is reintroducing whooping cranes to eastern North America, reports the 2013 spring migration is well underway.
As of April 3, there were 84 whooping cranes confirmed in central Wisconsin. Most notably, both wild-hatched chicks from the 2012 season have returned with their parents to the locations where they hatched last spring. W1-12 is a young male whooping crane that hatched on April 30, 2012, and W8-12 is a female that hatched on May 21, 2012.
Late last fall, both of these young cranes followed their respective parents to suitable winter habitat in southern Indiana. This spring, their arrival back at their northern breeding grounds marks the first full complete migration cycle for these whooping crane chicks produced in the wild.
"The Wisconsin Department of Natural Resources (DNR) is excited about the news of the return of last year's chicks back to Wisconsin, both those that were released and the two that were wild hatched. We will continue to follow their progress closely and hope that the birds eventually become successful parents in the years to come," said Erin Crain, Director, DNR Bureau of Endangered Resources. "As part of these efforts, the Wisconsin DNR is also looking forward to the third year of releases at White River Marsh State Wildlife Area and Horicon National Wildlife Refuge."
Thanks to the efforts of WCEP, there are now 108 whooping cranes in the wild in eastern North America, which was part of their historic range.
Whooping cranes that take part in the ultralight and DAR reintroductions are hatched at the U.S. Geological Survey's Patuxent Wildlife Research Center in Laurel, Md., and at the International Crane Foundation in Baraboo, Wis. Chicks are raised under a strict protocol that avoids conditioning the young birds to people and seeks to ensure the birds remain wild.
Whooping cranes were on the verge of extinction in the 1940s. Today, there are only about 600 birds in existence, approximately 445 of them in the wild. Aside from the 108 WCEP birds, the only other migrating population of whooping cranes nests at Wood Buffalo National Park in northern Alberta, Canada and winters at Aransas NWR on the Texas Gulf Coast. A non-migrating flock of approximately 20 birds lives year-round in the central Florida Kissimmee region, and an additional 14 non-migratory cranes live in southern Louisiana.
WCEP asks anyone who encounters a whooping crane in the wild to please give them the respect and distance they need. Do not approach birds on foot within 200 yards; remain in your vehicle; do not approach in a vehicle any closer than 100 yards. Also, please remain concealed and do not speak loudly enough that the birds can hear you. Finally, do not trespass on private property in an attempt to view or photograph whooping cranes.
Whooping Crane Eastern Partnership founding members are the International Crane Foundation, Operation Migration, Inc., Wisconsin Department of Natural Resources, U.S. Fish and Wildlife Service, the U.S. Geological Survey's Patuxent Wildlife Research Center and National Wildlife Health Center, the National Fish and Wildlife Foundation, the Natural Resources Foundation of Wisconsin, and the International Whooping Crane Recovery Team.
Many other flyway states, provinces, private individuals and conservation groups have joined forces with and support WCEP by donating resources, funding and personnel. More than 60 percent of the project's budget comes from private sources in the form of grants, public donations and corporate sponsors.
WCEP has developed a short public service announcement to spread the word that disturbing, harassing or killing whooping cranes is a crime. Multi file formats are available for download on the WCEP website at:
http://www.bringbackthecranes.org
To report whooping crane sightings, visit the WCEP whooping crane observation webpage at:
http://www.fws.gov/midwest/whoopingcrane/sightings/sightingform.cfm