Warden Wire: Become a volunteer Sturgeon Guard, help stop poachers this spring
Sturgeon guard volunteers
Each spring, hundreds of volunteers have an opportunity to guard sturgeon at their spawning sites on the Wolf River and protect the fish from poaching. When the sturgeon are spawning along the rocky shorline of the Wolf River, they are fairly oblivious to nearby human activity and are very susceptible to illegal harvest.
The volunteers of the "Sturgeon Patrol" guard the spawning fish 24 hours a day throughout the spawning season, which is typically in late April and early May.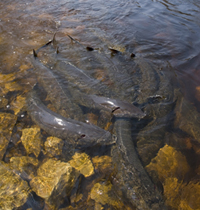 Sturgeon guards are necessary to protect these historic fish during their spawning season.
While it is impossible to predict the exact dates that spawning will occur year, guards are routinely scheduled from April 15th through May 5th. Spawning generally occurs over a seven to 10 day period within that time window. While we do our best to get all scheduled guards out on the riverbank to see fish, invariably we must cancel some scheduled shifts if the fish are simply not active. We try in those cases to re-schedule guards into an active period.
How to be a sturgeon guard volunteer
Come join the fun! Make volunteering a family outing by bringing a son or daughter your spouse or a friend. For many being a Sturgeon Guard Volunteer has become an annual tradition.
For additional information you may contact the DNR sturgeon guard coordinator at the DNR Oshkosh Service Center (920-303-5444).
Previous publications
On guard! from the February 2006 issue of the Wisconsin Natural Resources magazine
Background information
The Sturgeon Guard program [PDF 1.5MB] - History of the Sturgeon Guard program
Contact information
For more information, please contact:
Karl Scheidegger
Fisheries biologist