Wardens say volunteer time is well-spent; kids smiles are payback
Dodge program in 10th year; 'Reminds me of why I became a warden'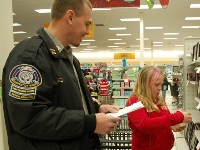 For Warden Supervisor Dave Holmes, it was a walk back in time with a highly organized third grader who taught him about press-on nails and BeyBlades while reminding him of time's unforgiving speed.
For Regional Warden Casey Krueger, it was a chance to hit life's reset button to focus on what's really important. That meant talking about the great outdoors with 12-year-old Savannah, who also proved to be a bargain hunter.
For Field Warden Paul Nell, it was a continuation of his dedication to a now 10-year countywide collaboration involving groups, businesses, law enforcement and more with one united purpose to help kids – and dole out the $4,125 worth of gift cards he purchased from a local store.
And help a kid is what each of them did last Saturday when the Dodge County Shop with Cops kicked off at 7:30 a.m. at a Beaver Dam restaurant.
Each warden became a shopping buddy to a kid in search of holiday gifts for family members. Each child was provided a $75 gift card funded entirely by the community through donations and fundraisers organized by event partner groups.
Warden Paul Nell has been part of this county project for years. "This is a multi-jurisdictional project and it has grown quite a bit," says Nell, who was a Dodge County Sheriff's Deputy before joining the warden service several years ago. "We get donations from all around."
The children who participate come from families facing financial difficulties or serious illnesses . Most of the time, Nell said, the child participates just once – although at times a child may return a second year.
"Usually we get about 100 kids participating. But we wanted to get as many people as possible this year because it was the 10th anniversary," Nell said, adding 157 were provided shopping trips at the December 8 event. "It runs like a well-oiled machine." This year, Nell recruited two other wardens to join in the fun helping kids – Holmes and Krueger.
Holmes says he relished the chance to provide a child the opportunity to see a law enforcement officer in a different light. "It was really fun and a real positive experience," he said.
The children were divided into two waves. The first arrived at Bayside Supper Club in Beaver Dam at 7:30 a.m. The wardens were paired with their young shopping pals.
Next, it was time to get to know a bit and form that shopping list. And, with that in hand, the pairs were guided toward busses to be driven to one of three large stores in the Beaver Dam area -- Wal-Mart, Shopko or Mills Fleet Farm.
Holmes says his partner was prepared. "We were in and out of there in 30 minutes with nine gifts. She came with a list and she knew where everything was," he said. "I don't' have kids that age anymore. It brought back some memories of shopping with my kids."
At one point, his shopping buddy was interested in getting some press-on nails for her mother. This was one thing Holmes knew nothing about. So, he sought out the help of nearby shopper. "Absolutely," Holmes said the woman quickly answered when he asked for her assistance. And we had quite of bit of interaction with the Wal-Mart employees."
Holmes says the program is valuable for so many reasons – including reinforcing the message it is better to give than receive.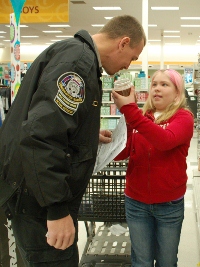 Krueger and Savannah, 12, were assigned Shopko. And he had a heck of a time keeping up with her.
"She'd put stuff in the basket faster than I could add it up," he said. "But she was a good shopper. She'd check the cost and say, well this is too much. But here's a good price. When we got to the register, it was $72.75. She did a fantastic job. She was a bargain shopper. She had it figured out."
Like Holmes, Krueger used the bus trip to talk with Savannah about being a warden and the outdoors. "We always promote kids in the outdoors. But when you have under-privileged kids, those opportunities aren't always afforded to them," he said, adding her point of reference was an eye-opener, too.
Do you protect geese, too?" Savannah asked Krueger. He said yes and she wanted to know why. For one thing, he said, to protect them from environmental damage such as chemicals.
Oh," she said. "Like when Homer Simpson dumped the nuclear waste in the pond and the frogs grew six eyes?" Yes, something like that.
"It is a way to volunteer and deal with children who are less fortunate. It is rewarding," Nell says. "The kids have a good time. The officers have a good time."
Holmes says the satisfaction is knowing the positive impact you are having on their lives. Krueger called it rejuvenation.
"The problems you have day-to-day take up a lot of your energy and focus. This allows you to hit the reset button on what is important in life and doing goodwill. It zeros you back on why you took this job. Just to see the smiles on their faces. It re-energizes me. So it is selfish!"
At the end of the day, it is hard to tell who gets more out of it – the kids or the wardens. A wise bet might be on the wardens. Check back in a few years – if a few of these kids are seen on the outdoor beat as wardens, all bets are off.