Wolf River Sturgeon Spawning Report - Monday March 26, 2012
We started the day today with fairly low expectations of finding any decent concentrations of actively spawning fish due to the cold weather and drop in water temperatures. After checking Shawano and not seeing any fish at all we systematically worked our way downstream on the Wolf and the Embarrass Rivers. Water temperatures had dropped about 4-6 degrees F at every site we checked from highs in the rivers last Thursday. Surprisingly though we saw a few sturgeon at more than half of the sites below Shawano, although these fish (males) were mostly "egg suckers" and "lollygaggers" - or males that were still hanging around after active spawning at a site was completed, just eating sturgeon eggs or simply milling around waiting for the next batch of females to come in to the site and begin ovulating sometime in the near future.
We were quite surprised when we finally arrived at the "Pines", a site on private property south of Leeman which can be a very heavily used site in some years, to find almost the entire 500 feet of bank with sturgeon actively spawning. The "Pines" is a very quiet and scenic site, as well as a totally man-made rip-rapped spawning site along a very high and very steep bank adjacent to a 35 foot deep hole on a long sweeping bend of the river. To work fish here we need to stay literally on the river's edge at the bottom of the steep bank and do all of our capturing, measuring, and tagging in the water. We made our first descent down the bank at about mid day, stopping only for a quick sandwich about mid-afternoon, and by 5:30 PM had captured and tagged 123 fish. A very productive day! Great crew!
I've attached a photo montage of our day at the Pines today - hope you enjoy... Click Here
The egg collecting crew from Tennessee and Georgia are driving up tomorrow and will start working with us on Wednesday. Don't know if Shawano will be in by then - but we'll keep an eye on it and be ready when it does become active.
We are running Sturgeon Guards and if you are scheduled, please report. If your shift is cancelled due to low fish activity, our LE staff will contact you well ahead of time.
Wolf River Sturgeon Spawning Report - Tuesday March 27, 2012
We found more sturgeon on spawning sites to tag today despite the cold weather this morning, ending up with 63 total fish captured and tagged at two sites, Hwy 156 and the Pines. There were fish actively spawning or "lollygagging" at a few other sites as well strongly suggesting that fish will continue to trickle on to spawning sites even though the water temps are much lower than they were late last week. We will continue to work fish wherever we find them - we like to get as many fish tagged from as sites as possible each year. Nothing again at Shawano today, although I still expect fish to begin spawning at this site within the 3-6 days - we'll see - these fish never tire at making a fool out of me (they've been doing it for over twenty years; why stop now).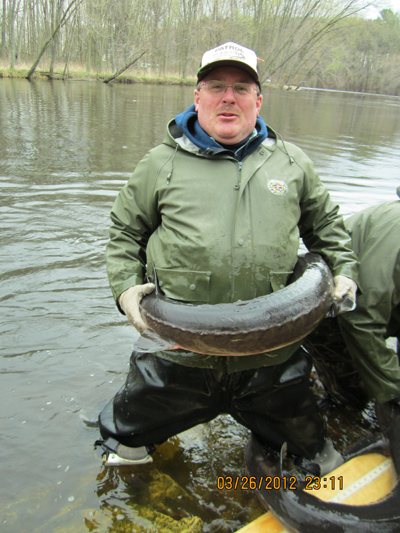 Photo of the day: Senior Fisheries Biologist Kendall Kamke and his "sturgeon discount double-check" - check it out. Eat your heart out Aaron Rodgers...