Winnebago Sturgeon Spearing Report – Sunday February 17, 2013
The 2nd weekend of the 2013 sturgeon spearing season is officially in the books, and spearers were more successful in the last two days than on opening weekend, even with the reduced effort. Spear fishermen and fisherwomen harvested 39 fish today lake-wide, which ties the mark set on opening day. That brings the total this weekend to 76 fish which eclipses the 60 that were speared on opening weekend. The largest fish of the day was a 74.7", 120.0 pound female sturgeon that was speared by Michael Goebel and registered at Stockbridge Harbor. If the Goebel name rings a bell in your head from a previous report, you have a great memory because his father Stephen Goebel speared the largest fish yesterday (73.7", 112.5 pounds). Congratulations to this father-son duo on an amazing season! I'm sure that the memories made over the last few days will last a life time. Pictures of Stephen and Michael's fish can be viewed in the attached pdf (100+ pound fish on 2-17-2013). Michael's fish may have been the largest taken today, but there were 3 more fish >100 pounds that were registered today. Photos from some of these "trophy" fish can be viewed in the attached document as well, and more information about 100+ pound fish can be read in today's vignette. Overall, the Southern and Western areas of Lake Winnebago continue to produce more fish than the Eastern and Northern areas (detailed breakdown of # of fish registered at each station can be viewed in the harvest file below). Good luck out there!
Due to reduced harvests at some of our registration stations and the anticipated reduction in effort during the upcoming work week, we have decided to close our Payne's Point, Harrison Town Hall, and Quinney registration stations until further notice. Spearers can register fish at Waverly Beach, Stockbridge Harbor, Jim and Linda's (Pipe), Wendt's, and Jerry's Bar.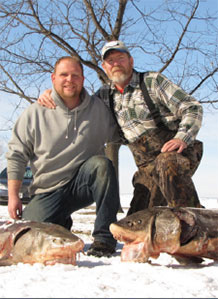 Michael (left) and Stephen Goebel, a father/son duo, proudly display their sturgeon. The fish were the largest recorded on back to back days.
Michael took his 74.7" 120.0 pound sturgeon on February 17 and his father's 73.7" 112.5 pound sturgeon was taken a day earlier on February 16.