Waushara County Sportsmens Triathlon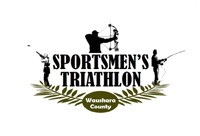 Waushara County Hosts First-Ever Sportsmen's Triathlon: Fishing, Archery and Clay Pigeon Shooting
Wautoma, Wisconsin, April 3, 2012—If you think you're a champion at enjoying the great outdoors, then it's time to register for the First Annual Waushara County Sportsmen's Triathlon on Saturday, June 16. This isn't the standard triathlon for swimmers, cyclists and runners. Instead, the Sportsmen's Triathlon competitors will demonstrate their competitive skill and spirit at three activities that typically bring outdoor enthusiasts to Waushara County. Events include a Largemouth Bass Tournament, a 3-D Archery Shoot and a Clay Pigeon Shoot. Contestant scores from all three events will be added together to determine the Sportsmen's Triathlon winners.
Held on the Saturday of Father's Day weekend, the Triathlon includes three competitive divisions, one of which will allow adults to team up with a child. Competition categories include two-person teams, man and woman teams, and adult and child teams. Children must be between the ages of 12 and 18, and have completed a Hunter Safety Course. Prizes will be awarded in each of the three divisions, with first place winning $200; second place $150 and third place $100.
Sportsmen and their team members can enjoy a full day of competitive outdoor activities. The $150 entry fee per Triathlon team includes lunch, evening pig roast, all shooting club fees and a commemorative T-shirt. Contestants are responsible for boat, tackle, archery equipment, guns and shotgun shells for the clay pigeon shoot.
While participants take in the Sportsmen's Triathlon, spectators can experience why Waushara County is the ultimate destination for the outdoors enthusiast with adventure for all seasons. Spectators can enjoy the sparkling waters of Silver and Irogami Lakes that will be home to the fishing competition, and other adventures which include hiking the beautiful pathways on the Ice Age Trail and biking along many scenic Waushara County roadways.
All ages and activity levels can take in hiking, fishing, swimming, and boating, which are just the beginning of outdoor adventures in Waushara County. This Wisconsin ultimate outdoor getaway in relaxing rural landscape rejuvenates the soul in the heart of south-central Wisconsin. Savor the wide array of outdoor activities coupled with fine restaurants, bed and breakfasts and warm hospitality a family can enjoy.
For registration information and event details, contact the Waushara Area Chamber of Commerce www.wausharachamber.com by calling 920.787.3488, or e-mail Jim Trzinski, Executive Director of the Waushara Area Chamber of Commerce and Contest Coordinator at jimtwausharachamber@gmail.com. The Deadline for registering for the First Annual Sportsmen's Triathlon is June 1, 2012.
The Waushara Area Chamber of Commerce is committed to maximizing county-wide partnerships that create Waushara County as a destination for potential guests and tourists, a place for local citizens to patronize, and a variety of attractive communities for future development.