Conservation group to host fundraiser event at Stone Lake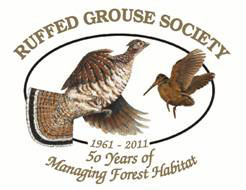 451 McCormick Road, Coraopolis, PA 15108
(412) 262-4044
www.ruffedgrousesociety.org
The Wilderness Wings Chapter of the Ruffed Grouse Society (RGS) will host its third annual Hunt, Shoot and Sportsmen's Banquet at the Summit Lake Game Farm, 3730 N Marsh Lake Road, Stone Lake, WI, on Saturday, September 22, 2012. (Participants must register no later than 6 p.m. on Sept. 21).
According to Dave Reardon, the hunting portion of the event begins at sunrise with registered two-person teams hunting in areas of their choosing, returning to Summit Lake Game Farm by 4 p.m. Immediately following the check in, each team will shoot a round of 5-stand sporting clays. Scoring will be based on total accumulated points, with 5 points for each registered grouse, and 1 point for each broken clay. Prizes will be awarded to the top three teams. This will be followed by a social hour at 5 p.m. and dinner at 6:30 p.m.
And, in the spirit of the outdoors, youngsters under the age of 16 who recently took and passed a hunter education course and/or women who have participated in a recent Outdoors Women program, and can verify same; will receive a complimentary dinner ticket when accompanied by a paying adult.
Individual hunt, membership and dinner tickets are $75. Team hunt, membership and dinner tickets are $150. Individual and membership tickets are $50. There is also a family membership package (includes two dinners) for $80. Additional dinner tickets are $30. Banquet, Conservation and Sustaining sponsorship packages are also available at $275, $500 and $1,000 respectively. Sponsor contributions received by Sept. 21 will be listed in the banquet program.
As with all RGS fundraisers, proceeds from this event will be used to restore and protect area grouse and woodcock habitat.
For more information and/or tickets contact Reardon at 715-634-2674.
Established in 1961, the Ruffed Grouse Society (RGS) is the one international wildlife conservation organization dedicated to promoting conditions suitable for ruffed grouse, American woodcock and related wildlife to sustain our sport hunting tradition and outdoor heritage.
Information on RGS, its mission, management projects and membership can be found on the web at: www.ruffedgrousesociety.org.
Media Contact:
Dave Reardon, 715-634-2674.