Kroeplin Named Madison Area Warden Team Supervisor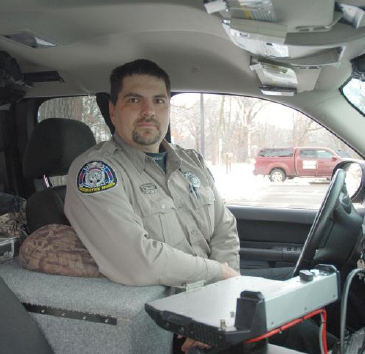 FITCHBURG,Wis. – Nathan Kroeplin has been appointed to the position of conservation warden team supervisor for Dane, Jefferson and Rock counties.
Kroeplin, an 11-year veteran of the Wisconsin Conservation Warden corps, hails from Hazelhurst WI and currently lives in Fitchburg WI with his wife and daughter.
"Nate has been a strong leader throughout his career and responsive to community needs," said Casey Krueger, DNR's southern region warden supervisor. "Nate's ideas for the future, his energy, enthusiasm and long term strategic thinking all came through clearly during the interview process. I'm confident Nate will transfer all the leadership, personal and professional skills he's developed into his new role and will adapt well to this new challenge."
Kroeplin follows in his father's footsteps.
"My Dad was a warden and I knew from an early age that is what I wanted to do too," said Kroeplin. "I did more ride-alongs with him than I can remember and from those experiences I saw that I could make a difference. I kind of feel that I've always been a DNR warden because Dad's office was in our home and I remember answering the phone and answering some of the DNR questions the caller had.
"I grew up in the northwoods but have worked in the south for much of my career and I think this gives me a valuable perspective in that I can relate to both lifestyles. I think it makes me approachable. I think fairness, understanding and a willingness to consider all the facts in an issue are invaluable in a warden's daily work."
Kroeplin says he loves the mix of work that comes with being a warden.
"It's the variety of the work. It's working with the resources but also with the people I meet. I studied education in college because I knew while law enforcement experience and training are important qualifiers for a warden job, I could also see that outreach, communication and education were becoming equally important.
"Get involved in as many outdoor activities as you can," says Kroeplin to anyone thinking about a warden career. "Not just the hunting and fishing but try camping, hiking, birding, canoeing and anything else you have a chance to try your hand at. As a warden you'll work with all these folks and having an appreciation for their favorite activities is invaluable. Also, do your best to get a four year degree in something and get involved, make yourself noticeable. It's a very competitive field and to be selected you need to standout."
Nate spends his free time with his family, doing some hunting and fishing, and playing basketball and softball when time and weather permit.