RGS to host Youth Education Day in Marshfield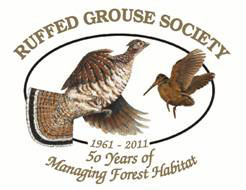 451 McCormick Road, Coraopolis, PA 15108
(412) 262-4044
www.ruffedgrousesociety.org
April 9, 2012
For Immediate Release
RGS to host Youth Education Day in Marshfield
The West Central Chapter of the Ruffed Grouse Society, will host its annual Youth Education Day on Saturday, April 28, 2012, at the Bergdahl Property, 11192 Bluff Drive, Marshfield, WI, from 9 a.m. – 3 p.m. Registration begins at 8 a.m.
According to Rich Chronquist, supervised activities will include archery, sporting clays, rifle, BB, Laser gun target shooting, and fly fishing. (Equipment will be provided to those who need it). In addition, there will be dog demonstrations and a Hunter Education Course.
The free rain or shine event (which includes lunch) is open to youngsters ages 18 and under. Advance registration is not required. Participants are advised to bring tick repellent and wear waterproof footwear.
The Youth Education Day is being held in conjunction with, Ducks Unlimited, Jo Soley of "On the Fly", North American Versatile Dog Hunt Assn., Pheasants Forever, Quality Deer Management, Rocky Mountain Elk Foundation, Whitetails Unlimited, Wild Turkey Federation, Wisconsin DNR, Wisconsin Bear Hunters and Wisconsin Trappers Assn.
For more information and/or directions contact Chronquist at 715-387-1163 (days), 715-387-3875 (evenings) or by e-mail at: rchronquist@hotmail.com.
Established in 1961, the Ruffed Grouse Society is the one international wildlife conservation organization dedicated to promoting conditions suitable for ruffed grouse, American woodcock and related wildlife to sustain our sport hunting tradition and outdoor heritage.
Information on the RGS, its mission and management projects can be found on the web at: www.ruffedgrousesociety.org.
Media Contact:
Rich Chronquist, 715-387-1163.
E-mail: rchronquist@hotmail.com.