Deer and elk researcher joins DNR staff
DATE: November 30, 2012
CONTACT: Karl Martin (608) 213-4184
MADISON – Jared Duquette will join the Department of Natural Resources – Bureau of Science Services as DNR's deer and elk research scientist, taking over coordination and guidance of DNR's ongoing multi-year deer research project into causes of death in white-tailed deer, fawn mortality and recruitment and deer population distance sampling techniques. Duquette is currently finishing a Ph.D. program at Mississippi State University and will be stationed in the department's Science Operation Center in Madison.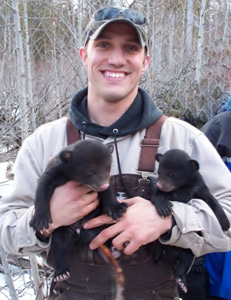 Duquette is a native of St. Charles Michigan and a graduate of Central Michigan University (B.S. 2004) and Ohio State University (M.S. 2008). He has research experience in a number of areas including predator-prey relationships among white-tailed deer and wolves, coyotes, bobcats and black bear in the western Upper Peninsula of Michigan.
Duquette credits his hometown and his upbringing for his interest in wildlife research and people.
"I credit my family for my love of wildlife and the outdoors," said Duquette. "They're big into hunting and fishing and introduced me to those sports as soon as I could walk. I grew up in a farm community where everyone was outdoors all the time. As I grew up and spent more and more time outdoors I developed a 'wonderment' about how things worked and why wildlife do the things they do. The upper Midwest is home for me, I grew up on the same latitude as Madison and I'm used to the cold and snow.
"I'm looking forward to continuing and adding to the excellent work the Wisconsin Department of Natural Resources is doing to communicate and work with hunters and citizens and to switching from the largely academic work I've been doing for the past couple of years while completing my Ph.D. to on-the-ground agency work."
Duquette also has research experience with Wisconsin's other iconic mammal – the badger. While working on his master's degree at Ohio State he collaborated with the Ohio Division of Wildlife on a badger project. The division had been receiving an increased number of badger sightings and wanted to know if it was coincidental or if populations were actually increasing.
"I've always felt it was important to communicate and work with people including those with limited exposure or knowledge of wildlife and the outdoors," says Duquette. "I'm not a behind-the-desk guy at heart. I'm really looking forward to working with hunters, landowners and the public on the research projects the department has underway and contributing to our common goals."
In his free time, Duquette hunts waterfowl and deer, volunteers in his community and plays a little guitar and harmonica.