Wardens: Legal use of Alabama, Umbrella rigs in state rests with use
April 30, 2013
By: Joanne M. Haas/Bureau of Law Enforcement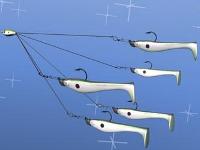 Wisconsin conservation wardens again are fielding questions from anglers wondering if the Alabama Fishing Rig and the Umbrella Fishing Rig are legal to use in this state. The answer remains the same as it was during the 2012 season. It depends upon how you use these rigs.
The Alabama Fishing Rig or Umbrella Rig involves one fishing line that has five separate baits or lures attached. Each has its own single hook. In the water, the rig simulates a small school of bait fish and is capable of catching multiple fish at one time.
Wisconsin rules restrict anglers to no more than three hooks, three baits or three lures. That means this rig would not be legal to use in Wisconsin if the angler has a separate hook, bait or lure attached to each of the five wires as shown in advertisements and You-Tube videos.
However, the rig would be legal if not more than three hooks, baits or lures are attached. An angler then could place hookless spinners to the other two wires if desired. Remember, though, if three hooks, baits or lures are attached to this rig, you would not be allowed to fish with any other lines at the same time.
This type of fishing rig is different than using a single lure with multiple treble hooks which is designed to catch just one fish. Largemouth bass, northern or musky type lures equipped with multiple hooks are considered a single hook, bait or lure, just as a treble hook is considered a single hook for the purposes of the Wisconsin three-hook, three-bait or three-lure restriction.
A rig like the Alabama rig is different in that it uses multiple separate one hook lures all attached to one line, each of which has the ability to catch a different fish.