Winter Brown Trout
There is a great bite going on now and continuing thru the winter on big Lake Michigan, just south of Milwaukee. The area that you want to target is the waters around the warm water discharges of the Oak Creek Power Plant. The lake stays open near the power plant allowing for open water fishing on nice days. The best place to launch is Bender Park which is off Ryan Road and Highway 100. This is not far off Interstate 94 and like I said, just south of Milwaukee, Wisconsin.
Bender Park has a good landing, even in winter and there is no charge for parking this time of year. The Oak Creek Power Plant is a short boat ride out of the park. As you motor out from the harbors mouth, go due east and head out to 30 feet of water before you head towards the power plant. The water is shallow and dangerous, if you head right for the power plant, so go out to the deeper water before heading toward the discharges. Thirty feet of water is only a half a mile at most from the harbors mouth. When you reach the deeper water, then head south toward the break wall and you'll be in the right location. This is not a secret spot, so you'll see other boats in the area on most nice days.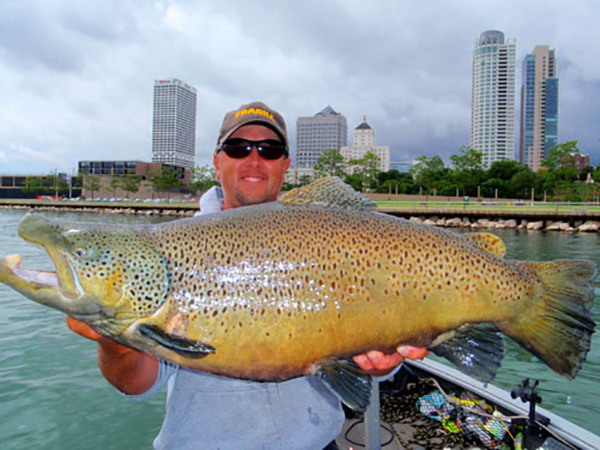 Guide, Captain Eric Haataja with a Lake Michigan brown trout.
There are two ways to fish the Oak Creek Power Plant; one is by trolling and the other method is anchoring and casting spoons, cranks, and live bait. First, let's cover the trolling pattern. An angler can fish from smaller boats this time of year because you are close to shore and in shallow water. Most anglers are fishing out of their walleye boats or all-around boats with very few charter boats out this time of year. Most fishermen troll with their "kicker" motors at a speed of 1.0 to 2.0 M.P.H. Vary and change your speed till you can dial in on the speed the fish want the day you're fishing. The deepest water that you want to fish is about 20 feet. The area to concentrate on is the waters around the discharges because the warmer water really attracts the brown trout. Some fishermen troll with Off Shore planer boards and crank baits, while others prefer to long-line their lures. I like using planer boards because I feel I can get my lures farther away from the boat to avoid spooking any fish. The best baits seem to be the Mann's Stretch baits, Rattling Rogues, Bombers, and Rapala Shad Raps. The best colors lately are blue, green, silver, and grey tones. Try experimenting with the size and colors of your crank baits because the size and color that the browns prefer can change daily. Some days the longer "stick" baits seem to work best while other days a shorter crank like the Shad Rap works best. The Rapala glass Shad Rap in white has been hot and make sure to have one or two in your box. The Precision Trolling Book is also must if you want to know where your crank baits are running when trolling. The amount of line that you let out to your crank varies from 80 to 120 feet depending on what crank bait you're using. Spoons like the Stinger and Northport also work and should be included in your arsenal. The keys are; 1) Work the water around the discharges. 2) Vary your trolling speed till you find the speed the trout prefer. 3) Have a good assortment of crank baits and spoons in the hot colors and the different sizes that I mentioned earlier. 4) Experiment. 5) Look for the cleanest water that you can find and fish there.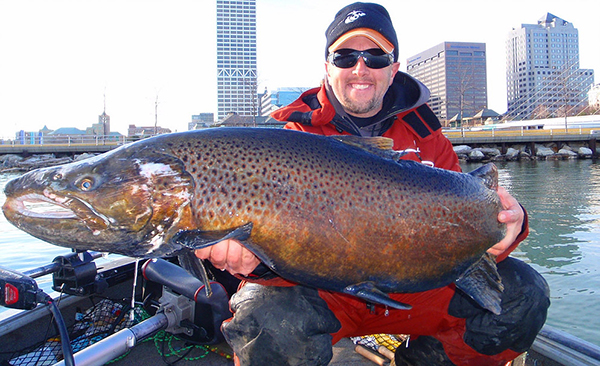 Eric Haataja with another huge brown trout from Milwaukee.
The other proven method for catching Lake Michigan brown trout is to anchor your boat near the discharges and cast. Spoons and crank baits work well, but the best method lately has been live bait. Fishermen are hooking shiners (shiners are the best bait now) on a plain hook with a split shot for weight and casting the rig out and "dead sticking" it. Having rod holders and putting the dead rod in a holder works best. Some days, all your fish may come on the dead rod baited with a good size shiner. The important thing is to keep moving and re-anchoring till you find fish. The brown trout move regularly, so you have to keep moving till you find the aggressive trout. So, remember to keep moving till you find the "biters"! While anchored, cast your crank baits and spoons and vary your retrieve till the fish tell you what speed that they like that day. No one spot is better than another, so moving around is important. Recently, some friends of mine limited out while fishing shiners and a split shot in 8 to 10 feet of water.
Most fish caught lately are good size, ranging from 10 to 15 pounds with some up to 25 pounds. Anglers have been catching their limits of browns and the good fishing should continue into March. Dress warm and check the fishing reports regularly to get up to date reports. This is definitely a must if you want some great action and are tired of fishing on hard water.
Contacts and Bait Shops; A and C Live Bait, (414) 372-1020
The Fishing Hole, (414) 481-9090
Joe's Bait Shop, (414) 384-3368
The best guide in the area without doubt is Eric Haataja, Big Fish Guide Service, (414) 779-0479. Check the Internet for Eric (www.wibigfish.com) and you can find him on YouTube and Facebook.