The Trout Stream
John Luthens
The forest surrounding the trout stream had been logged over, leaving behind a maze of stumps, upturned roots and stunted trees. Ferns, blueberry bushes, and scrub had taken the place of pine and aspen and, although the late-summer sun was barely cresting the northwestern Wisconsin hills of Douglas County, the cutover path to the river was already bathed in green and golden light.
My fly rod swung through open air instead of spearing through tangled forest. I'd journeyed to this spot every year for nearly a half-century, but had never seen it in full sunlight. It had always been a place of deep shadows, somber and mysterious, a trout-stream ingress where visions of beastly eyes peered from the thickets.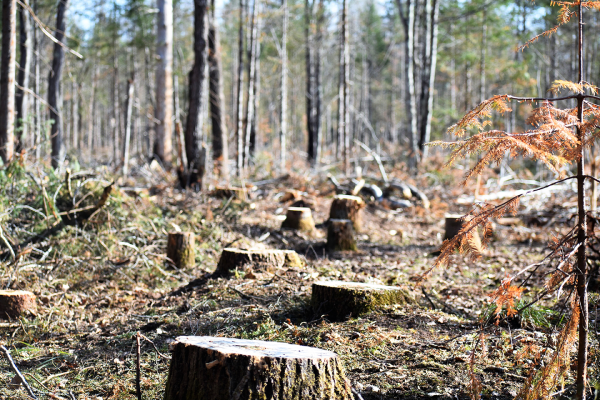 It was a wild land with no real purpose other than hiding a trout stream and sheltering a wayward trout fisherman, but now, with the landscape altered and much of its mystery piled neatly in a lumberyard, I found myself lamenting the insatiable need for timber. I live in a house built of wood, and, as a writer, I burn though more than my share of paper in the form of books and publications, but it seemed a selfish act of forestry politics to prune back the branches in my private locale.
At one time or another, I think everyone is guilty of believing that nature belong solely to them, and trout fishermen are no different in that respect. Trout fishermen, especially old ones like me, just tend to move slower and take change harder than most.
I was making my way towards the corridor of white pine and balsam that was left behind by the loggers to mark the water's path and herding grasshoppers through newly-opened forest when a commotion of barking and growling startled me from my reverie. It was either a female timber wolf or a coyote running back and forth in the morning light and warning me off of its den beneath the upturned roots. It was a silhouette against the rising sun, so I couldn't be sure of the species, but I knew that there must be pups nearby.
My heart pounded as I slid into the shelter of the trout stream valley, and the politics of forestry and wildlife management slid out of sight with me. There are those who take a dim and frightened view towards coyotes and wolves, but I felt myself blessed to live in such a world. The darkness of a remembered forest may have been altered, but the setting hadn't changed. Beauty is as beauty does, and environmental politics are mighty hard to squeeze into a fishing vest that is already overflowing with the implements of trout-stream warfare.
Marsh grass and nettles were up to my neck. Deadfalls leaned over the water to form a natural tunnel. No cleared land down here, only water gardens blooming in bunches and humid mist swirling like smoke above the banks. There were no sounds but the gentle rush of water and the clicking of line from the reel as I strung up my rod. Even the birds were hushed. After venturing the logged-over plains above, the trout stream valley was as solemn as a forgotten temple.
I splashed into a tangled jungle with no room for back-casting. It was fly fishing in the loosest of definitions, dunking leader and stripping line, hoping that the current would do the rest and drive my weighted flies beneath the banks and logs. Wrapping hopelessly in the alders, spending countless minutes solving puzzles of snarls. Sweating and swearing and swatting mosquitoes. Classic fly fishing? Indeed, not, but in the depths of trout madness, we all cling tight to our private poison.
Trout smashed at flies in every seam. They were crowding each other out to get the chance. I missed strike after strike and tangled again and again in the brush. Every now and then I got lucky and hooked one squarely. They were all brook trout with dark spotted sides and purple maps across their back.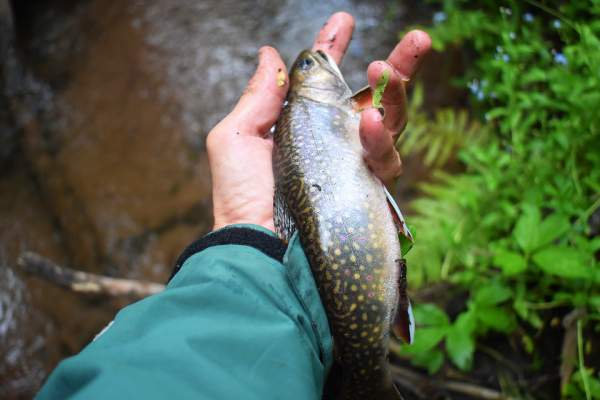 Most were small, but they fought like whales, tugging into the current, sending spray into the air, squirming and flopping in wetted hands when I pulled out the hook to release them. They darted back into the darkness of the water like wild children, disappearing beneath sticks and rocks and weeds that were so small that one would swear they couldn't hide a grain of sand.
The bigger fish were wallowing under the logs and brush piles. In an overgrown trout stream such as this, they are in impossible spots, and they know it. It's a puzzling game of limbo to get a cast into their hideouts, contorting beneath limbs and through the tangled crevices. Invariably, it costs a small fortune in lost tackle to reach them, and one's back will be creaking for a month afterward. Even when you hook one, the only way to land it is to go crashing into the hole and wrench the trout out before it twists your gear halfway to Sunday.
In this way, and on this trout stream, I manage to land one fish that can be weighed in pounds every two years or so. Or maybe every three years. Trout fishing is like golf. One good shot will sucker you in for life.
The sun penetrated the brush of the valley and sparkled on the open spots of the stream. It sat hot on my back and took the bite from the icy water. It had felt like the hands of time had stopped in their tracks, but when I glanced at my watch, I saw that four hours had passed.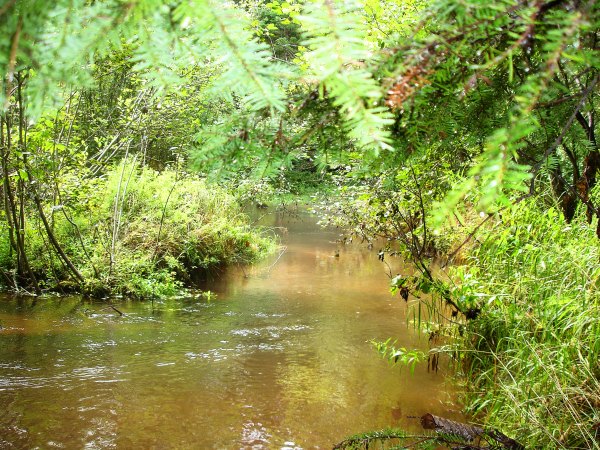 Not only had I forgotten about problems that had nagged me — I'd forgotten where I was. The long hike back home across logged-over timber would be like crossing an unfamiliar desert, but that seemed trivial now. The trout stream was still here. Who could ask for more than that.
John Luthens is a freelance writer and photographer from Grafton, Wisconsin. His first novel, Taconite Creek, along with a nonfiction collection of his stories, Writing Wild: The Tales and Trails of a Wisconsin Outdoor Journalist, are available from Cable Publishing at www.cablepublishing.com