Richland County Fishing Report July 15, 2015
By Wayne Morgenthaler
We have had quite a bit of rain lately and this has caused a slight slowdown in trout fishing. I was fishing up to the headwaters and the fishing was excellent. I was using a Panther Martin spinner that was green and white. I had good luck using the larger spinners as the fish seemed very aggressive. If I am fishing waters that let me keep trout, then I like to fish with night crawlers with two small split shot and a number 8 hook. Panther Martin spinners are great, as long as you fish upstream. I prefer wading the small streams and by walking up the action seems to be much better.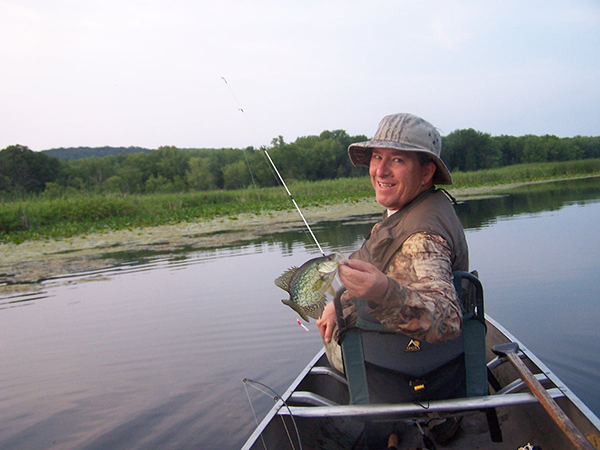 Tim Finley on the backwaters with a crappie
The backwaters of the Wisconsin River from Spring Green to Boscobel are providing great action. Bluegills are along the weed lines or just inside near lily pads. A small sinking fly works well with the fly rod. With the spin caster the pink and white jig works great. Again best fishing starts around 7 in the evening. One key thing to remember when fishing pan fish with artificial is to keep moving the canoe and not stay in one place too long. Pan fish tend to ignore artificial after throwing it in the same location 5 times. Bass and northern have been real slow and need some good hot days to get them in the mood for the evening feast.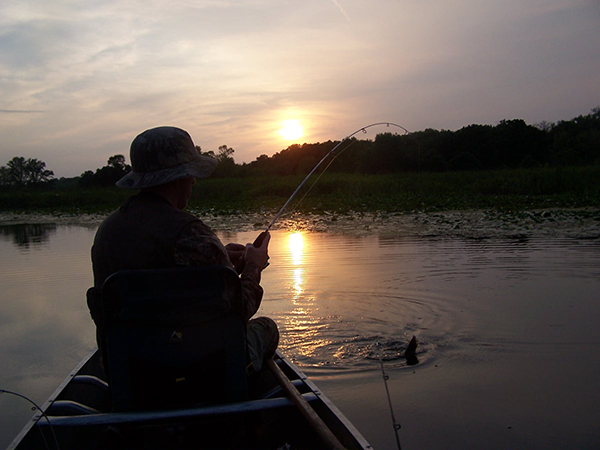 Tim Finley on the backwaters with a crappie
A great place to stop for all your sporting needs is Norm's Small Engines & Sports. He is located at 900 Hwy 14 West, Richland Center. The business is right across from the Mobile gas station. Norms has all types of fishing supplies you need plus if you are in to hunting he offers a nice selection. You can also check out his turkey contests and wall of photos from his fishing and hunting experiences.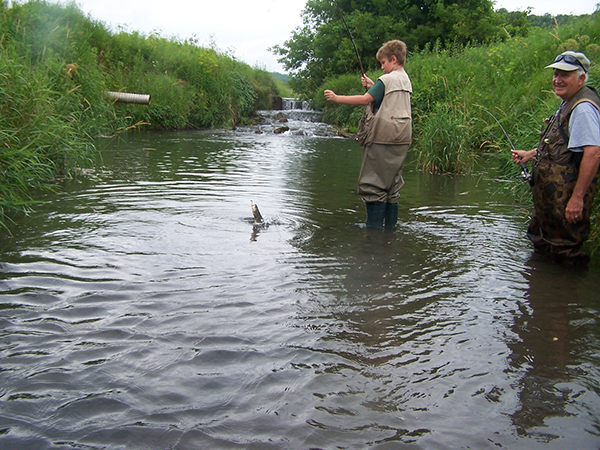 Trout fishing in Richland County