Purple Heart recipients to enjoy central Wisconsin turkey hunt
Wounded Warriors in Action Foundation (WWIA)
Purple Heart recipients to enjoy central Wisconsin turkey hunt
Wausau, Wisconsin, May 13 - 15, 2016: Wounded Warriors in Action Foundation (WWIA) is holding yet another great hunting and fishing event near the city of Wausau, Wisconsin, for Purple Heart recipients. Hosted by Mr. Todd Bohm and family, the Wisconsin Cast & Blast, now in its seventh year, is one of the longest-running events put on by WWIA.
On this all-expenses paid trip, three Heroes will experience two full days of guided turkey hunting and guided fishing for panfish, northern pike, and walleye with a group of local sportsmen. Hooking that big fish or harvesting a tom helps these veterans achieve a level of satisfaction and achievement that has often been missing from their lives. While the harvest can be exciting, the main event on this trip is the opportunity to connect with other Purple Heart recipients and be enveloped in the warmth of a thankful and caring community.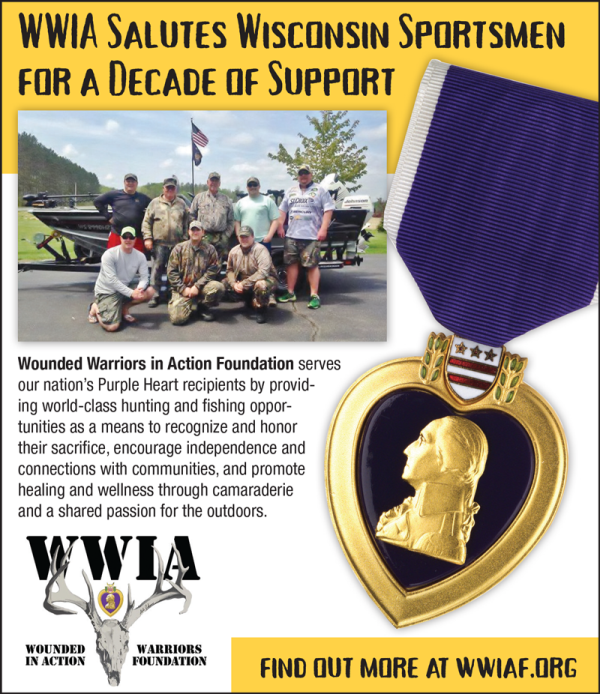 One Hero at last year's event said, "Although I didn't quite 'bag' a big turkey, I got to get out into the field again and enjoy nature and relax. Being away from the daily grind for a weekend of hunting allowed me time to focus and recharge. The fact that everything was planned and structured took a lot of the stress out of having to plan a trip like this. Everything was top notch and I enjoyed some great camaraderie as well."
Wounded Warriors frequently return home different than when they left to serve our nation; their personal and professional lives have changed dramatically. WWIA and hosts like Bohm strive to show these Heroes that they can still experience and accomplish great things, no matter their current circumstances.
Mr. Bohm was one of the first people to step forward and volunteer to host a WWIA event. Ever since then, his work with WWIA has become a true passion. Bohm says, "It is such an honor to hunt with these Wounded Warriors. I love seeing how they evolve individually and as a group as the event unfolds. Combining the healing power of the great outdoors and companionship with fellow veterans, anglers, and hunters has had a powerful positive impact on their physical and mental healing."
Founded in 2007, WWIA now holds over 50 events annually in at least 38 states. Along with the Cast & Blast, a large portion of WWIA events take place in the great state of Wisconsin. Founder John McDaniel, a Wisconsin native himself, says of the upcoming event, "Todd Bohm is the driving force behind the great success of the WWIA's Central Wisconsin Cast & Blast. Amazing volunteer efforts have helped knit together a tremendous network of community support for our combat-wounded service members."
Bohm's network of supporters include Log Cabin restaurant, Grand Lodge Waterpark, The Bar, Wisconsin Angling Adventures, Mosinee Sportsman Club, as well as Wausau area anglers and hunters who all feel an obligation to give something back to our nation's heroes. McDaniel says of these supporters, "The WWIA would like to recognize and thank the broader community of Wausau and central Wisconsin for their outstanding support of our mission and the Heroes we serve."
About WWIA
Wounded Warriors in Action Foundation (WWIA) is a national non-profit dedicated to serving our nation's combat-wounded Purple Heart recipients by providing world class outdoor sporting activities as a means to recognize and honor their sacrifice, encourage independence and connections with communities, and promote healing and wellness through camaraderie and a shared passion for the outdoors. For more information, please visit wwiaf.org, like us on Facebook at facebook.com/wwia, or contact us at info@wwiaf.org.
Local Contact: Todd Bohm - tbohm@dce.k12.wi.us