OWO Experts Kiesow, Luthens, offer books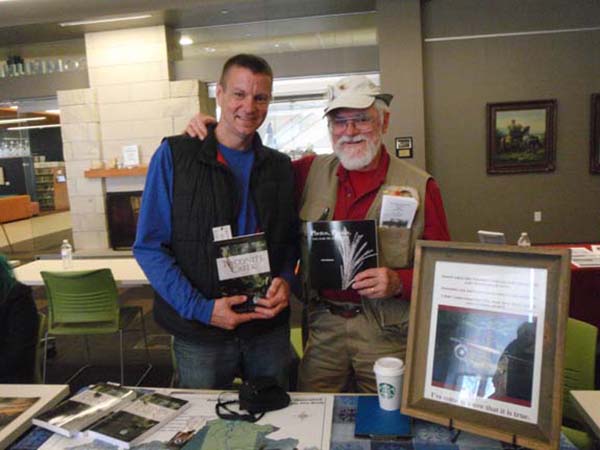 John Luthens, left, and Jerry Kiesow at the Cedarburg Library these week signing their books.
Jerry Kiesow, a regular writer for On Wisconsin Outdoors, has written his second book: "Photos, Poems, and a Little Bit of Prose," and what a book. Not that it is large, it isn't, only 58 pages, but all is all four-color, with 59 photos, not including the covers and epilogue, to go with and illustrate 27 poems. Poems from the epic "A Story of a River," 1400 words, or the short, "A Cow, WOW!" only 13 words, all have at least one image to accompany the words and enhance the entire content - remember a photo is worth 1000 words. Then, at the end of each composition, there are a few words of prose to explain the whys, and/or wherefores of each offering – thus the title, "Photos, Poetry, and a Little Bit of Prose."
This is not a book you will read once and then put on the shelf. It is pretty enough to be a coffee table book and that is exactly where it should stay. Why? For example: what if you are feeling down and need a smile, maybe the photo and words of "Frogs and Fences" will bring that up-turn to the corners of your mouth. Or, if you hunt, "Up A Tree" certainly will.
Ever wonder about the big bang theory? Check out how Kiesow looks at Creation and God. Like kids? They are here. Fishing? It's here too. You name a subject; Kiesow has probably touched on it.
If you are looking for something new to read, for a book that can be read in one setting or in short spurts (over and over again). For a book that shows and tells you the many ways this man has/does enjoy/sees God's world. In other words, a book that is different, give a look at this one.
"Photos, Poems, and a Little Bit of Prose," published by Orange Hat Publishing in Waukesha, combines three forms of artistry - photography, poetry, and prose. I do not believe any other book has ever done that before.
You can order books online from: amazon.com, barnesandnoble.com, and books-a-million.com . Or, you can look at portions of this book on his website: www.jerrykiesowoc.com . Then, if you want an autographed copy, email him. The book costs $15.00 if he hands it to you and $19.56 if he mails it. All prices include the personally signed book, tax, shipping and handling.
If you email, please use the word "book" in the subject line. Thanks.
Keep a good thought!
________________________________________________________________
A quick glance into the waters of Taconite Creek:
Fishing is like reading a novel. The reader and the fisherman set out to catch a piece of enjoyment from life. It can be nothing more than a cane pole and a length of line, the sun sparkling on a backyard pond and the rising of a bass beneath shaded willows. But it can just as quickly gravitate into a lifetime of specialized equipment and a search for the deep-rooted meaning hidden in uncharted trout waters.
Taconite Creek is a story of opening an iron mine in a virgin wilderness. It about man versus nature, but more importantly, it is about man versus life. Taconite Creek explores the balance between passion and obsession.
Fishing, like reading a novel, is about exploring for yourself instead of settling for what others tell you. Two memorable characters in the book tell it like it is:
"Uncle Jack and Ernie: arguing in dizzying circles about political direction and iron – about anything and everything really. But mostly, it was about fly fishing, mostly, it was about Taconite Creek."
Reading a novel, like fishing and like life itself, is meant to be an adventure.
Taconite Creek is available on Amazon, at CablePublishing.com., or by contacting the author at Luthens@hotmail.com.