Hi-Tech Treasure Hunting
Wisconsin Geocaching Association blends the science of satellite technology with good old fashioned adventure
By John Luthens
Back in the day, when my pockets were still flush with the riches of youth, I'd stash handfuls of pennies and a favorite toy or two into fragrant cigar boxes and bury them far and wide across the land. Growing up as I did in the gun-slinging wilds of northern Wisconsin, I didn't much trust the banks. Shovel in hand, dirt flaking beneath my fingernails and muddy leaves pasted in the tangles of my hair, I'm certain that the bankers didn't trust me either.
I'd scribble careful maps with color crayons and chalk, calculating the terrain with X's and O's and marking potential snares such as flooded creek bottoms and widow-making deadfalls with a skull and crossbones and pacing off distances to my buried treasure like Long John Silver limping through the briars and brush with his wooden leg.
Invariably, these maps were folded into secret spots in my bedroom and lost for a spell – sometimes for several years, but usually more like forever. Looking back through the crystal ball of wise-old age, the problem with hiding treasure and subsequently hiding the map to said treasure is that I darn well should have kept a map to find the map. It was a slippery slope of treasure hunting philosophy that I never reckoned on in the low-brow rambles of my childhood.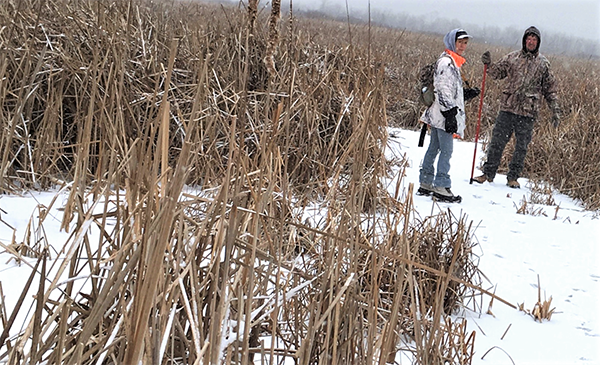 Members of the Wisconsin Geocaching Association, Dawn Children and Brian Zubowski, of Oshkosh, search for remote caches on the frozen marshland of the Rat River in Winnebago County.
Recently, as luck would have it, memories of my long-lost hoards dug surfaced once again when I struck up a conversation with a coworker. Not only was Dawn Children a fellow employee at Castle Pierce – the family-owned, Oshkosh printing company where I work when I'm between writing assignments – but it just so happened that she was also President of the Wisconsin Geocaching Association.
I only knew the basics, having heard shadowed talk about downloading coordinates into a smart phone or GPS unit and searching for goodies that have been hidden away by evil geniuses who have managed to harness satellites to their full advantage. But when Children started filling me in on the spirit of hi-tech adventure associated with modern-day treasure hunting, it became clear as day that if the Wisconsin Geocaching Association had been around to manage my ill-planned savings account, my rusted pennies and long-lost toys would be piled in front of me even as we speak.
"I initially got interested in the sport of geocaching by talking to some friends who'd done it, said Children. "But I was puzzled at first, and I got a little frustrated when I couldn't find anything right away. I wasn't even sure what I was looking for."
Having frittered away an inordinate amount of my childhood searching for my own squirreled-away stashes, I could totally relate, but unlike me, Children persevered and eventually found her first hidden cache near her home, and when she signed her name on the faded log sheet in the canister to prove it she was hooked for life. She joined the Wisconsin Geocaching Association (WGA) and dug right in, finding a tight-knit group of like-minded adventurers who were willing to strike out with her to search out plenty more.
Rising in 2002 alongside other global, geocaching communities, the WGA began charting a course for Wisconsin outdoor enthusiasts through education, fellowship and shared experience using the newly-released technology of GPS and the age-old spirit of adventure. The group has since blossomed to represent all 72 counties in the state, turning into one of the premiere outlets in country for not only promoting the outdoor recreation of geocaching, but for educating the public at large about sustaining the environment through a low-impact," leave no trace" approach to geocaching.
Through her role as president of the WGA, Children has developed a passion for traveling and meeting new people. She says it has helped her develop skill sets in both indoor and outdoor leadership that she may have shied away from in the past. "I've ventured out of the office to fantastic corners of the state that I never would have otherwise," said Children. "The group keeps in touch through website forums and emails, and there's plenty of group searching done on the internet to solve difficult puzzles and caches, but in the end it's really all about getting out and exploring the great outdoors. It's the perfect blend of nature and technology."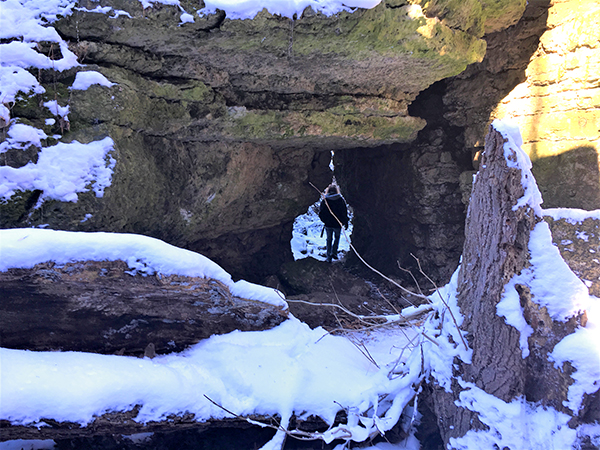 Wisconsin Geocaching Association President, Dawn Children, geocaches her way through a slice of the Niagara Escarpment above Horicon in Dodge County.
Well seasoned, with a board of directors who facilitate annual gatherings in a multitude of parks across the state for campouts, picnics, chili feeds and bonfires, there is no membership fee to join the WGA. All that's really required is a smart phone or GPS device and a desire to have a ton of fun with others searching for hidden caches in all of the conditions and terrains Wisconsin has to offer, including thrilling night excursions, rocky cliff scrambles, and icy forays across frozen rivers and marshes.
Children related that one of the highlights of the year for the statewide group is the "The Lonely Cache Game," where members form teams and compete against each other to search out some of the remotest caches in Wisconsin.
The hardest markers may be buried miles deep in state forests, hidden on islands that only accessible by boat or ice travel, and even perched atop trees that may or may not be safe to climb by anything heavier or less limber than a flying squirrel.
Bragging rights are at stake, which is likely a treasure valued above all else for geocachers. "The harder the cache, the more points awarded," said Children, whose own team has survived the miles of daunting effort it takes to find the loneliest caches in Wisconsin and managed to take home top honors in the past.
As for myself, after talking with Dawn Children, I'm busy as a badger digging into the potential of combining hidden treasure with the modern sport of geocaching. I got so excited that I went and printed out a newfangled, GPS-generated map of all the loneliest caches.
I've come to understand the errors of my youth, seeing now that crayons and chalk and X's and O's were child's play. I'm going hi-tech and plunging straight into the wilds of Wisconsin to dig up every last one of those lonely caches. Now, if I could just remember where I hid my GPS unit, and come to think of it, where did I put that darn map…
For more information on the sport of geocaching and the Wisconsin Geocaching Association, visit their website at wi-geocaching.com
John Luthens is a freelance writer from Grafton, Wisconsin, as well a printing press operator at Castle Pierce in Oshkosh. His first novel, Taconite Creek, is available on Amazon, or by contacting his publisher at www.cablepublishing.com