Governors 50th Annual Fishing Opener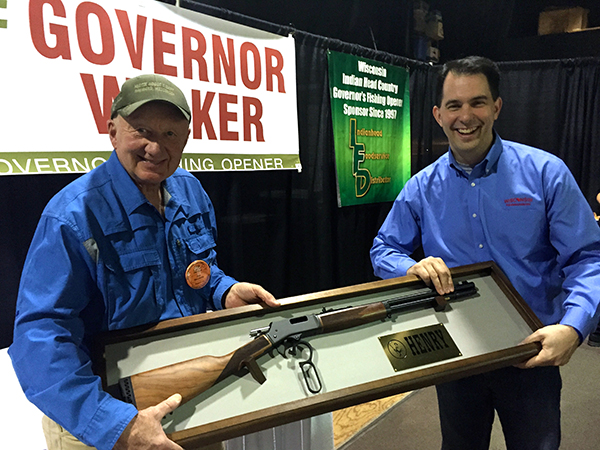 By Jim Onarheim
This year's Governors Fishing opener was held in Hayward WI. This year's event was something special because it was the 50th annual. Fifty years ago Governor Warren Knowles started the Governors Fishing opener because of his love for hunting, fishing and the great Wisconsin outdoors. Because Wisconsin Indianhead Country organization was such a strong promoter in tourism for NW Wisconsin it was the best fit to have them plan and organize the event every year.
The highlight of this year's event like every year is having our state governor show up for the Friday night banquet and of course to fish on that opening morning. Governor Walker did just that. Everyone wanted to talk with the governor and get their photo taken with him at the Friday night banquet.
This year was very special year for the opener. Not only because it was the 50th annual event, but also because Henry Repeating Arms wanted to be one of our major sponsors. Henry's Owner and CEO Anthony Imperato of Bayonne NJ wanted to present Governor Walker with a 44 cal. Henry Repeating Rifle. This was because Governor Walker's strong support for tourism, the effort he has put forth trying to improve our deer herd and also the Wisconsin Walleye initiative that recently has been started to improve our walleye fishing in Wisconsin.
Henry also wanted to donate an identical rifle to the event to be raffled off with the proceeds going to tourism. Andy Wickstrom, GM for the Henry manufacturing plant in Rice Lake, WI and myself presented Governor Walker with the rife at Friday night's banquet.
At the Saturday night banquet after a good day of fishing, with sunshine and very warm temperatures we had the annual presentation of the Warren Knowles award. This award is given out every year to an individual who has made a great impact on tourism, the sport of fishing, hunting, or just has contributed in some way to our outdoors.
The award this year was given to a very good friend of mine Dave Carlson from Eau Claire. Jim Bishop also a very good friend of Dave's who is retired from the Wisconsin DNR and presently a Board of Director member with Wisconsin Indianhead Country presented the award to Dave Carlson. During Dave's acceptance speech he said "I just wanted to do whatever is right for the people or industry." He loved reporting what was always right in his mind.
The next morning I spoke with Dave about his life and when he came to this area. Dave said that he and his grandparents made their first trip to Wisconsin near Crandon, fishing a lake called Rolling Stone Lake. They then stated fishing the Gordon Flowage. He also remembers coming to a small resort west of Minong, WI fishing a small 132 acre lake called Rice Lake. His family loved coming to northern Wisconsin.
In 1967 Dave came to Eau Claire from Gary, Indiana to attend college at the UWEC. His parents Arthur & Adele Carlson moved to Wisconsin in 1972 and also live in Eau Claire. Dave said he will always remember when his father and he were fishing Lake Wissota in Chippewa County when his dad caught a musky. He said it was a very good fishing trip and one of those experiences that he will never forget.
One of Dave's first jobs in Eau Claire was an outdoor writer for the local newspaper. He also became a book writer, free-lance writer and for 32 years many of us followed his television adventures as he covered the lives of others who also had a passion for the outdoors. Northland Adventures was a very popular outdoor show not only in the Eau Claire area but throughout many different market areas in the Midwest. Dave told me that he is not the greatest snowmobiler, skier or fisherman but just wanted to tell the stories of other people. Dave said that a lot of his success with his TV show was because of others before him.
The TV show originally started out as the Lucky 13 Outdoor Fishing Show in the early 1960's. The show was started by WEAU TV 13's salesman and weather man Howard Tricky and station manager Leo Howard as a fishing show. It was sponsored by Carl Holbrook of the Co-op Shopping center of Eau Claire. Sales Manager Steve Henry & Sports caster Jim Crandall got in involved for several years and then Dave took the show over in the early 1980's. Dave then brought the show to where it was today at the time of his retirement. Dave's show has now ended because of his retirement but it will always be remembered by many.
Dave also is still known to members of Pheasants Forever, Trout Unlimited, and many other organizations throughout the state. Dave also has been very instrumental in land purchases that will forever provide areas so the public can fish and hunt. Dave has been a friend of mine for many years, I'm proud to know this very fine & humble man. Congratulations Dave, on a well-deserved award.