Good Early Action on Salmon, Trout
Bay Lake Charters out of Algoma, Wisconsin is happy to report some good early action for salmon and trout. In the past few days we have been able to work depths of 80 to 200 feet of water with success landing some large kings pushing that 20 pound mark, along with some rainbow trout and lake trout.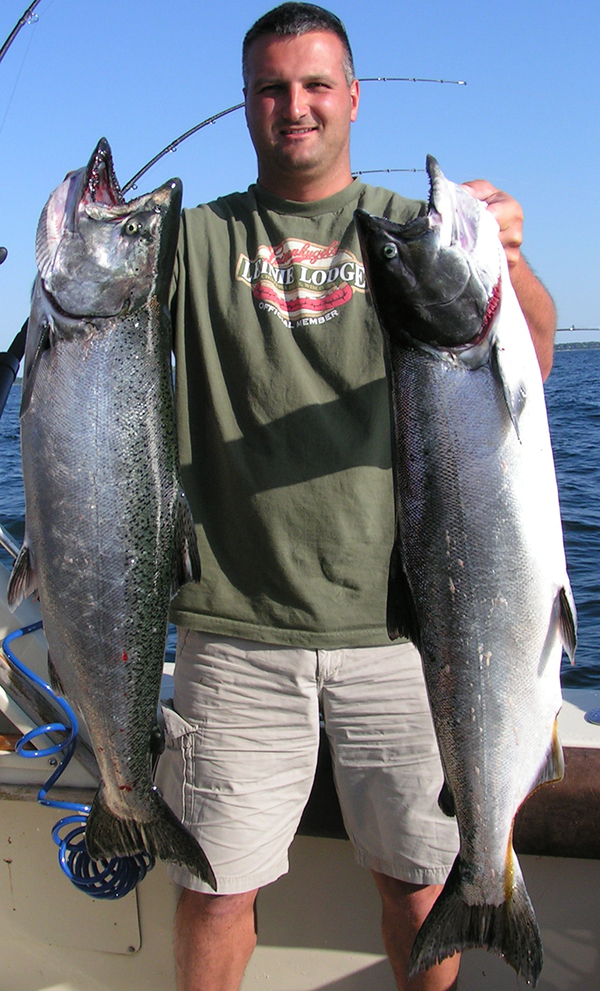 Being successful early in the season requires covering water to find active fish. We have noticed that water temperature right now is the biggest factor in our success. Where we find water a degree or two warmer we find fish. Work these areas covering the whole water column to see what depths produce fish keep track of how deep these bites are coming and match your baits to that water column while working the area. Our most productive lines have been 5 colors of lead core high in the water column but away from the boat with spoons. These lines have produced kings, rainbow trout, and lake trout for us all in the same trip. Flashers and Flies fishing in the top 40 feet have been the best tactic for our big kings early in the morning with the best setups being chrome flashers trolled in front of various green flies.
If you are interested in booking a charter contact Captain Adam Cochart at 920-594-0910 or visit us atwww.baylakecharters.com