Fencerows: Milwaukee's Finest
By John Luthens
I stumble down the July banks of the Milwaukee River and it's not a pretty sight: camouflage shorts, stained fishing vest, tennis-shoe waders that are laced in double knots for extra stability. The odds are less than even that the worn soles still hold enough tread to cling to the swirling bottom.
Splashing through urban brambles and mud, I think to myself how the sport of fly fishing likes to portray an upper-class image: designer wading boots, wispy rods and shining reels that cost as much as a mortgage payment; sipping bottles of expensive microbrew at the end of the day while debating inset hatches that require a master's degree in Latin to pronounce.
The Milwaukee River wants no part of that nonsense. It slides like a transient bum through my hometown of Grafton; blue-collared water, rough around the edges, caring nothing for thousand-dollar rods. It speaks the languages of Native Americans and immigrants who built upon its winding foundation. The Milwaukee doesn't know a lick of Latin, and it prefers that its fishermen drink beer from a can. It also happens to be one of the finest smallmouth bass fisheries that ever took a mind to bootleg towards the brew city.
I'm knee deep in swirling water when I string up my weapon, a shady piece that I hawked off a rummage-sale table for an even dollar. Most of the insignia is long scratched away but, from what I can tell, it was marketed through Sears & Roebuck and has the endorsement signature of baseball legend Ted Williams above the handle.
The rod is missing a lower guide and doesn't cast much better than a real baseball bat. It would stick out like a hillbilly in a room full of sophisticated fly anglers, but it seems more than capable of holding its own in a barroom brawl. I'm planning to knock some Milwaukee River bass over the fence with it.
The rocks are slick with tangles of weeds. I bend my legs and wobble for balance, drifting a buggy creation into the rocky seams. The fly might have a proper name, but I don't know it. The Milwaukee River doesn't care either way. I feel an instant smash at the end of my line and the rod tip doubles.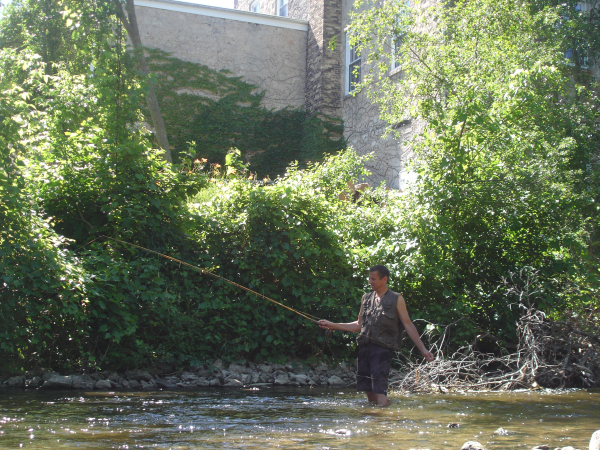 John Luthens fishes the Milwaukee River below the Grafton Mill. (Photograph by Tyler Luthens)
A smallmouth breaks water with youthful abandon and I see with that the fish is only 8 inches. Line sings out as the bass refuses to yield. On a fly rod in fast water, every inch of smallmouth turns into a yard of excitement. I finally bring the ruffian in and applaud him for his arrogance. He glares at me with red eyes. "To hell with you," he seems to say.
I pass below the Grafton Mill, looming brick and stone with ivy climbing rampant upon the walls. It churned out flour in the 1800's, moving to wool refining later in life. It is a place for local artisans now, but I can still hear the noon whistle and hear the mill workers of old, scratching out names on the stone, building a town along this storied river. Some claim they can still see wool leaching out of the banks below. I only see the tumbling water. I'm catching small bass on nearly every cast.
Downstream, into the waning afternoon, the sun slants golden through a rocky island. The river climbs heavy and fast around the edges and crashes together like rival gangs on the other side. I sneak over wet boulders, drifting in and out of the shadows, watching, listening.
The banks above this island once held an old building filled with smoky haze and moaning guitars. The Paramount Records studio beckoned blues recording pioneers to stand here above the Milwaukee River. Legends like Willie Brown, Charlie Patton and the Mississippi Sheiks recorded here in the 1920's, raining chords of southern blues down upon the water.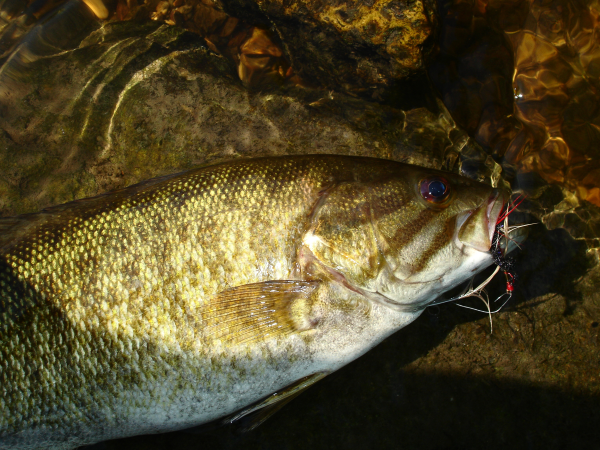 A Milwaukee smallmouth surrenders to the shallows.
The age of blues was a magic time, and this is still a wild place. Riffs echo in the roaring waters of the past. It is Milwaukee's finest. I listen close, feeding line deep into the curling water, cheap rod bobbing in the current and shabby clothes drenched in spray. The line swings taut, I set the hook. I know right away that it is a tough fish.
I was looking for a fight and now I've got my hands full. There's no horsing a big smallmouth in this water. I gain line and lose more, waist deep in the fray and moving below the fish. I try to wear him down, forcing him to pull into the stronger current above. I nearly have beached in the gravel shallows when he goes on another tirade. We knock each other around for 10 minutes. It feels like an hour.
When the bell sounds, I don't rightly know who won. I'm soaked to the neck. My camera is in a waterproof case. It survived. My fly is chewed and unraveled. It did not survive. The bass and I shake hands and fins. I believe that if we could belly up to a bar we would buy each other a drink.
As it is, he winds back into the river and I climb to the street above. If I had a harmonica, a bluesy ballad would be in order. I settle for squishing Milwaukee River footsteps onto the sidewalks of the falling night.
John Luthens is a freelance writer from Grafton, Wisconsin. His first novel, Taconite Creek, is available on Amazon or at www.cablepublishing.com or by contacting the author at Luthens@hotmail.com