Fencerows: Lady Luck
By John Luthens
I've searched high and low for the image of Lady Luck. I'd love to picture her as a wispy mermaid, taking me by the hand and cutting me in on the unfathomed secrets of the outdoors. I've hunted lost ponds and fished the fastest rivers. I've trekked the deepest swamps and peered into stained waters.
Through all of my watery trials, I've discovered one important fact. The louder I call for her, the more likely she is to avoid me completely. Furthermore, I've begun to suspect that she isn't a pretty mermaid at all. I think she's a four-lettered beast who scurries away like a lizard and hisses at me.
I prepare like a surgeon for fishing outings. I put the freshest line on my reel and barter the best graphite into my rod. I buy laser-sharpened hooks and tie flies deep into the night. My waders are as pricey and puncture resistant as a bulletproof vest.
All of that is fine and dandy. But when Lady Luck decides to stay home and hide in the shadows instead of tagging along, then all preparations are reduced to a shamble of driving rain and fishless pools, not to mention wind knots in my line, granny knots in my leaders, and a ripped seam in my waders that turns the gentlest current into a flood-blown torrent down my leg.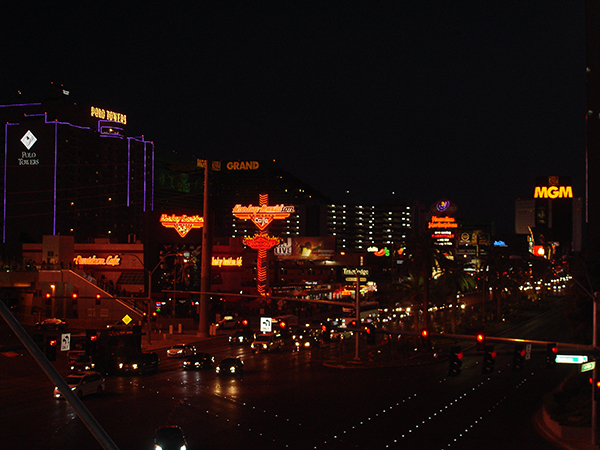 Las Vegas lights.
If sporting-goods manufacturers could bottle the essence of luck like they bottle scent remover, my problems would be over. I'd fish with a rusty rod and reel combo that was picked from the dusty garage of a rummage sale. It wouldn't matter. I'd rub a dab of bottled luck on the soles of my boots and dance home victorious.
I finally snapped. I made up my mind to corner Lady Luck in her own environment; a place where she couldn't dive and tangle me up beneath the confusing brush piles of life. I did what every wholesome fisherman should do when pushed too far. I left my tackle in a snarled pile and headed for Las Vegas.
You've seen those slogans that read, "My dad went to Vegas and all I got was this crummy shirt." Well, I've blown that out of the water. I've brought back the diary of my plunge into the bottomless pool of luck. It may not give a deeper understanding of the craftsmanship that goes into a successful fishing experience, but you're more than welcome to bottle it and drink deeply the next time you venture out.
Day1: Flew into Vegas and set up camp on the southern fringes. Staying on the edge of the Mojave Desert; didn't want to barge right onto the Strip and startle Lady Luck. Prefer to stalk from a distance. Wind gusts reached 65 miles per hour and it was a blizzard of sand and flying tumbleweeds. I've got the jump on the Lady. She was expecting me to bring my fishing rod. The swimming pool is a torrent of unfishable waves. Hey, now, what's this, a quaint casino all the way out here in the desert? I'll just take a quick peek.
Day 2: Had 5 minutes to kill while waiting in line for the breakfast buffet. Blinking lights and coin-like clattering roll like waves in every direction. This must be what the fish feel like when they are bombarded by an overwhelming choice of high-tech lures. Stuck five dollars in a slot machine and won forty-eight. This is too easy. I've got her cornered this time.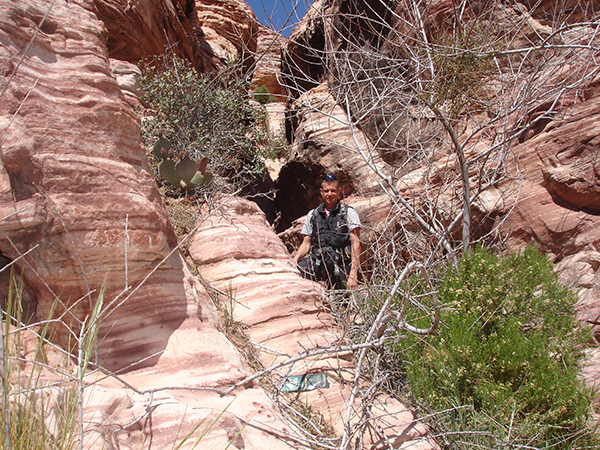 Fishing for a draw of luck in the rocks of the Mojave Desert.
Day 3: Fished the casino at night, but the waters are unsettled. Crazy anglers everywhere and they have a heck of a lot more money than me. I attempt to come off as a high-brow, cultured writer, but it appears that I am really only a lowly hillbilly from Wisconsin. Lady Luck scatters through the night like a school of baitfish.
(As a side note, my 48 dollars have scattered as well. I firmly believe the fishing will be better when the ruckus quiets down in the morning.)
Day 4: The desert is a cruel and heartless place. Forty-eight dollars are a distant memory. My entire wallet is a distant memory. I've become convinced that the endless globes of security cameras are thwarting my attempts to bottle the Lady. She watches my every move, sort of like those underwater internet cameras on the Wolf River back home. When the walleyes start to run, they can't get a lick of privacy and they don't stand a chance.
Day 5: Shouldered my pack and slunk into the desert. I'm a broke and wandering vagrant, but at least there are no cameras to capture my trail. Mountains break upward in the distance. It seems they are right in the front me, but the desert air is thin and distances become distorted. I walk for miles and the mountains don't get much closer.
Sage brush and sun and graveled gullies stretch for endless miles of desolation. I wonder if this is where the Vegas mafia buried the bodies. Dug for Jimmy Hoffa in a dry creek bed, but only found a scattering of broken beer bottles. My plane leaves in the morning, but it appears that Lady Luck has once again slipped ahead of me on the red-eye flight.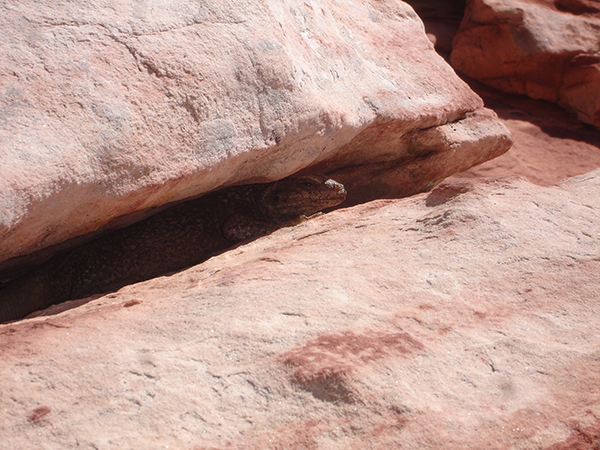 Lady Luck finally peeks out an appearance.
A slight movement caught my eye as I climbed out of the dried creek bed to drag my sunburned butt back home. I bent down, and there she was, a vicious-looking lizard peering out at me from beneath a rock,
The lizard hissed as I snapped a picture and backed carefully away. There are multiple species in the Mojave, but I didn't feel the need to identify. I knew exactly what she was. She was a divine sign that my fortunes are about to change. Lady Luck is no shining mermaid. Viva Las Vegas! I'm heading back to Wisconsin to go fishing.
John Luthens is a freelance writer from Grafton, Wisconsin. His first novel, Taconite Creek, is available on Amazon or at www.cablepublishing.com or by contacting the author at Luthens@hotmail.com