Fencerow: Rumors of Spring
By John Luthens
The calendar promised it was the last day of February so I awoke at 5 a.m. The temperature read zero as I gathered my gear. My truck started sluggish and I had a ways to drive, but by God there was the smell of trout in the air. It was high time that Mother Nature got her butt out of her winter blankets and started chugging down the road of spring. I was on the road before first light.
The destination was Trout Fest, a free sport show event sponsored by the Central Wisconsin chapter of Trout Unlimited in Winneconne, Wisconsin, on the banks of the Wolf River, where, in another couple of months, the walleye and white bass spawning runs will draw anglers from every compass point.
As I rolled into Winneconne on the last day of February, the Wolf was still packed tight in ice and there were no boats. There were no anglers lining the bridges and docks alongside the storied Fin n' Feather restaurant in the center of town. There were only cabin-fever recluses, like myself, who had heard rumors of spring and rumors of trout. The parking lot was packed.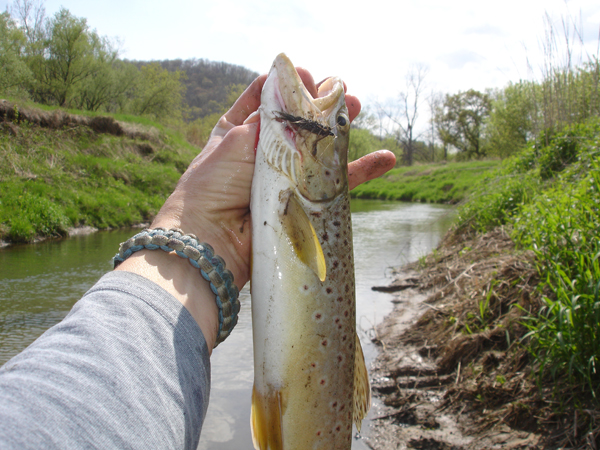 Trout season looms on the horizon.
There were fly tiers and fly fishing guides, artists and tackle manufacturers. Presentations flowed from Trout Unlimited members and stream improvement specialists. Trout fishing gurus circulated in the crowd, most who have likely forgotten more trout lore than I will ever know.
Strictly on the current's surface, I manned a corner table at Trout Fest to promote my new book. But the surface of water, and especially trout water, is only a mirror that shows a distorted reflection. The true spirits of trout fishing are the phantom shadows that every fisherman seeks deep beneath.
I reacquainted with old friends and met many new ones. Gathered together in a common bond, we explored and fished dozens of old trout holes across the state. I caught trout and lost trout, and everyone gathered on the frozen banks of the Wolf River did the same.
I sold a couple of books, but to tell the truth, I would have given them away for a chance to drive the 75 miles through ice and snow, to smell the wet earth and to see the first flowers poking along the banks approaching, to hear the shelf ice breaking slowly away into the rush of spring and to see the first rising rings of trout.
And come to think of it, over the span of a late winter's day on the last of February; that's exactly what happened.
John Luthens is a freelance writer from Grafton, Wisconsin. His first novel, Taconite Creek, is available on Amazon or at www.cablepublishing.com or by contacting the author atLuthens@hotmail.com