Fall Festival Tour
What better way is there to spend a beautiful fall Saturday than to take a drive in the colorful Price County countryside, stopping along the way at three community gatherings to enjoy food, beverages, music, handmade crafts and art work. These three have it all, each with their own featured activities and community character within a 21 mile distance along Highway 13. Starting from the north, the 22nd Annual Phillips Fall Harvest Festival from 9am to 3pm will have homemade seasonal favorite foods offered by local restaurants, local non-profit organizations and street vendors. Enjoy entertainment from two local bands, The Elk River String Band and Reunited, while strolling through an arts and crafts show and sidewalk sales.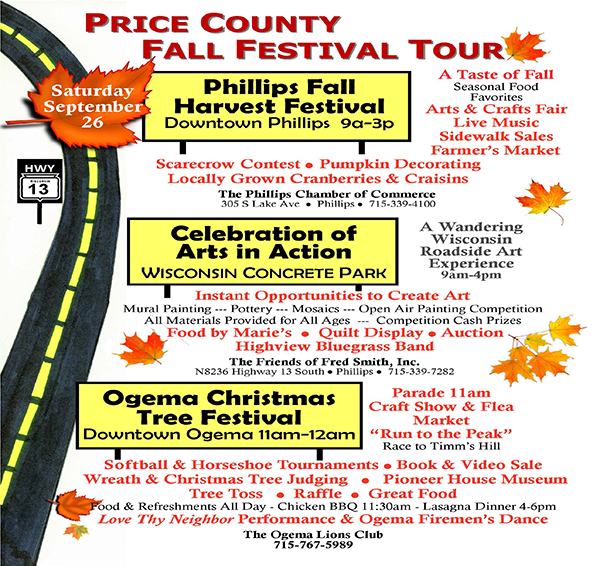 Proceeding south 1 mile, stop at Wisconsin Concrete Park for the Celebration of Arts in Actionand create some artwork at four different media stations----glaze a bowl and have it fired in a raku kiln; paint whatever inspires you on a mural; add to a concrete and glass mosaic wall; or create an open air landscape postcard-sized painting----all while listening to the Highview Bluegrass Band and enjoying a quilt display and lunch by Marie's on Fayette. All materials will be provided for all age groups.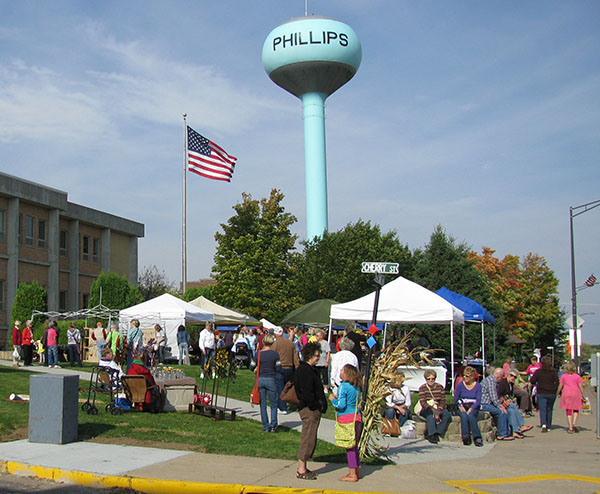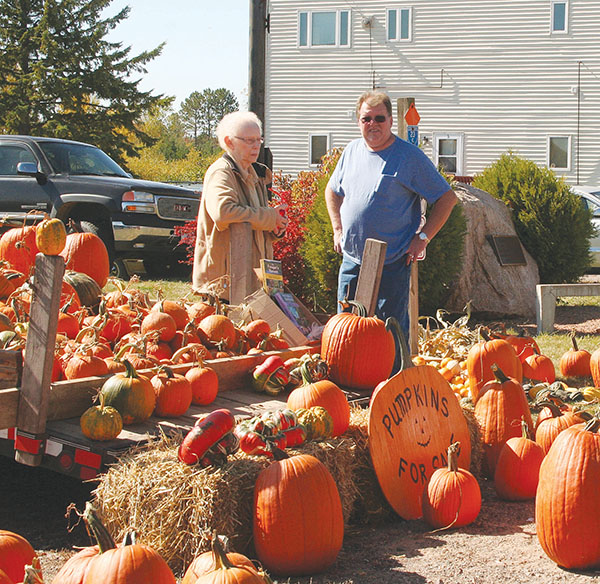 On to the 44th Annual Ogema Christmas Tree Festival, just a mile east of Highway 13 on Highway 86, to enjoy a full line-up from 11am-midnight including a parade, evergreen tree and wreath judging, arts and crafts, sports tournaments, running race, raffle, food, and ending with an evening theater performance and dance. All activities are generated by community members with proceeds supporting community members and organizations.
While in the Ogema area, plan to take a side trip to Timm's Hill, Wisconsin's highest geographical point, where you can view fall colors for miles from atop the observation tower. Hike the trail around Bass Lake to view Timm's Hill from below. Take Hwy 86 east, to County Hwy C south, to Rustic Road 62 east.
It's all too good to miss! For more information about these three events, call the Friends of Fred Smith at 715-339-7282 or email fofs@pctcnet.net .