Day 6 Sturgeon Spearing Harvest Report - Thursday February 16, 2017
Winnebago System Sturgeon Spearing Enthusiasts:
Day 6 of the 2017 sturgeon spearing season included the harvest of 44 fish (28 from Lake Winnebago and 16 from the Upriver Lakes). Stockbridge Harbor remained the busiest station with 11 fish registered, followed by Cal Harbor (6), Payne's Point (4) and Wendt's (4). Registration numbers picked up at Boom Bay today with 8 fish registered there. An additional 6 fish were registered at Critters and 2 at Indian Point on the Upriver Lakes.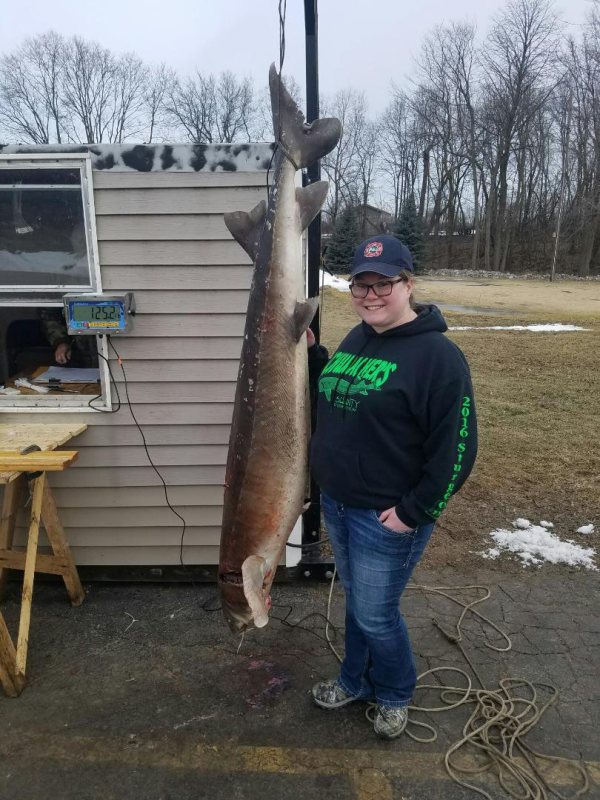 The biggest fish harvested today was registered at Quinney by Alexis Kruger of Chilton. A photo of Alexis's 125.33 pound, 75.5 inch fish is attached to the report. There were two other fish larger than 100 pounds registered today, one at Calumet Harbor and the other at Boom Bay.
Sturgeon Vignette – Lake Sturgeon Age and Growth Project
I've attached a low resolution PDF copy of the vignette.
We are committed to service excellence.
Visit our survey at http://dnr.wi.gov/customersurvey to evaluate how I did.
Ryan Koenigs
Senior Fisheries Biologist / Winnebago System Sturgeon Biologist
Wisconsin Department of Natural Resources
625 E County Rd. Y, Suite 700
Oshkosh, WI 54901
Phone: (920)303-5450
Fax: (920)424-4404
Ryan.koenigs@wisconsin.gov