Day 5 Sturgeon Spearing Harvest Report - Wednesday February 15, 2017
Winnebago System Sturgeon Spearing Enthusiasts:
Today marks the conclusion of the 5th day of the 2017 sturgeon spear fishery on the Winnebago System. There were 32 fish harvested from Lake Winnebago and 18 from the Upriver Lakes today. We are currently at 67% of both the adult female and male harvest caps and would need a harvest of either 22 adult females or 54 males to reach the 90% trigger that would close the fishery the next day. With the decrease in harvest each day, I am expecting the Upriver Lakes fishery to go well into this weekend.
Five more fish 100 pounds or larger were harvested today, all of which were from the Upriver Lakes. After the first 5 days of the fishery 7.9% of the Lake Winnebago harvest have been fish 100 pounds or larger, compared to 2.7% of the Upriver Lakes harvest. The largest fish harvested today was registered at Quinney by Daniel Reindl of New London (118.2 pounds and 75.2"). I don't have a photo of Daniel's fish, but we did get a picture of Jonathan Schneider's 115.2 pound, 68.5" sturgeon that was registered at Payne's Point (photo attached).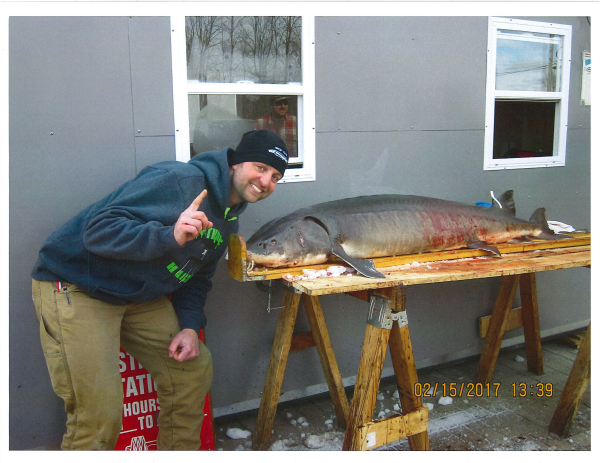 Sturgeon Vignette – "The 1957 Sturgeon Spearing Season"
I often talk about the cultural and social aspects of sturgeon spearing. Modern sturgeon spearing seasons date back to the winter of 1931-1932, with much of the equipment used being handmade and handed down through the generations. This spearing season I plan to chronicle some of the past sturgeon spearing seasons, at least one's that I have records from. I will start with years ending in "7" and move on to the next digit with each passing season. The archives of past sturgeon spearing seasons are pretty variable in content, but today I want to take a few minutes to describe the 1957 season (60 years ago).
I have attached a few documents from the folder from 1957 (season synopsis, news release prior to season, sturgeon registration guide that was provided to the registration stations, and the length frequency from the 1957 harvest). It's amazing reading through these documents how little some of the regulations regarding sturgeon spearing have changed in 60+ years. Of course the harvest cap system, shortened spearing days, URL lottery, and many other regulations have been more recently implemented but some of the basic requirements have not changed.
Lake Winnebago Sturgeion Spearing Season 1957
Sturgeon Registration Guide 1957
It's interesting to read through these historic documents and realize that sturgeon biologists have always collected a tremendous amount of data from harvested fish. For example, the registration guide talks about collection of fin bones for age estimation. To this date, we continue to collect fin bones for age estimation. However, this season we are making a big push to collect sturgeon heads for an age and growth study. That's the nature of science though, we are always looking for improvements in the way we do things and that will never change.
It's also interesting to read the information about the $10 reward for tagged sturgeon. Through time there have been a number of reward programs for not only sturgeon tag returns, but also other species. At one point, breweries were even involved in the program to provide added incentive to anglers. I hope you enjoy the information about the 1957 season.
I enjoyed reading through the documents and learning more about the 1957 season. Further, I look forward to chronicling other past spearing seasons as the 2017 continues on!
We are committed to service excellence.
Visit our survey at http://dnr.wi.gov/customersurvey to evaluate how I did.
Ryan Koenigs
Senior Fisheries Biologist / Winnebago System Sturgeon Biologist
Wisconsin Department of Natural Resources
625 E County Rd. Y, Suite 700
Oshkosh, WI 54901
Phone: (920)303-5450
Fax: (920)424-4404
Ryan.koenigs@wisconsin.gov