Central Wisconsin Outdoor Report

Fishing in the central Wisconsin area has pretty much peaked for the summer months, we are now in those dog days of August. The walleye bite has slowed down a bit but the bass and panfish action has been very good, we have also been picking up a few nice muskies too. Our most consistent action has been early and late in the day with the morning bite definitely being better. The water temperatures are holding in the upper 70's and we will probably stay there until we start seeing some cooler air temperatures.

Despite the warm weather the musky bite has been ok. The last outing saw us boating two really nice fish by Mitchell Lund with both fish being over 40 inches long. One fish was caught on a magnum Bulldawg being worked in deep water and the other fish came on an Apache Triple blade bucktail in 3 FOW. We also lost two other nice fish that same day. One of those fish was on a Fat Bastard top water bait and the other one was on a Suick jerkbait. We had 4 different fish hit 4 different baits all in the same day. So you can see there is no real pattern or special bait right now, just being in the right place, at the right time, with the right bait.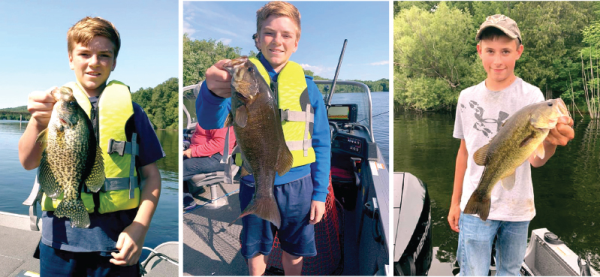 For you walleye guys we have been catching some good walleyes early in the morning on jigs tipped with night crawlers. We are working depths of 12 to 16 FOW with submerged wood. We have also been trolling crankbaits like Rapalas and Flicker Shads in 10 to 16 FOW setting the baits out far enough so they are occasionally ticking the bottom.
The action for bass has been very good. We have been pitching spinnerbaits and jigs that we have tipped with plastics right in and around shoreline wood and trees in 1 to 5 FOW. The best advice I can give you right now is that you cannot go too shallow for these bass as they are in very skinny water.
The panfish bite has been very good with some nice catches of big bull gills and crappies. We are catching most of the fish on tiny 1/16th and 1/32nd ounce lead head jigs tipped with a piece of a night crawler but the larger gills and crappie are coming on the custom Jig Shot Plastics with the best color being the blue and chartreuse.
In addition the gamefish we are also catching quite a few nice catfish. Most of these catches are incidental but the cats are abundant, fun to catch and they put up quite a fight on light line. They are not too bad of an eating fish either.

With bear season only a month away we are seeing a lot more daytime activity at our bait stations along with some new bears that we haven't seen all season. Now as we get closer to the actual hunting date we are going to start changing things up a bit and go with more frequent baiting and a different variety of baits and food at our bait stations. We do this to keep the bears that we already have coming to our bait stations interested in our presentation and to keep them from wandering off to find someone else's bait station or natural food supply.
Have a great week,

Phil Schweik
Hooksetters Guide Service
Web www.hooksetters.biz
Phone: 715-693-5843