Ashland Area Fishing Report for Sept. 3, 2015
~ Fishing guides Roger LaPenter and Luke Kavajecz from Anglers All, 715/682-5754, report the following:
This report is about the Ashland side of Chequamegon Bay. The smallmouth fishing has been very good with anglers finding them in the drop-offs and in the deeper places out in the bay.
"The water depths are going to vary depending on the wind direction," said Carolyn Swartz, co-owner of Anglers All in Ashland.
September is here, but it sure doesn't feel like it right now as it's been super warm and muggy out there. Even though it's been warm on land, we've had some pretty good offshore winds out of the southwest and the water in the bay has cooled down in some places.
"Temps have ranged from the low 50s to the mid-60s, depending on where you're at," noted Anglers All fishing guide Luke Kavajecz. "Those winds have brought in a few trout and salmon, and we've seen them chasing bait around some of the smallmouth spots, but it's still a little early for steady action if you want to target those fish."
"For right now, we're still in a summer pattern," he added, "but things will change soon enough."
Shallow-water fishing picks up, inland and on Lake Superior, as the water cools and fish are more active during the day. Although the smallmouth bass will stay out in the deep water, the cool fall weather will be a boon to trout and salmon fishermen.
Trollers have still been reporting good numbers of lake trout, especially in the flats and out by the Apostle Islands, but not very many brown trout or salmon yet. It won't be too much longer before these fish really start showing up, especially with cooler temps and some more offshore wind.
"This time of year, it really pays to start looking at wind directions and understand how those winds affect the water," Luke explained. "Offshore winds (southwest-northwest) will cool the water down and bring in the first schools of cohos and browns. Onshore winds (northeast-east) will feel cool, but actually push warm water in – keeping those trout and salmon further offshore."
The Big Lake-run browns continue making their way up the Brule River and a few have been spotted in the Sioux as well. Luke advises anglers that the "best way to get after these fish is at night. Look for quiet water and throw mouse patterns or large, dark streamers."
He describes the brown trout making their way into the streams as "pretty wary fish. But they're big and when you hear one crash a surface pattern in the middle of the night, it's pretty cool."
For the most complete and up-to-date fishing report, just give them a call at Anglers All and they will gladly keep you informed!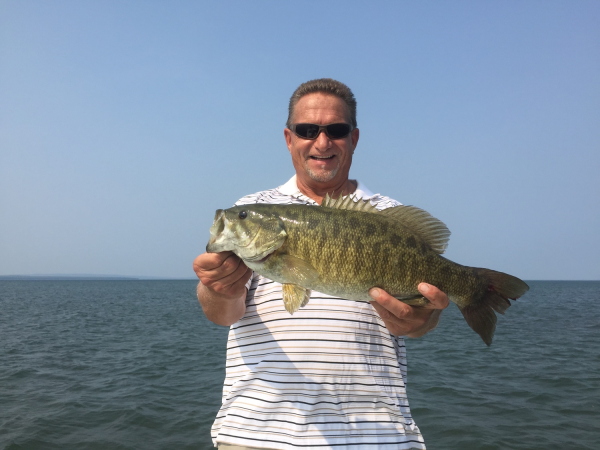 Anglers All fishing guide Luke Kavajecz had this to say about this late August smallmouth bass photo: "Michael is from Germany and came to us by way of Dallas, Texas, to experience our great fishery. "We had a memorable day on the water. Das ist der Hammer!!!" (Photo courtesy of Luke Kavajecz)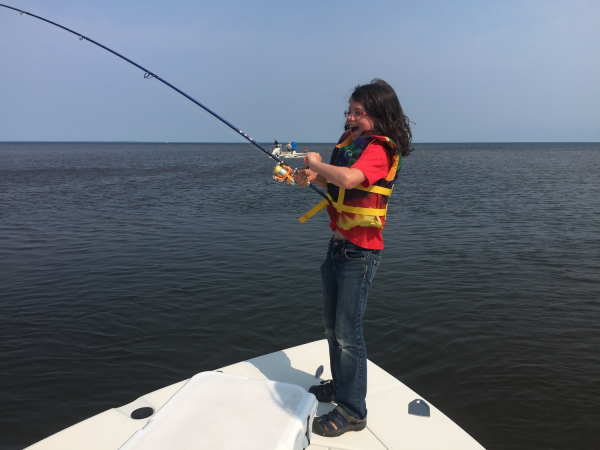 A highlight of the summer for Anglers All fishing guide Luke Kavajecz was watching 9-year-old Naomi from New York City catch smallmouth all day on Sunday, Aug. 30. "We hit one of the best days of fishing this summer and she and her family had a great trip," said Luke. "She was super excited from start to finish and didn't want to go in at the end of the day. She could cast better than most people, set the hook right, and fight fish all the way to the boat. Way to go, Naomi!" (Photo courtesy of Luke Kavajecz)
~ The Ashland Area Chamber of Commerce, 1-800-284-9484, reports:
Fishing is always a thrilling adventure in the Ashland area! Chequamegon Bay is famous for its world-class smallmouth bass fishing.
Ashland's annual Mural Fest & Classic Car Show will roll into town Saturday, Sept. 12, from 9 a.m. to 2 p.m. in the 200 block of historic Main Street. Since 2005, Ashland has been known as the "Historic Mural Capital of Wisconsin" and the city will celebrate a decade of artistic excellence with this year's festival.
Don't miss the thrill of the Mural Treasure Hunt starting at 10 a.m. at Home Expressions, 116 W. Main St. Enjoy food, music, arts & crafts, sidewalk sales, children's mural painting all day, plus dozens of beautifully restored vintage vehicles in the Classic Car Show.
Guided Mural Tours on the Hometown Trolley conducted by artist Sue Prentice Martinsen will be held at 10 a.m. and noon. (Meet at the Ore Dock Mural, 301 W. Main St., across from the Ashland County Courthouse.)
New this year will be fun Bicycle Mural Tours, taking off at 11 a.m. and 1 p.m. Bring your own bike or rent one from Bay City Cycles, 412 W. Main St. Meet at the Ore Dock Mural for the bike tours.
For more information on registering a vehicle to be in the Classic Car Show or if you would like to sign up to be an arts & crafts vendor, call 1-800-284-9484 or go to www.visitashland.com.