Ashland Area Fishing Report for May 21, 2015
~ Fishing guides Roger LaPenter and Luke Kavajecz from Anglers All, 715/682-5754 (http://www.anglersallwisconsin.com), report the following:
This report is about the Ashland side of Chequamegon Bay. Rain, snow, wind, fog, sun, cold, warm – the Ashland area has experienced it all during the past few weeks, and it's been a pretty classic spring out on the bay.
The water temperatures a few weeks back were pushing the mid-60s in the shallows, and a big, cold, wet low pressure system came through about a week ago and pushed those temps down into the mid to upper 40s.
"It's rebounded a bit, and the forecast looks pretty 'normal' for the next few days," observed Luke Kavajecz of Anglers All in Ashland, "and we should be back to where we were pretty quick."
"Despite the water cooling down, the fishing has been good the past few weeks," Luke said. "Fishing slowly was the name of the game and small jig and grub combinations and small hair jigs worked well when the fish didn't want to move."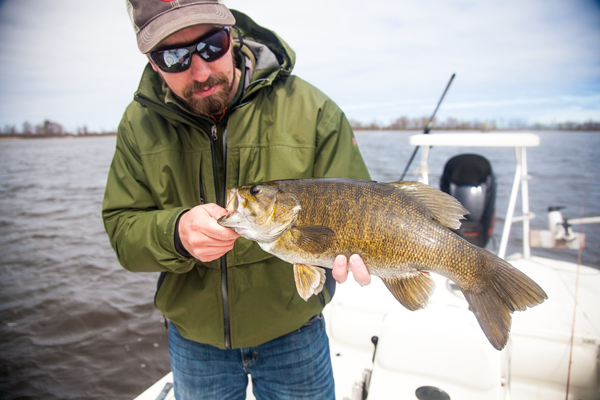 Fishing guide Luke Kavajecz holds up a smallie that an angler from Appleton landed earlier this week. "We've had just about every type of weather the past few weeks," Luke said, "but the fish are there and it's just a matter of slowing down and being there when they get hungry." (Photo courtesy of Luke Kavajecz of Ashland)
"A few really nice fish started to move into the shallows, but things are going to change again with the water warming up, and the best fishing is yet to come," he concluded.
The smallmouth bass are starting to move back in to shore and are starting to make beds, though they are still in pre-spawn mode.
A good number of brown trout are being caught on the first breaks as well as a few salmon and splake, according to Carolyn Swartz, co-owner of Anglers All. For the lake trout, you have to follow the water temperatures.
Browns are being caught on the Ashland side of the bay around the marina as well as northerns. "Anglers are soaking smelt for them," she added.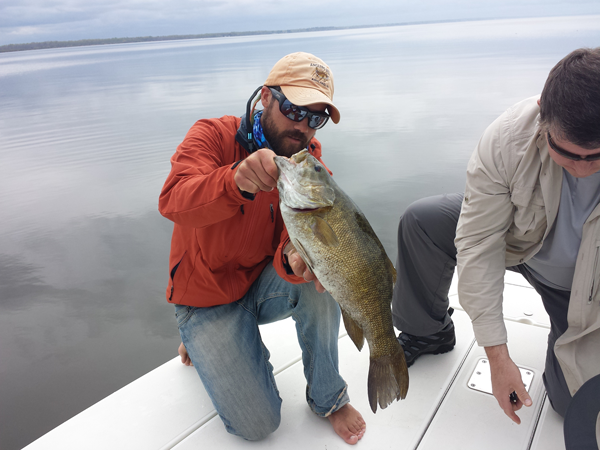 This fisherman from St. Paul, Minn., caught a nice smallmouth bass on a recent guided trip out on Chequamegon Bay with Luke Kavajecz of Anglers All. (Photo courtesy of Luke Kavajecz of Ashland)
The northern pike are hanging around in the shallows and there has been perch activity off the old ore dock.
Carolyn says those targeting trout and salmon should start in Washburn and work their way north along the shoreline, trolling with flatlines "unless you start marking them in a little deeper water. People are starting to use spoons off of downriggers in deeper water along with dipsy divers."
"There are still some mud lines out there from the recent rains as well," she added. "It's always a good idea to try to fish the mud lines, if they're visible. Look for those when the wind blows and roils the bottom up."
The walleye bite has been decent, Carolyn said, with most people trolling with crawler harnesses in the shallows and trolling using stickbaits in the deeper water in the drop-offs into the channel. This type of fishing is most productive during lowlight hours, she noted.
She said that people also have been trolling and casting for some walleye at the mouth of Fish Creek slough during the low-light hours using shallow-running stickbaits.
For the most complete and up-to-date fishing report, just give them a call at Anglers All and they will gladly keep you informed!

~ The Ashland Area Chamber of Commerce, www.visitashland.com, 1-800-284-9484, reports:
Fishing is always a thrilling adventure in the Ashland area! Chequamegon Bay is famous for its world-class smallmouth bass fishing.
ABC Raceway will have their Season Opener of stock car racing this Saturday, May 23, presented by Northern State Bank. Grandstands open at 5 p.m., hot laps are at 6:15, and racing begins at 7 p.m. The popular racing venue located just south of Ashland will once again be home to WISSOTA-sanctioned Modifieds, Super Stocks and Midwest Mods, as well as the track's own Six-Cylinders and Pure Stocks, for exciting heat-race and feature action on the semi-banked three-eighths-mile red-clay oval. For more information, visit www.abcraceway.com, or call 715/682-4237. ABC Raceway is located at 2187 Butterworth Road, Ashland.