Ashland Area Fishing Report for Jan. 28, 2016
~ Fishing guides Roger LaPenter and Luke Kavajecz from Anglers All, 715/682-5754, report the following:
This report is about the Ashland side of Chequamegon Bay. According to Anglers All employee John Radloff, the ice on the bay is definitely not as thick as most years. Nevertheless, the majority of ice fishermen are just glad to have the chance to get out and drop a line.
"In a normal year, we'd have about two feet of ice out there by now," John said. "This year we're lucky to have 12 inches in some spots."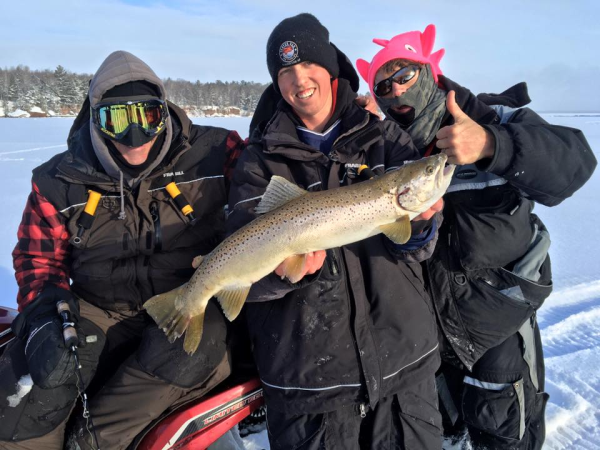 Josh Teigen (center) of Iron River, owner and operator of Josh Teigen's Guide Service, had a great time earlier this week fishing on Chequamegon Bay with his friends Ryan and Rusty. They caught this nice brown trout while filming a segment for "John Gillespie's Waters & Woods" TV show that will air at 9 a.m. Saturday, Feb. 6, on Fox Sports Net North. (Photo courtesy of Josh Teigen and John Gillespie)
John said the ice is only six inches thick out by Houghton Point. "It's not a good idea to venture out that far. Around the mouths of the Sioux and Onion, it's pretty iffy as well."
He also said that the ice "went out" that had been building up at the sea caves near Cornucopia. "It all broke up and blew out away from shore when we had those strong winds from the south-southwest."
There has still been a wide variety of fish species being caught. "Out at Second Landing, east of town, they're bringing in perch, walleye and northerns," John noted. "In town here, by the docks, they're finding brown trout and a couple of Cohos were reported."
Out on the S-curve John said Anglers All has had reports of good trout activity. "Folks have been getting brown trout and splake out that way."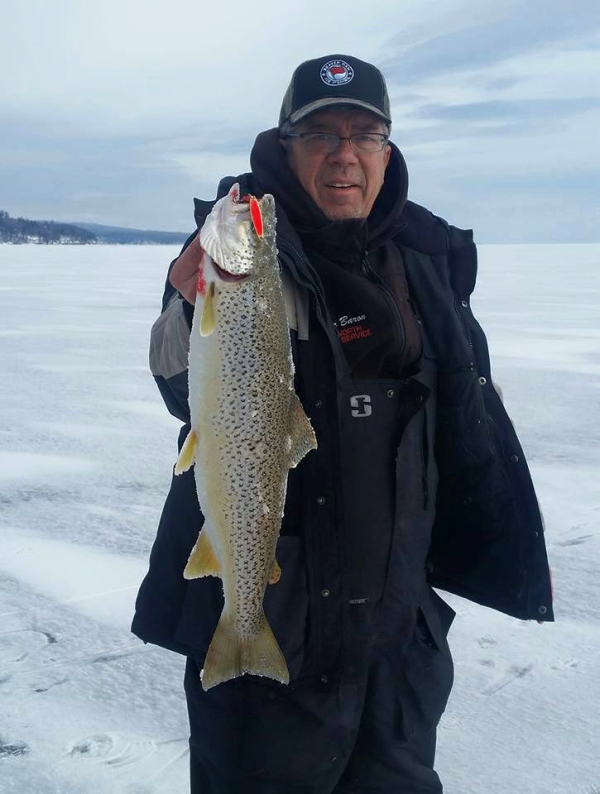 Ashland native Nate Baron has been taking advantage of the ice on Chequamegon Bay recently. He had "an epic day out on Lake Superior chasing browns and splake" with three other avid anglers. Nate said they ended up "three trout shy of a four-man limit" and "had a blast!" (Photo courtesy of Nate Baron)
Over in Washburn, anglers have been catching fish off the coal dock, including browns, whitefish and smallmouth bass, mostly using shiners.
On the inland lakes, people have been finding some good crappies and bluegills over in the Iron River and Delta areas. "Lake Namakagon has been seeing some nice walleye and crappie activity," John added.
For the most complete and up-to-date fishing report, just give them a call at Anglers All and they will gladly keep you informed!
~ Fishing Guide Scott Bretting from River Rock Inn and Bait Shop, 715/682-3232, reports the following:
"The catch last weekend was fantastic!" commented Scott Bretting, guide and owner of River Rock Inn & Bait Shop. "It was quite a mixed bag, basically everything Lake Superior has to offer" had been reported, he said.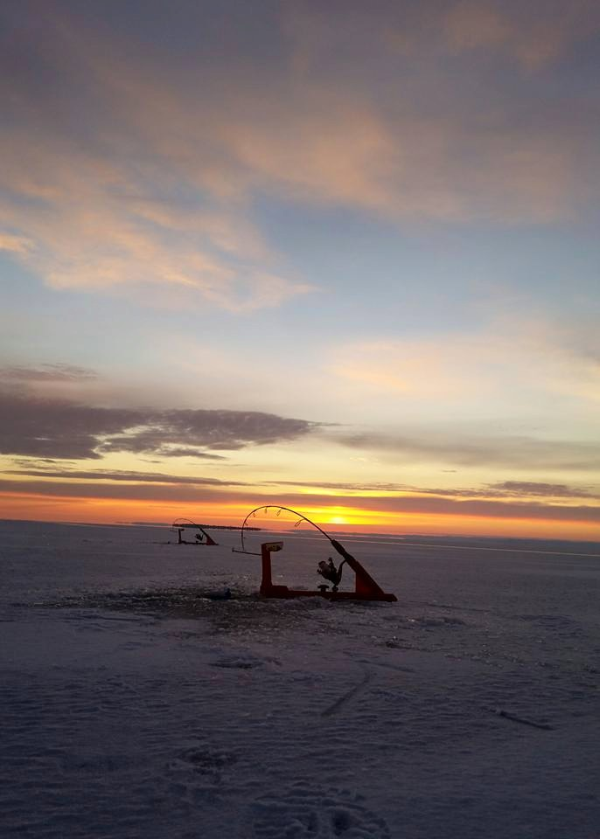 Another gorgeous sunrise on Chequamegon Bay! Nate Baron of Ashland-based Up North Guide Service took this photo while setting up automatics at the crack of dawn on Jan. 23. (Photo courtesy of Nate Baron)
"People were getting them from as small as perch to as big as sturgeon, with splake being very prevalent," Scott noted.
He said rattle spoons tipped with a shiner head, and Vibratos have been getting good results. "Also the Beaver Dam Tip-Ups with a full shiner have been producing in anywhere from 15 foot of water out to 24 feet."
Folks are fishing in the bay here right off of Ashland and seeing a lot of bait fish, including plenty of smelt. "There were some nice browns mixed in with those smelt that are feeding on them," Scott said.
He also said from the Ashland Breakwater Lighthouse to the area around the former oredock has been a productive spot with anglers getting some nice catches of perch there. "They've also been getting lakers and browns in those same areas," he added.
Even though the ice is getting better, thicker all of the time, people should still exercise extreme caution, especially in the Onion and Sioux rivers area. "With the high winds from yesterday (Wednesday), all of the ice in front of the Onion (River) blew out," Scott said, "leaving behind open water."
"So that's probably not an area to venture out from until the weather settles," he advised.
Scott said people continue walking out from the S-curve, also known as Bono Creek Landing, between Ashland and Washburn. "The ice is slowly getting thicker out that way, probably 4-5 inches now."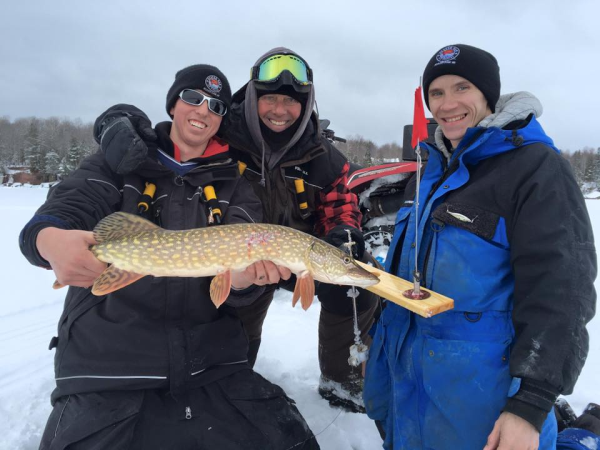 TV host John Gillespie (center) visited Ashland earlier this week and had one of his "most enjoyable ice fishing trips of the year" when he went out fishing on Chequamegon Bay with Josh Teigen, who owns and operates his own guide service out of his hometown of Iron River. Josh (left) and his friend Acorn Armagost (right), also of Iron River, hauled in a pretty impressive assortment of fish, including several browns, whitefish and splake, along with at least one laker and a northern pike (shown). Gillespie was in Ashland filming a segment of his popular TV series, "John Gillespie's Waters & Woods," which airs on Fox Sports Net North. (Photo courtesy of Josh Teigen and John Gillespie)
Anglers are getting good stuff off the coal dock in Washburn and out to Houghton Point, he said, but not venturing out any further due to the unsafe ice conditions.
The inland lakes have slowed down a little bit, Scott observed. "The fish get a little lethargic in the middle of winter, plus the full moon slows things down typically. But it hasn't affected a lot of the bay; the fishery is still getting good reports."
Stop in and see their great selection of live bait, fishing tackle, gear, accessories, smoked fish, and much more at River Rock Inn & Bait Shop on West Lake Shore Drive (U.S. Highway 2)!
Please remember: No ice is ever 100% safe! Conditions can change rapidly on Lake Superior in particular. Please have all the necessary safety equipment with you such as ice claws or picks, a cellphone in a waterproof bag or case, a life jacket and length of rope. For your own safety and especially if you are unfamiliar with the area you will be fishing, hire a local guide or check with a bait shop prior to venturing out on any ice.
~ The Ashland Area Chamber of Commerce, 1-800-284-9484, reports:
Fishing is always a thrilling adventure in the Ashland area! Chequamegon Bay is famous for its world-class smallmouth bass fishing. The 12-mile-long bay's rock piles and breakwater structures make for perfect bass habitat.
The 11th Annual Justin Donner Memorial Fisheree is coming up on Saturday, Jan. 30, at Donner's Bay Resort, 2974 Hiawatha Rd., Butternut, on the Turtle-Flambeau Flowage. The event will run from 7 a.m. to 4 p.m. and will feature auctions, raffles, food, refreshments and fireworks. Fish registration begins at 10 a.m. For more details, call 715/762-2956 or visit http://www.jpdwarrior.com/fisheree.html.
The 15th Annual ABC Sportsmen Kids' Ice Fishing Contest is set for Saturday, Feb. 20, at Kreher Park in Ashland from 11 a.m. to 2 p.m. This contest is FREE to all children ages 5-15. There will be two age classes, 5-9 years and 10-15 years. The first 300 kids will receive prizes, plus there will be trophies awarded for the top three largest fish in each category, including perch, trout, northern pike or other. Refreshments will be served. Bring your own poles and tackle. Live bait will be provided. Register at the pavilion in Kreher Park before going on the ice of Chequamegon Bay. Call 715/373-2088 to learn more.
The 12th Annual Jonny Angel Foundation Fisheree will be Saturday, Feb. 20, at Dick and Joan's Butternut Resort, 11633 Lakeview Rd. (County Rd. B), Butternut, from 7 a.m. to 5 p.m. Cash prizes will be awarded in multiple categories. Raffles and prize drawings throughout the day. For more information, call 715/769-3333 or check out www.butternutresort.com.
The Neighborly Bar 2016 Ice Fishing Tourney and Ice Raffle will be held Saturday, Feb. 27, and will feature cash prizes in seven categories of fish, including walleye, lake trout, perch, crappie and more. And whoever catches the biggest fish overall will be crowned the 2016 King of the Lake! Tickets must be purchased by bar close on Feb. 26. Entry fee includes food and prizes. Fish any lake. All fish must be registered by 5 p.m. on Feb. 27. Ice Raffle drawing at 6 p.m. Need not be present to win. Call 715/682-9908 for more information.
The Annual Claus Kraetke Memorial Ice Fishing Jamboree at Donner's Bay Resort, 2974 Hiawatha Rd., Butternut, on the Turtle-Flambeau Flowage, will take place Saturday, Feb. 27, from 7 a.m. to 4 p.m. Cash prizes will be given for the largest fish caught in several categories. There will be hot food, warm & cold beverages and tickets for many raffles for sale inside the resort's lodge. For more information, call 715/476-2555.
The Mellen Rod & Gun Club Annual Ice Fishing Contest on Lake Galilee is planned for Sunday, Feb. 28, from 8 a.m. to 3 p.m. Drawings will be held from noon to 3 p.m. Call 715/274-2080 or 715/274-2330 for more information.