Ashland Area Fishing Report for April 14, 2016
~ Fishing guides from Anglers All, 715/682-5754, report the following:
This report is about the Ashland side of Chequamegon Bay. Open-water season is finally here after ice-out early last week!!
"Fishing has been pretty good as long as people can find the mud lines," said Carolyn Swartz, co-owner of Anglers All. "We've got a lot of dirty water out there right now, but the fishing definitely picks up as soon as you find those mud lines and the clean water that the fish like."
"They will want to troll on the clean side of those mud lines," Carolyn explained. "The fish like to hide in the dirty water and then pop out into the clean side."
She said most people are trolling shallower-running stickbaits in anywhere from 3 to 10 foot of water. "Folks have been doing pretty well on browns along with some Coho, splake and the occasional steelhead," Carolyn said.
And although the Washburn Marina is still iced in, folks wanting to launch their boats from Washburn can get out of Thompson's West End Park and Bodin's.
** Located at 2803 E. Lake Shore Drive (U.S. Highway 2) in Ashland, Anglers All is a full-service tackle and fly shop with a professional guide service for Lake Superior and area inland lakes and rivers, offering the largest selection of baits and tackle in the Chequamegon Bay area. For the most complete and up-to-date fishing report, just give them a call at Anglers All and they will gladly keep you informed!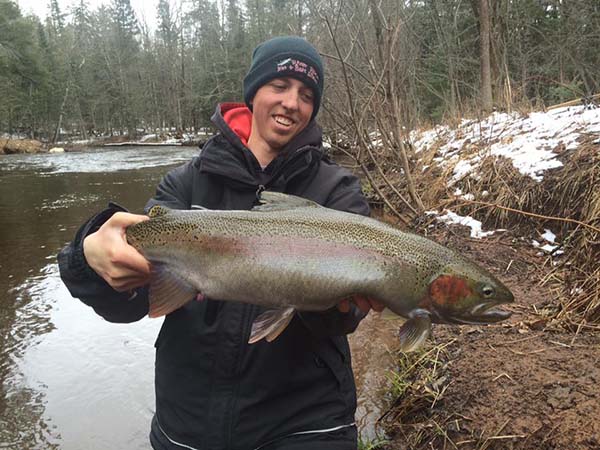 Josh Teigen of Iron River had a very happy birthday on April 7 when he caught this large rainbow trout. "I snuck out fishing for a few hours today and was rewarded with a few nice trout, including this big hen," Josh said. He estimated its length at around 27 inches, but said he didn't weigh it. (Photo courtesy of Josh Teigen's Guide Service)
~ Fishing guides from River Rock Inn and Bait Shop, 715/682-3232, report the following:
Open-water fishing on Chequamegon Bay is here! "The landings are pretty much all open now and guys are out trolling," according to Scott Bretting, owner/operator of River Rock Inn & Bait Shop. "There've been some nice browns reported," he added.
"Anything that looks like a smelt" is a good bait for trout right now, Scott said, laughing. In addition, he highly recommends stickbaits such as Rapala, Smithwick, Reef Runner, and Bomber.
And speaking of smelt, the spawning run began last night in Ashland! "It sounds like they netted very few smelt last night, but this weekend will be the start of smelt season and we hope to have a good week of it," Scott said. He reminds smelt enthusiasts that if you're not a Wisconsin resident, you do need a license to harvest smelt.
River Rock will be selling whole smelt for $3 per pound or $6 per pound for cleaned smelt. "When they buy them cleaned, they actually get more per pound because then they're not paying for the guts or head," Scott pointed out.
Scott said there is still ice on quite a few of the area's inland lakes and it's "not fishable ice" either, so most of those are still in transition at the moment. "The spring fishing on the inland lakes is for panfish typically," he noted. "It's closed season (inland) for walleye and northerns right now, of course."
"They're fishing out by Houghton Point, at the mouth of the Onion River and over in Washburn off the coal dock. There's still ice in the marina over there and here in Ashland so there's no boats in those marinas yet, but it won't be long now."
Scott said there is also still a large pile of ice on the Ashland breakwall that resulted from the wind pushing the ice out and up onto the structure. "We still have a one-foot pile of snow in our yard here at River Rock, but that will be gone by tomorrow probably," Scott commented. The water in the bay is still pretty dirty from the recent snowmelt and runoff, he noted.
"Guys are having success down by the 'pig iron' getting pike," Scott said. "That area will be busy this weekend, I'm sure."
"They're still catching steelhead in the streams, but the runoff is pretty strong because of that 8 inches of snow we got last week," Scott continued. "So the rivers are running pretty fast and furious right now, but they are going to clear up and be productive fishing spots in the next couple of days."
He said stream fishermen have been doing well using spawn and yarn patterns. Egg patterns are another commonly used bait to attract steelies.
Scott said he is looking ahead to a wonderful weekend for fishing. "It's great to see folks out on the lake and we've had some nice reports from off the Washburn coal dock. There are plenty of places where people can get their boat out so I think they are going to have an awesome weekend!"
** Stop in and see their wide variety of live bait, fishing tackle, gear, accessories, smoked fish, local cheeses, meats, and microbrews, and much more at River Rock Inn & Bait Shop, 1200 W. Lake Shore Drive (U.S. Highway 2), in Ashland. Call River Rock for the most current ice fishing report and they'll give you the 411 on the bay area!
~ The Ashland Area Chamber of Commerce, 1-800-284-9484, reports:
Fishing is always a thrilling adventure in the Ashland area! Chequamegon Bay is famous for its world-class smallmouth bass fishing. The 12-mile-long bay's rock piles and breakwater structures make for perfect bass habitat.
The WJJH Spring Home & Sport Show is coming up this weekend, April 15-17, at the Bay Area Civic Center, 320 4th Ave. W., Ashland, featuring displays and demos of home and recreational products. Show hours are: Friday, 6-9 p.m.; Saturday, 10 a.m. to 6 p.m.; and Sunday, 10 a.m. to 3 p.m. Free admission all three days. For more information, call 715/682-2727.
The Ashland Gun & Knife Show is set for April 22-24 at the Bay Area Civic Center, 320 4th Ave. W., Ashland. Show hours are: Friday from 4-8 p.m., Saturday from 9 a.m. to 4 p.m., and Sunday from 9 a.m. to 3 p.m. Guns on display and for sale. For more information, call Ray at 715/292-8415.