Another Day in Paradise
DICK ELLIS
Sunrises, big bucks and a simple appreciation for life
Dave Goodwin strained through tree branches and the dropping sun to the west to track the extraordinary buck moving through the Grant County grasslands. The whitetail breeding season, or rut, opens a narrow window of opportunity for the bowhunter when even the most wary bucks, survivors of many seasons passed, will make mistakes. The age old pursuit of female companionship will do that. Goodwin felt the shot of adrenalin of a hunter on the edge of a rare encounter, and settled in hoping to take advantage of one of nature's true gifts….
In Goodwin's eyes, each day is a gift on its own. For the two time cancer survivor, there is no need to look for an extraordinary event or new memory to imprint on the mind to make it a welcome event. He carries a certain appreciation for life, period.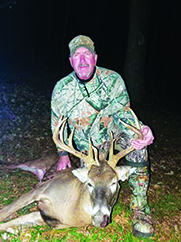 A true student of the game, Dave Goodwin has called in and tagged many impressive bucks. In addition to strict attention to scent control, his arsenal includes rattling and grunt and can calls.

Prior to release back into the shallows of Green Bay, Dave Goodwin holds a 56-1/2 inch musky sporting a 28-inch girth and weighing in at an estimated 52 pounds. Look for the story in the May-June issue of OWO.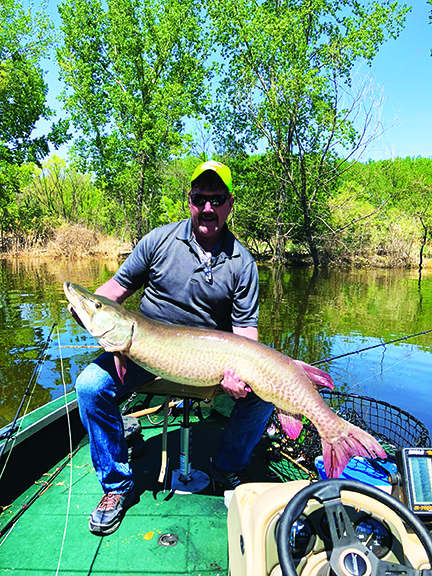 Nick Goodwin with a beautiful Grant County buck taken during the 2020 bow season.
"People don't always realize what we have," Goodwin said. "I told my daughter and son-in-law on their wedding day that there are only so many sunrises and sunsets. They're never the same. Try not to miss too many of them. All of them are hand-painted by God's finger. My own love for hunting and fishing lets me take a stand and watch life appear right before my very eyes."
When the "extraordinary" does occasionally intrude on a day in the field though, Goodwin won't argue. He recalls as a younger man seeing a buck with massive rack in northern Wisconsin. For approximately 20 years, he and Larry and Grant Whiffen stayed and hunted near Mercer with national and Wisconsin archery legend Art Laha, a 1996 Bowhunter's Hall of Fame inductee. The Whiffens were the sons of Larry Whiffen, co-founder of the Wisconsin Bow Hunters Association and a 2001 inductee into the Hall of Fame. His son verified that Dave's description was no exaggeration.
"I watched the buck put his head and antlers back so that he could walk into the tamaracks with that rack," Goodwin said. "Larry saw it twice later and told me, anyone who shoots that buck shoots a world record."
Over the years, Goodwin and his son Nick would transition to hunt private property owned by in-laws in Wisconsin's southwest. Dave's skilled taxidermy work he undertakes solely to capture extraordinary family memories tell the stories of many successful days in the field. The 2021 archery season revealed another impressive buck working the Fennimore area landscape, and caught November 1st on trail-camera near Dave's stand. He arrived November 5th in the heat of the rut and took an afternoon stand.
Two years ago injury initiated Dave's move to a Mission crossbow. He has a passion for calling deer with measureable success, but also quickly points to many mistakes made on the road to learning what works. He carries two grunt calls with different tones to simulate the local bucks' hierarchy and the age-old "fight for the girl". Another ace in the hole is a doe-in heat can call. On this afternoon, calling would play a major role in bringing in a memory for the ages.
He is adamant regarding the importance of using scent or scent eliminators. He stresses 'de-scenting socks, underwear, and the towel you dry off with' and strongly recommends the use of Evercalm Deer Herd stick. The calming scents combine natural deer smells and scents from bedding deer to cover human scent and help keep deer at ease. The stick, according to common review themes on the web, "saves hunts".
"Don't leave home without it," said Dave. "In nine years I've never been busted using it. The crossbow has given me the ability to get back in the field. I was forced to make the change to a crossbow but it also puts deer down quicker; it's accurate and humane. Whatever you use, you owe it to the animal to know your equipment."
Before taking stand, Dave walked the property "repairing" scrapes with a Conquest scrape maker, a tool that enables the hunter in part to leave a scented hoof print in the scrape while raking licking branch hanging above the scrapes. Licking branches are made and used 365 days a year and not always above a scrape, according to Legendary Whitetails. During the rut, though, each visiting buck to the scrape is posting his calling card for companionship with his unique scent.
Following his own protocol, Dave put all his tools to work that would send very definitive signals to any bucks in the area; not only was a doe in estrus right here ready and receptive to breeding, more than one buck was also here settling the matter of just who would claim the spoils of a fight about to happen.
A cautious forkhorn entered the stage well within range of Dave's stand that exited the scene after a short stay. Looking west through trees into a dropping sun, Dave watched an extraordinary rack above 4-feet of grasses as the buck responded to the calls. As the distance closed, the buck picked up on the scent that Goodwin had laid in the scrape and turned to come directly at him.
His hunting priorities would mean a clean shot, or no shot.
"I almost had a heart attack when I first saw him, and after the shot I was just numb," he said. Although confident in the shot, he also asked for a bit of help. "Please God. Let me have made a good shot on that deer."
A field prayer answered. The Rage broad head had taken the heart and left a blood trail making a quick recovery certain. Dave had taken the extraordinary, near 300-pound buck captured on trial camera days before. Not including six busted points, the buck carried 16 points with 6-inch diameter antler bases and a 17-3/4 inch spread. The buck also had a unique middle though broken antler with its own base.
"I could not believe the size," Goodwin said. "He was everything I thought, and more. My prayers were answered. I was blessed."
Just another day in Goodwin paradise, defined simply by a sunrise and a sunset. This day though… brought a little something extra in between.
A GREAT TRADE
Laborers local 113-
Dave Goodwin is president of LiUNA Local Laborers Union 113. As a third generation blue-collar professional who understands the mutually-beneficial relationship of employer and employee, he is perhaps the best advocate for the trades and in particular, his laborer's union. "Ours is the most cost-effective trade out there," he said. "We work with all the trades. We're first on the job and the last to leave."
He refers to a "trickle-down effect" as vital to both keeping the quality of work high and maintaining safety on the job. That same term might also be used to define both his own start in the trades and his introduction to the outdoors. This acorn didn't fall far from the family tree.
"My grandfather, Wilbur Scott, was an iron worker, a master rigger, "he said. "My dad was a lineman. I was working at a power plant and met guys that granda had mentored. I found out from them that he was legendary."
His grandfather also learned that his grandson at 16 was testing different bows on the archery lanes, and told Dave's mom that he would make the purchase. "Grandpa said, 'he wants to hunt. Get him what he needs. I still have the Pearson Renegade".
Goodwin stressed that laborers who bring a willingness to work and a safety-first attitude can make a great living. After 25 years with Local 113, he should know.
"The opportunities are right at your fingertips," he said. "All you have to do is reach out and grab them. Show up on time. Be safe. Do your job right. Respect your union and the company you work for. And those opportunities are not just for men. Women are also welcome and excel in the trades. I've been blessed with the people I've worked with."
Connect with Laborer's Local 113 at www.linua113.org. Ask for your future.