A Wreath of Christmas Memories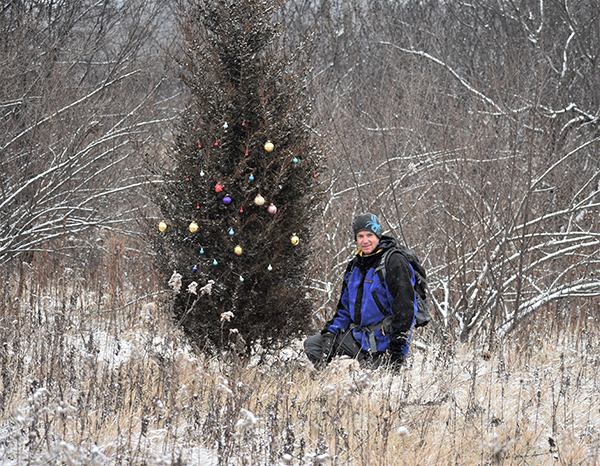 Merry Christmas from the wild corners of Wisconsin
By John Luthens
Back in the good old days, when I was still working my way back and forth to school both ways uphill in the snow, and the wonder of Christmas still spread before me like an endless forest full of promise – the entire family stuffed into the station wagon and bounced into the northern wilds to pick balsam boughs for the making of Christmas wreaths.
The adventures we slid into while packed inside our balding-tired sleigh were vast: stretching down winding river bottoms and tunneling through snowy glades; mazes of fragrant balsam to wander through, beaver dams to cross, grouse leaping from the pines and drumming across the sights of our swiveling shotgun paths.
My friends preferred to ship off in their Sunday best to the department store to guzzle candy-cane sugar and bounce up and down on a bearded, fat man's lap in order to get amped up for the holidays, but for me, it was the smells of pine and gunpowder and the thrill of a grouse on the wing, not to mention the heart-pounding anticipation of whether or not our sleigh would start at the end of the day to roll us back to hillbilly, tinsel town.
Indeed, if those packages of joy couldn't lift a budding, outdoor journalist into the holiday spirit – then there was no merriment left in the seasonal world. It was Christmas gone wild, ripping balsam presents from the very trees themselves and running free in the woods.
Alas…times change. They pushed me kicking and screaming like a toddler who is pee-in-the-pants mortified of Santa, but I was shoved by the bullying line into the lap of work and worry and forced to leave my playground of balsam groves behind, rolling now through season after season of sterile holiday wreaths like a toboggan out of control, watching the branches turn from green to brown and discovering more and more with every passing year that modern-day Christmas seems to prefer the confines of shopping malls to the snowy reaches of the forest.
I now find myself living 20 minutes outside the city limits of Milwaukee with far more Christmas lights hanging from the green and red advertising billboards along the interstate than there were in the entire northern town that I grew up in. Christmas wreaths in this neck of the woods spawn from parking lots disguised with strings of bright lights and four-way speakers blasting remade holiday tunes – an urban jungle of cheer where running wild and free only gets you plowed over and left for dead in a slush pile by a parade of speeding shoppers in gift-wrapped SUVs.
Call me old-fashioned, call me a Grinch, but it was humbug thoughts as these that drove me from the twinkling, festive lights of my suburban house on a windy, snow spit day in December, stalking down the street like a modern-day Scrooge, ignoring the festive lights of trees in the passing windows and stepping off the sidewalk into a fallow spot of land where a neighboring farmer has held tight to 40 acres of field and wood lot windbreak despite the protests and greed-filled offers from scores of bulldozing, modern developers.
In a good-will gesture of yore, the farmer and I have a gentlemanly agreement that releases me to roam his field with no payments due other than purchasing a wagon-full of pumpkins from his patch come Halloween, the timely delivery of a tin of fresh-baked cookies to his door come Christmas, and the even trade of a holiday wave when our paths happen to cross in town.
A windswept hay field and a handful of brush tangles may seem meager shillings compared to the grand riches of my childhood, balsam wilderness, but peace on earth is relatively hard to find these days, and it seems to me a modern miracle that a single, hard-working farm family living on the edge of town can manage to give so much of it away and expect so little in return.
The street lights of town at my back, the sad trudge of nostalgia for days gone by in my step – fortified with a mouthful of Christmas cookies and a half-pint of eggnog in my coat pocket – I stumbled off to search for remembered ghosts of Christmas past. Perhaps the true spirit of the season wasn't dead; perhaps it was only lost in the tangles on the edge of town. I set into the fields to build a wreath of Christmas memories.
My first stop was a tangle of wild grape vines rising like an impassable barrier on the far side of the hay-field. Purple delicacies hang in bunches from the branches in autumn, and I recalled the day I picked a bucketful and offered it as cool refreshment to my neighbor, who was mowing the final crop of hay in the hot glare of Indian summer.
His lips puckered with the first taste and he spit seeds down the side of the tractor. He promptly declined my bucket. "No wonder I can't make any money farming this piece of land," he choked. "Seems all I can grow are sour grapes that taste worse than field rock."
I squirmed in and ripped a vine from the thicket for the ring of my wreath, twisting it into a passable circle. There were still shriveled grapes on the highest branches that even the birds had declined. The farmer was spot on. The darned things were worse than sucking on rotten lemons.
A clatter rose on the wind from the picked corn on the far side of the thicket, and when I crawled through the vines to see what was the matter, I found that every goose in the county who didn't have a winter passport to warmer climes was pecking at leftovers in the stubble.
I stalked close enough to convince myself that I may have bagged a Christmas goose in lieu of my remembered partridge, picking a handful of ornamental feathers to decorate my vine ring before slowly backing away and leaving them to their endless squabbling. I probably would have missed anyway.
A dead raccoon caught my eye, laying face-up three rows into the corn stubble, slowly becoming swept over in December snow with sad and silent eyes peering at the geese. So much raucous noise and life alongside the reality of death; Christmas Carols in the animal kingdom are oftentimes harsh when sung by the cold voice of Mother Nature.
I'll concede it's not very festive imagery, unless, of course, one wanted a coon skin cap to tie onto a wreath instead of a red ribbon bow. With dark thoughts like these, there are times that I'm fearful of looking in the mirror at the cynical creature I've become. I let the poor critter be and moved on in a more humane direction to find some holiday boughs.
A windbreak of Norway pines that helps block the northwest gales of winter from picking up a head of steam and drifting into the streets of town is one of my favorite places along my neighbor's field. The tress are ramrod straight and form a needled tunnel of warm light that arches for 100 yards. When the wind is right, the noises of cars and people and town are swept away in the rustling of the pine branches.
Clipping enough boughs to fill a knapsack, I spread my pruning along the row of trees until I felt it would take a seasoned tracker to tell I had passed through the pines at all. I picked dropped cones on the outskirts for just the right touch, standing and listening, hearing the chatter of squirrels and watching above as a field hawk screeched and soared. I pondered in the blowing snow. How on earth could I have been so bitter at Christmas in such a land as this?
Every wreath needs a final touch, some lights, or maybe a bow, but definitely not a skinned-out raccoon – I believe we've already skidded and fallen on that frigid bridge of holiday insanity. I was working my way home through the thickets when I found the perfect finish. A pile of tail feathers from a wild turkey were scattered along a fallen log, and I was deep in contemplation of whether it was a coyote or a fox that had committed the holiday murder when a flash of white caught my eye. Shining like a Christmas star amidst the feathers was the half-shed of a spike buck.
What a find, and antler had only been partially chewed by field mice! I grabbed the spike and a handful of turkey feathers, threw them in Santa's sack along with my goose feathers and my stack of pine boughs, and flew off to my Christmas workshop.
I left the garage door up and joyfully watched the snow fly. I doused the grape vine in water to keep it bent it into a circle. I wanted the wreath to be 100 percent organic, just like I remembered, but I needed something supple and strong to tie the boughs around the grape vine. I thought of running back to the field and stealing a strand of the farmer's barbed wire, but I was afraid of ending up on the naughty list and not getting the Christmas fly rod I've been begging for.
I settled on using braided, tip-up line, calculating that by the time the lakes freeze up to make for good ice fishing, Santa might well have come and gone. As an afterthought, I went ahead and scratched some new line on my Christmas wish list, too.
When I was very young, the best part of wreath making was always the boundless adventure involved in picking the boughs. The wreath making, itself, tended to be monotonous and hard on the fingers.
Now that I've been forced to grow up, I've finally come to appreciate the joys and craftsmanship that go into the assembly. A couple of pine cones, a few feathers and a deer antler; just the right amount of nails splintered into the woodwork, and the magic of the season looks sharp on the front door. When she sees it, my wife is going to get as swept away in the joyful waves of the Christmas spirit as me!
Author's note: The wreath gets to stay, but Mrs. Claus was unseasonably adamant that the feathers and the antler had to go. And the nails holes in the door are looking like they'll remain a touchy subject far into the New Year. Bah Humbug.
John Luthens is a freelance writer from Grafton, Wisconsin. This story is an excerpt from his upcoming book, Writing Wild: Tales and Trails of an Outdoor Journalist. His first novel, Taconite Creek, is available on Amazon or at www.cablepublishing.com or by contacting the author at Luthens@hotmail.com