Winnebago Sturgeon Spearing Report – Thursday February 21, 2013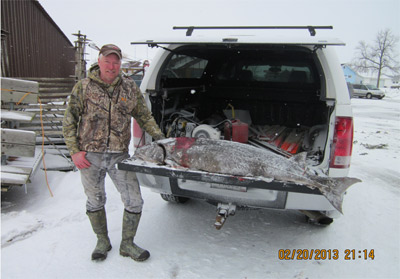 The 2013 sturgeon spearing season is really starting to wind down, only 3 more days left for spearers to pursue that fish of a lifetime! That is until next February when it all starts over again, but that is a long ways off. Harvest picked up slightly today, with a total of 14 fish (2 juvenile females, 6 adult females, and 6 males) being harvested from Lake Winnebago. Today's harvest brings the season total on Lake Winnebago to 260 fish and a total system-wide harvest of 521 fish. The big fish trend continued today with 2 fish >100 pounds being registered, 1 at Jerry's Bar and 1 at Wendt's. The big fish of the day (73.7", 102.1 pounds) was harvested by Kyle Boelter and registered at Jerry's Bar. The 100+pound fish registered at Wendt's was a 69.0", 100.3 pound sturgeon that was harvested by Lance Ziemer (photo attached). Lance is a director for the Southwest Chapter of Sturgeon for Tomorrow and is also a representative currently serving on the Winnebago Citizens Sturgeon Advisory Committee. So thank you Lance for your service as an active part of the sturgeon community and congratulations on your fish!
Today's Vignette, "Poor water clarity doesn't just make for a long season for spearers"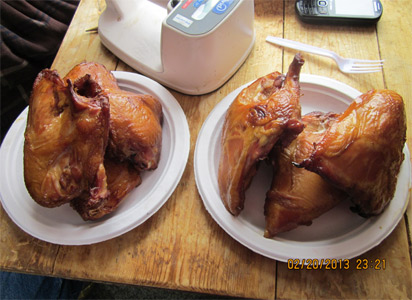 Given the poor water clarity, and thus the low harvest rates on Lake Winnebago, the 2013 sturgeon spear fishery will be the third straight 16-day spearing season. Some spearers are weekend warriors, while many are diehards that attentively glare down a sturgeon hole for every day of the season. Memories of the rush that accompanied past fish combined with the prospects of harvesting that next fish, possibly a 100+ pounder, keep them coming back for more day after day. These long 16 day seasons don't only wear on the spearers, but also wear on our DNR staff working registration stations. Some stations have gone many days this season without registering a single fish. I can speak to the excitement, or lack thereof, of such days, as I operated the Payne's Point station most days during the 2011 and 2012 seasons. I would work by myself on many of these days and maybe register a few fish throughout the day. I, like other staff, would always bring my laptop with me and complete some other work while waiting for the next fish to come in. Other staff and I have also adopted cooking traditions during slow registration periods. We pass the work time by using our laptop computers to write reports and keep up on our email workload during the day, or in some instances bring along projects to work on or equipment to repair or construct, and then utilize our lunch periods to craft some tasty menu items. Given that the majority of our staff are sportsmen and sportswomen, these recipes typically involve some sort of "critter" that either flew or roamed the earth in their former life. Over the last few years I'm sure that just about every type of wild game has been prepared in any way imaginable at one of our registration stations. Today was no different for our crew at Wendt's, where smoked chicken and potatoes were served for lunch. I assure you that the food did not disappoint and exceeded expectations of all (attached picture)! If these long seasons continue, some of our staff may be able to film home cooking shows on ways to prepare wild game during slow registration periods. Hopefully for the benefit of all (spearers and our staff), conditions will improve during the upcoming seasons and this will not be the case!