Ashland Area Fishing Report for June 25, 2015
~ Fishing guides Roger LaPenter and Luke Kavajecz from Anglers All, 715/682-5754 (http://www.anglersallwisconsin.com), report the following:
This report is about the Ashland side of Chequamegon Bay. The smallmouth fishing is great with plenty of fish around, including in the shallows and wherever there are structures under the water.
"There are still a bunch of smallmouth up shallow," noted Luke Kavajecz, guide with Anglers All in Ashland, "but there are a few fish venturing out into the usual summer haunts."
Everything is in transition now with some fish starting to move away from the shoreline, according to Carolyn Swartz, Anglers All co-owner. "The warm-water fishery has turned on out in the bay."
She explained that this time of the year walleye, bass, northern pike and other species tend to "all hang in the same places" because they are "all following the bait fish."
"Folks after walleye are working the edges of the channel and sometimes the bottom of the channel during high-sun days," said Carolyn. "The humps have been holding some fish as well."
She said anglers are still getting a few walleyes out by the rock pile, and over the weedbeds using crawler harnesses and stickbaits.
"Sometimes it's better to move around a little more this time of year if you're not finding fish," Luke said. "Fish should still be shallow for another couple of weeks and then the deep bite will be on."
For the most complete and up-to-date fishing report, just give them a call at Anglers All and they will gladly keep you informed!
~ The Ashland Area Chamber of Commerce, www.visitashland.com, 1-800-284-9484, reports:
Fishing is always a thrilling adventure in the Ashland area! Chequamegon Bay is famous for its world-class smallmouth bass fishing.
One of the most exhilarating cycling tours in the Midwest takes riders on a picturesque woodland adventure featuring sweeping panoramic views of Lake Superior. A certified Travel Green Wisconsin event, the 11th annual Superior Vistas Bike Tour hits the road on Saturday, June 27.
This family-oriented bike tour is a non-competitive, eco-friendly, multi-loop bike ride (not a race) that is presented by the Ashland Area Chamber of Commerce, Washburn Chamber of Commerce and North Coast Cycling Association.
Superior Vistas is a fully supported ride with route map, "sag wagons" (support vehicles), signs, toilet facilities, and food/beverage rest stops along the way and at the finish. Some routes overlap so participants can decide to shorten or lengthen their ride as they wish. Riders can choose from loops of 13, 19, 34, 52, and 70 miles. There is also a 40-mile "out and back" tour up to Cornucopia and a century (100-mile) ride.
For more information or to register, go to www.superiorvistas.org.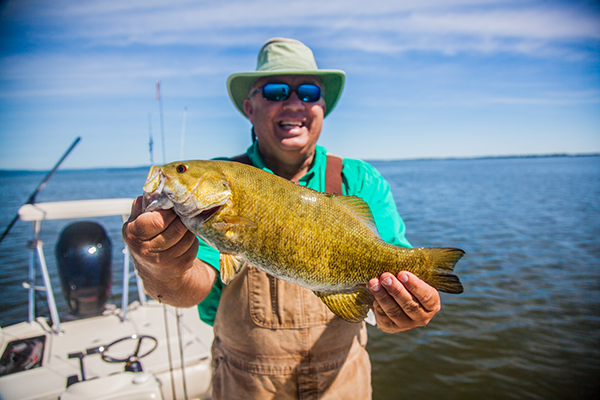 A smiling gent named Benny from Arkansas poses with a nice Chequamegon Bay smallie. According to Anglers All fishing guide Luke Kavajecz, who took Benny out on the lake, "We had to keep moving around this day to find the fish, but the action was steady and the weather was great." (Photo courtesy of Luke Kavajecz)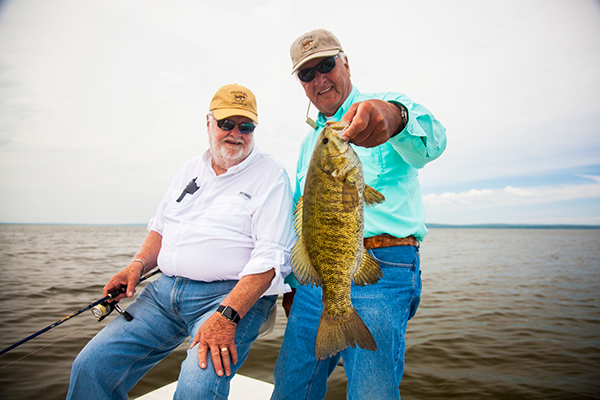 Larry and Marion from Stuttgart, Ark., recently spent four days fishing for bass on Chequamegon Bay with the folks from Anglers All in Ashland. "The fishing was great, but Marion cooked us ribs one night and I'd have to say that was the highlight of the trip!" said guide Luke Kavajecz. (Photo courtesy of Luke Kavajecz)