Richland County Wisconsin Hunting and Fishing

---
Although Richland County has been unseasonably warm, deer season was successful for my 13 year old niece, Kaili this year. She looks forward to opening weekend with her dad and older sister, and I'm proud to say out hunted their crew this season by shooting her first buck.

Besides the hunting season, it's time for the holiday season. Rotary of Richland County is hosting the 1st Annual Rotary Lights in the Park, located in Krouskop Park in Richland Center. The lighted tree display opened Wednesday, November 21 and will be open until Wednesday January 2. Check the Richland Chamber & Development Alliance's website, www.richlandchamber.com for hours of operation or call the office (608)647-6205.

Sherry Klatt
Customer Relations Manager
chamber@richlandalliance.com
Richland Chamber & Development Alliance
P.O. Box 128
Richland Center, WI 53581
---
Richland County Fall Fun Report

Fall is fast approaching and Richland County is full of activities. As an indicator of what's ahead, this weekend was the 150th Richland County Fair and to kick things off on Wednesday evening some of Richland County's finest came out to show off their skills in the "Hug-A-Hog Contest". From our local locker plant butchers, to our doctors, and even a bride with her maids made their appearance. Fun for the entire family!

Also fast approaching is the Center Color Fest weekend to kick off the start of the fall harvest and then onto Hybrid Redneck Rally races. Check out our website for more details on all activities looming on the calendar, and like us on Face Book!

Thank you,

Sherry Klatt
Customer Relations Manager
chamber@richlandalliance.com
Richland Chamber & Development Alliance
P.O. Box 128
Richland Center, WI 53581
---
Explore Wisconsin - Richland County
Richland Chamber & Development Alliance

Richland County, located in southwestern Wisconsin, invites you to Relax, Recharge and Explore! Take a drive, ride your motorcycle or grab your bike to enjoy our scenic country roads. Experience jaw dropping fun and excitement at the Richland County Fairgrounds, and RIDE THAT SNOW, don't just shovel it! We have 134 miles of groomed trails ready for you to enjoy!
Check out our website for a listing of events in our area!
---

Click here to read Dick's field story from Richland County.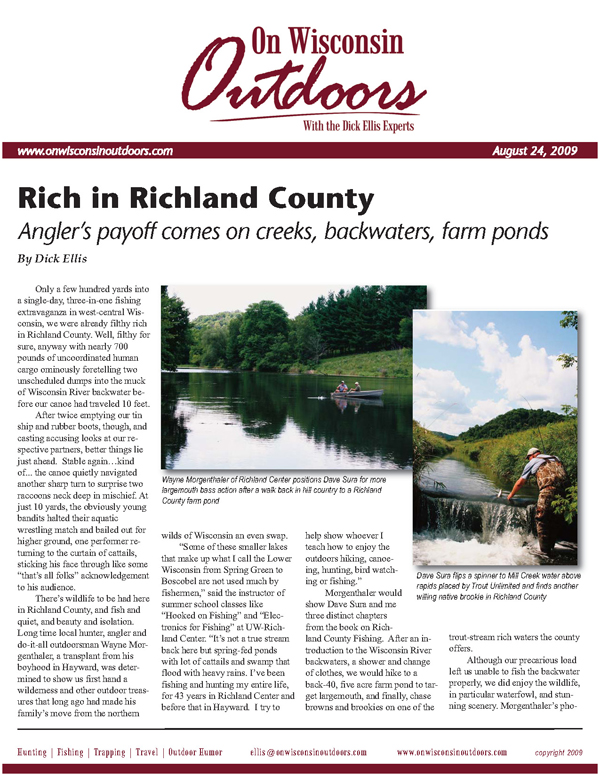 ---
Explore Wisconsin