Oneida County Wisconsin Hunting and Fishing
Explore Wisconsin - Oneida County

Minocqua Area Chamber of Commerce
Arbor Vitae - Minocqua - Woodruff
800.44.NORTH
Welcome to the Minocqua Area - Nature's Original Water Park. We call it that because it's located in the middle of Northern Wisconsin's Lake Country. Here there are thousands of lakes, rivers and streams that literally saturate the geography. And vacationers have long been visiting the Minocqua Area to enjoy all this water by boating, swimming, fishing, snowmobiling and more. There's no admission fees and we're open year round!
---
Read Dick's Story from the Minocqua Area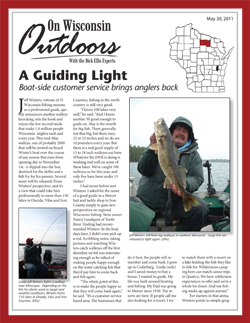 A Guiding Light (5/30/11)
Jeff Winters, veteran of 31 Wisconsin fishing seasons as a professional guide, quietly announces another walleye knocking, sets the hook and enjoys the few second tussle that make 1.4 million people Wisconsin anglers each and every year. This mid-May walleye, one of probably 2000 that will be invited on board Winter's boat over the course of any season that runs from opening day to November 1st, is slipped into the box, destined for the skillet and a fish fry for his parents. Several more will be released. From Winters' perspective, and it's a view that could take him professionally to more than 150 lakes in Oneida, Vilas and Iron Counties, fishing in the north country is still very good. "I know 100 lakes very well," he said. "And I know another 50 good enough to guide on (continued)...
---

ATV Trail Maps for Oneida County
The link above will redirect you to the Wisconsin ATV Association website (www.watva.org) where you will find county ATV Trail Maps.
Explore Wisconsin