Wolf Hunt Meets Harvest Goal
Are state population numbers far understated?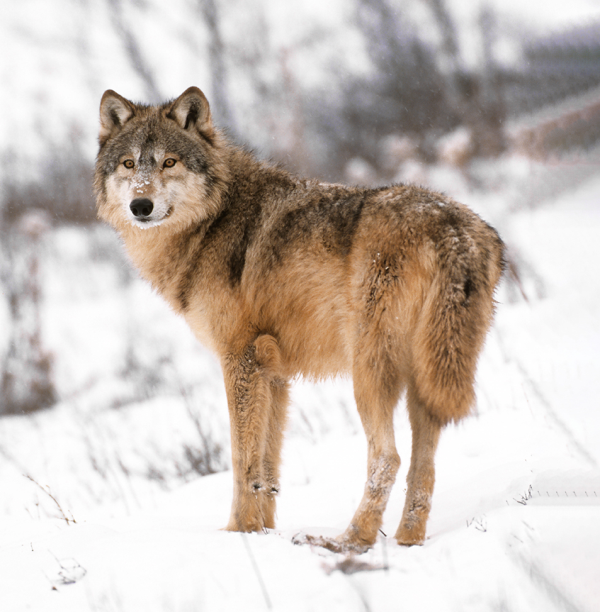 Wisconsin hunters took just three days to harvest 216 wolves during the February hunt, reinforcing the belief of thousands of Wisconsin sportsmen that the official stated population of 1195 wolves is significantly below the actual count. The harvest of 216 wolves is 8 percent over the harvest quota of 200 wolves unanimously voted for by the Natural Resources Board on February 15. Heading into the hunt, 119 wolves were allocated for state hunters with permit holders determined through an application/drawing process, and 81 wolves allocated to the Ojibwe Tribes in accordance with their treaty rights within the Ceded Territory.
"Putting the season together, we're looking for a quota that will not result in a significant population change," said DNR Wildlife Biologist Randy Johnson at a media briefing held Feb 25. "The population models are a big part of that and yet there is also always uncertainty."
"There's still a probability that a quota of 200 may reduce the population or it may allow the population to expand. At 216, we're at a relatively small percentage over total quota. I would say there is low concern at a population level of any significant effect there."
Following established precedent, the Ojibwe tribes elected not to contribute to harvest numbers despite claiming their allotted quota of 81 wolves. In Wisconsin's three previous wolf hunts held in 2012/13, 2013/14 and 2014/15, the Ojibwe also claimed their allotment but did not participate in the hunt, contributing 0 wolves to each harvest total. Contacted directly by OWO, a spokesman for the Great Lakes Indian Fish & Wildlife Commission (GLIFW) said that approach remained consistent going into the 2021 hunt.
"As in previous wolf hunting and trapping seasons, Ojibwe tribes opted not to issue permits to individual tribal members," said Charlie Otto Rasmussen for GLIFW. "For Ojibwe leaders and wildlife managers, the best use of tribal wolf quota declarations is to keep live animals, live wolves on the landscape, performing their important role in maintaining healthy ecosystems."
"Statewide wolf hunting seasons are not an effective approach to addressing local livestock depredations. Hunting wolves is not necessary to protect humans. This past season is an example of poor wildlife management, made worse by the state's inability to control the kill."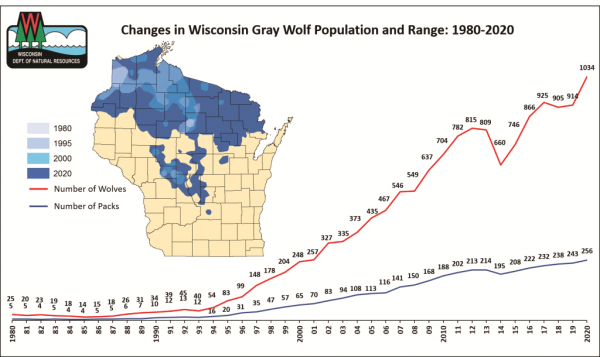 The 1999 Wisconsin Wolf Management Plan, and 2006/2007 addendum, established a state management goal of 350 wolves. As the above graph shows, that goal was met in 2004. Since then, through a series of legal moves, proper management has been prevented allowing wolf numbers to skyrocket. As of this writing, and taking into account the 216 wolves taken during the 2021 hunt, Wisconsin's wolf population is still 629 above the recommended Wisconsin Wolf Advisory Committee goal of 350.1195 (Wisconsin DNR stated wolf population before the 2021 hunt) -216 (Number of wolves taken during the 2021 hunt) = 979 (Present Wisconsin wolf population).979 (Present Wisconsin wolf population) – 350 (Wisconsin Wolf Advisory Committee recommended goal) = 629 (Wisconsin wolves above the recommended goal).
On Wisconsin Outdoors' Publishers respectfully disagree. A total harvest goal of 200, almost precisely hit, was the priority and should be the post-season focus. After four consecutive non-contributing harvest seasons by the Ojibwe, future management goals should acknowledge and accept that 0 will be a constant regardless of harvest allotment claims by the tribes. State harvest goals should be set higher accordingly; this after all is a game management issue.
From extensive personal field experience in the north country, years of discussion with trappers, avid hunters and wildlife experts, and ongoing scrutiny of Wisconsin wolf management, other related subjects need to be addressed. Problems include apparent inaccurate pack and overall population counts and proper correlating harvest goals; and wolf predation of whitetail deer particularly in the high wolf population territories of Wisconsin that have negatively affected both deer hunting participation and the overall economy.
A state recovery plan initiated in 1989 set a goal of reclassifying the wolf from state endangered to threatened once the population remained at 80 or more wolves for three consecutive years. The 1999 Wisconsin Wolf Management Plan and plan addendum in 2006/07 delisted the wolf from state-threatened to a non-listed species when the population reached 250 and set a management goal of 350 animals outside of tribal reservation lands.
The real story following the 2021 harvest season is that the Wisconsin wolf population is approximately 630 animals over the recommended management goal if we accept the state pre-hunt population count of just under 1200 animals. Common sense, though, and the post-season harvest number of 216 wolves taken by Wisconsin hunters in just three days provide anecdotal evidence that the wolf population is probably much higher than 1200 animals. Expert trappers and hunters utilized and trusted as sources of expertise for decades by this outdoor columnist place the population conservatively at 2000 animals.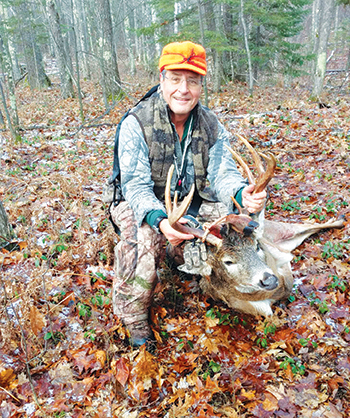 Bayfield County hunter Jim Johannes with the only buck he has taken since 2006. "What was once a quality hunting experience is now an exercise in futility," he said, pointing to an explosion of wolf numbers.
As efficient as the Wisconsin hunter is, hunters even using dogs would not be able to take more than 18 percent of the Wisconsin population in less than three days if 1200 accurately reflected real numbers, especially knowing that the wolf is a wary and elusive prey. They also point to population counts ignoring non-traditional wolf territory south of highway 64, and missing packs and lone animals both on southern terrain and in traditional count areas north. They provided OWO trail cam evidence as evidence
Many Wisconsin deer hunters believe the population is much higher based on increased sightings of wolves and sign, and decreased sighting and harvesting of deer in direct correlation. Many label the sighting of deer as rare or even non-existent.
"I have hunted northern Bayfield County for 58 years," James M. Johannes emailed OWO February 28. "I know the area I hunt very well and I have witnessed and understand the cyclical impact that winter, forestry, bear, coyote and bobcats have on the deer herd. There have, however, been two noteworthy changes over the years in the area I hunt. The first is pulping activity which has been extensive and should have been great for the deer herd. The second is the secular explosion of the wolf population which I know from trail cam pictures is at least twice the latest DNR estimate in our area."
"The fact that it is nearly impossible to find a deer, or any sign of deer, in our heavily pulped area attests to the overwhelming impact the wolves have had on deer. What was once a quality hunting experience is now an exercise in futility. If this continues it will be nearly impossible to interest future generations of hunters in partaking in the once great tradition of quality big woods public deer hunting in Wisconsin."
OWO Bear expert and columnist Mike Foss misses quality deer hunting in northern Wisconsin. He labels the decline in the deer hunting experience directly related to the increase in wolves, devastating. The conflict, he said, between those who make management decisions and the hunting public is coming to a head.
"It's growing to a boiling point but it's a good thing that it is moving toward that," he said. "People need answers. They want truthful answers. And they deserve it. We're losing our tradition of hunting in Wisconsin."
__________________________________________________________________________________________
Proper Management of Wisconsin Wolves will be good for all concerned...including the wolves.
Wolves, like all animals, need to be properly managed. The Wisconsin Wolf Advisory Committee recommended a management goal of 350 wolves for our state in 1999, and reaffirmed that number in 2007. That goal was met in 2004. Since then, a series of legal moves has prevented proper management and allowed the wolf population to skyrocket. Today, following the 2021 hunt, Wisconsin still has approximately 630 more wolves than the recommended management goal of 350.
This is not a question of some people liking wolves more than others; I count myself among those who like them. Rather, it's a simple question of proper wolf management. 350 wolves was recommended for Wisconsin and 350 wolves should be the management goal going forward. After 3 consecutive years of a stable population of 350, the impact should be assessed and numbers adjusted accordingly. That will serve all concerned...including the wolves.
John Ellis
On Wisconsin Outdoors