Wisconsin Spring has Sprung… in More Ways than One
Now it starts. Too much to keep up with in Wisconsin, and that is one nice problem for an outdoorsman.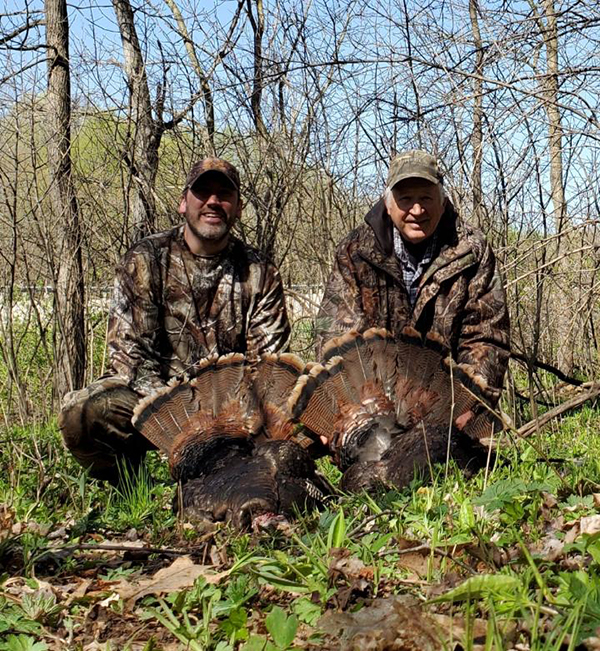 OWO Columnist Wayne Morgenthaler and his son Neal spelled double trouble for two Richland County gobblers after four days of not filling tags.
We put the May-June issue of On Wisconsin Outdoors to bed last week with 100,000 copies being distributed statewide. Look for your copy at any Kwik Trip statewide…that's 400 stores give or take. Don't forget breakfast and a coffee when you're headed to the field.
I was crawling around in the mud and puddles of southeast Wisconsin two days before we went to press because we still didn't have a cover shot that we liked and there was a monster gobbler just daring me to shoot him with the camera. I never did get him close enough after 90 minutes in the field, but two Sandhill's dropped out of the sky 30 yards from me and demanded equal time.
The issue is also posted here on our homepage if you're an online reader. We have lots of tourism stories if you're looking for a quality Wisconsin trip, fishing the Great Lakes from shore (Arlee Rainbow) to charters, lake fishing, stream fishing, Mississippi River tactics, and every species from jumbo perch to King salmon. We have deer hunting features, bear hunting how-to's, upland game hunting and birddog training stories, morel hunting, recipes, Cochran cartoons, product 6-pack, and a ton from the OWO gun cabinet. There is a lot. Check it out.
Thank you for reading. And thank you too when you buy something necessary for your outdoor world to take a good hard look at our advertisers before making your purchase. They enable us to bring every paper to you at no cost.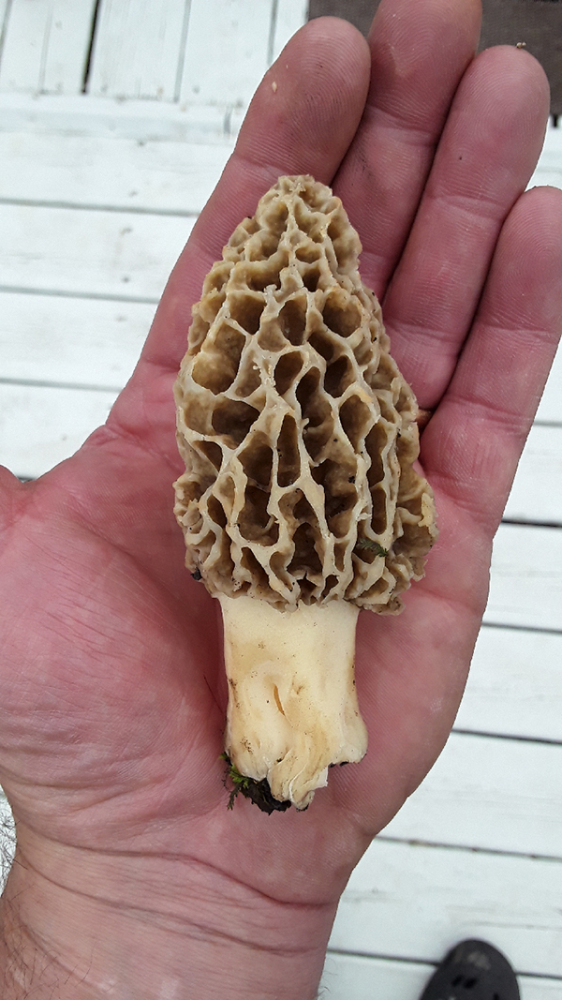 Scott Heitman found this 'Pope & Young' morel to start the season May 6.
Speaking of morels…as a write this May 7, good buddy Scott Heitman let me know that he finally hit pay dirt after coming up empty for 5 straight days of checking his honey-holes. They come up fast when they decide to come. But they don't last long (15 day total cycle according to one website) with everyone and their brother looking because of the feast the morel offers. So get out there. Scott called his morel pictured here a "Pope & Young" mushroom, covering his whole hand. If you have not hunted morels, it's so worth it. Make sure you do a little internet research of your own to make sure that you're eating the safe shrooms. Or, like me, just have your brothers eat them first and wait 60 minutes.
OWO writer Wayne Morgenthaler and his buddy Jim Heiar got into some jumbo perch taken on the Mississippi River from Richland County on opening morning. You can also read about Wayne's history chasing jumbos on the river in the new issue. But this photo is worth a 1000 words.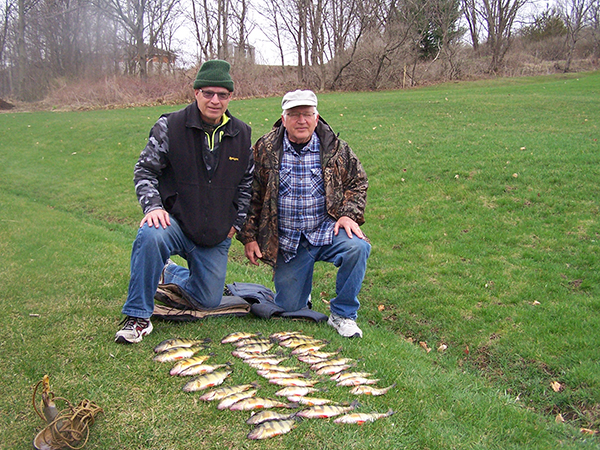 Wayne Morgenthaler and Jim Heiar got into the jumbo perch on the Mississippi River despite inclement weather opening day.
"Jim and I went on a cold windy morning over to the Genoa dam hoping to catch a few perch," he said. "The conditions were so bad that we had hardly any competition. We used whole nightcrawlers and fished the bottom with an egg sinker and red hook. We waited quite a while before a school of them swam in. Then the action was hot and heavy."
Wayne and his son Neal Morgenthaler also scored on pair of gobblers in Richland County. Wayne is the ultimate surf & turf man but having Neal in the blind meant double trouble for Tom…and Tom.
"Neil and I were on our fourth morning of hunting," Wayne said. "Perfect conditions with a light rain falling and no wind. We were in a tent on the edge of a field. Turkeys were active and we heard a gobble behind us about 8 am. Two toms showed up about 300 yards in front of us. I am a bad caller and my son said 'don't call'. To make the story short… the two gobblers came right over to us, and we shot both of them at 27 yards."
Based on sparse sign when scouting, my brother Steve Ellis did not have high expectation heading out season 2 in the Mead Wildlife Area near Wausau. Steve has had success hunting the vast Mead in the past and knows where to look for scratching mainly in oak stands for signs of the feeing birds.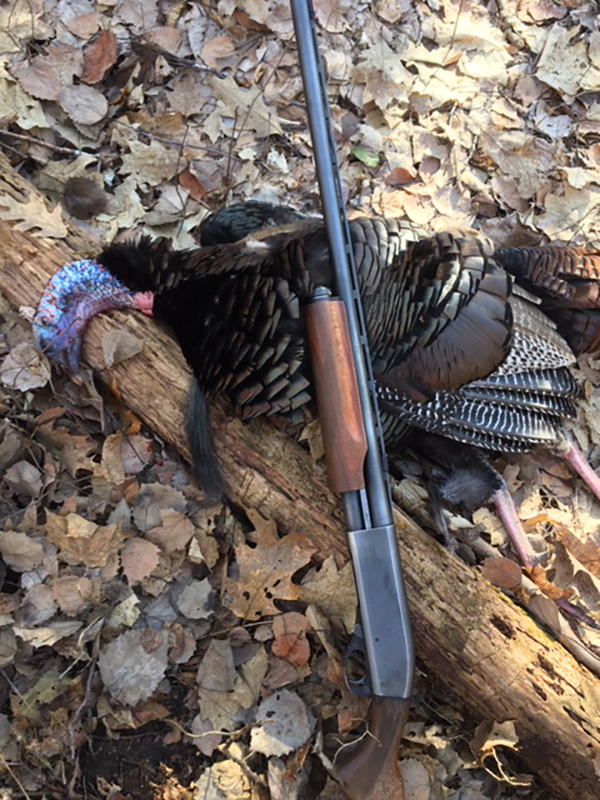 Steve Ellis won this battle with Tom in the Mead Wildlife Area near Wausau.
After no action during the early morning hours and no reaction to his calling, he headed deeper into the Mead and was pleasantly surprised to hear a very distant gobble looking for companionship. He took off on the run for 200 yards toward the bird, and plunked down against a tree to start a conversation.
Periodically, the talk continued until Steve shut up and waited quietly with Tom obviously cutting the distance. When he saw the bird though, the gobbler's path was going to miss the ambush a bit left, so Steve had to move the gun barrel around a sapling. The movement stopped the gobbler in its tracks, but so did the load of # 5 shot Steve sent from the 12 gauge.
A clean kill is always something to be thankful for. The turkey is one tough bird. I remember when Wisconsin first traded three grouse for every turkey received from Missouri, as a young reporter I asked a DNR wildlife expert how far north they hoped the bird would expand their territory. Not further north than mid-state was the answer, due to Wisconsin's tough winters. As we know, turkeys do quite well today on the shores of Lake Superior. That is a tough bird.
Let me tell you another thing about hunters growing older. In the old days, my brothers would pass around photos, say, of a recently tagged buck. The responses would include, maybe "Nice spread….great mass…how much did he weigh?" These days, for example, Steve sent a text with the wild turkey pot pie his wife Sandy had made from the bounty. "Nice flaky crust," came the responses. "Beautiful!" "The perfect mix of gravy and veggies…"
Steve is considering framing the photo for his trophy wall.
Yes, we're old. By the way, Steve caught his limit of great walleyes on opening day in Iron County. We're waiting for photos…and expecting Sandy did an excellent job with the batter.
Now I'm hungry. And I'm getting a little misty thinking of the venison tenderloins with bacon wrapped asparagus Lori made me on Saturday and the marinated wild turkey shish-ke-bob she made us on the grill on Sunday. Tomorrow is my birthday and although she's trying to hide it, how do you hide the sound of an electric beater working on that triple chocolate cake? What a woman, and a beauty too.
Brother John Ellis and I traveled to a huge private farm we've hunted in Grant County after pounding on the door for permission 20 years ago. John would be the trigger man with his season 2 tag, and I would be the camera man. Great hunt, but if the ultimate measure of success is a filled tag, it was a day of so close, but oh so far.
Thirty minutes after daybreak, we had a gobbler 60 yards from the decoy and coming hard when two young hunters came over the rise in the field and sent Tom scurrying. I don't think we've seen 2 hunters in 20 years. Two hours later, John pulled a beautiful gobbler in but I was set up 50 yards to the right of John on the woodline with the telephoto. The very cautious bird approached from my right, but abandoned the field to hit the woods and approach the decoy from cover. He almost ended up in my lap before he headed for the hills, with his "Putt…Putt… Putt…" telling his friends he had almost made a very fatal mistake.
John and I separated so that I could freely attempt to photo a strutting Tom and John could tag a bird with me not wrecking the approach. I set a decoy, took a stand 40 yards inside a wooded elbow on the field, and pulled a running gobbler from the woods within 5 minutes with a raspy mouth call. Sometimes things just work. I had him strutting at 40 yards for 40 minutes, but we wouldn't come to my shooting windows and the photos shot through the blowdown weren't clear. The farmer on his tractor eventually ended the game. And sometimes things don't work. We went home a little short on our intended mission but long on a fabulous day in the field.
The orioles are here. Put out a small dish of grape jelly (it works better than a half of orange) and enjoy the show. Lori and I had Orioles all last summer. Give them a reason to hang tight.
Thanks for connecting with On Wisconsin Outdoors. Shoot straight.
Dick Ellis