Wisconsin Deer Hunters in a Rut
If the deer season is the flagship of all hunting sports in Wisconsin, eagerly anticipated annually by 600,000 hunters, and it is, then the precious days of the October/November rut are without doubt the gem within the gem. These too fleeting days of whitetail mating activity when even the biggest bucks become vulnerable to archers and gun hunters mean no doubt that more tags are filled and stories of missed bucks told than at any other time of the year. Nature's drive to sustain the species is the great equalizer that evens the playing field for hunters.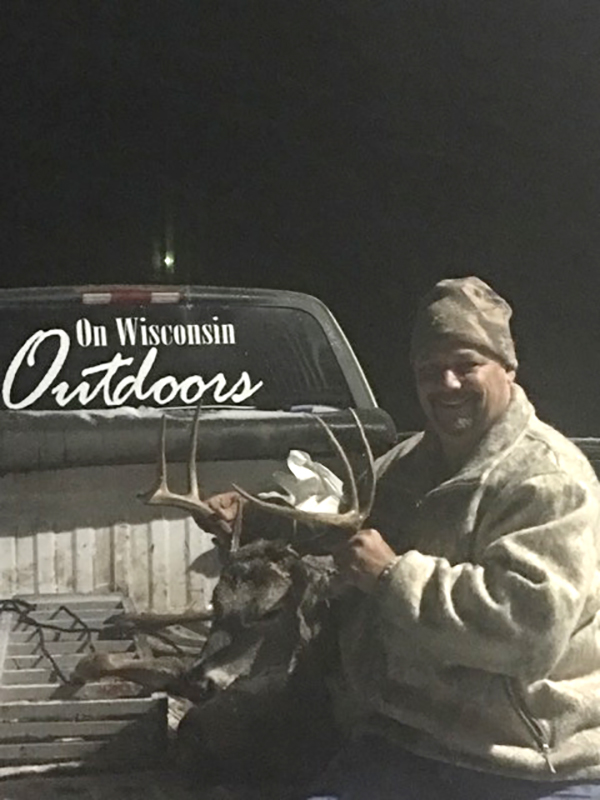 OWO bear expert Mike Foss scores on his first buck with a bow in eight years in northern Bayfield County.
Here among the On Wisconsin Outdoors' experts, our writers don't restrict themselves to their known area of expertise. Everyone, it seems, also bow hunts. This week, bear expert Mike Foss scored on a beautiful eight-point buck in northern Bayfield County and sent this photo of his first deer taken in Wisconsin in eight years. As many of us know, deer hunting northern Wisconsin has been brutal over the last decade though deer numbers gradually improve with needed restrictions on baiting and feeding and bucks only regulations. OWO fishing guide Phil Schweik also came in big time with an 8-point buck while hunting near Wausau, and brought a great story along with it.
Foss was hunting two good bucks and shot this nice buck off a recently logged off area after making one literal change in his approach. Sitting in a maple left by loggers, he did not like the idea of wearing his standard, darker camo. "My stand was in a huge maple left by loggers and with any kind of darker camo I was going to stick out like a bear in a birch tree," he said. "There was no snow on the ground but I changed to a skyline cover off-white camo. It worked absolutely perfect. Not one deer looked up at me. It made the difference."
Mike said he is thrilled with tagging a great buck after so long a wait but he already is preparing for the muzzleloader season. He knows there is at least one other good buck still out there.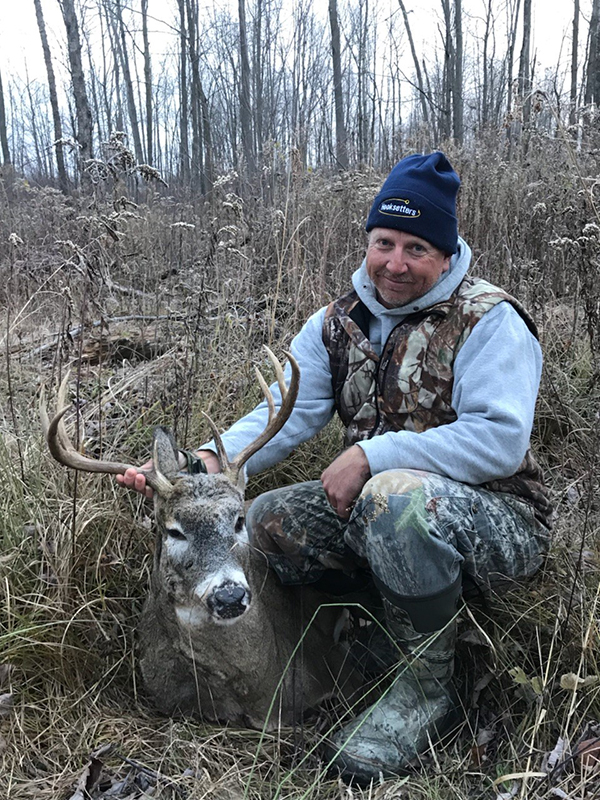 OWO Fishing columnist and super guide Phil Schweik took a temporary break from the river to take this great buck near Wausau.
Make sure to stay current on Phil Schweik's weekly fishing reports posted on this website under Inland Fishing. It's been one of the best fall seasons ever for musky fishing on the Wisconsin River he said, with more fish and bigger fish taken than ever before and only four muskies taken on Quick-Strike sucker rigs. The large majority, he said, have been taken by casting lures like Bulldogs and Suicks. Indicative of his year, last week's catch included a 49 inch and 50 inch musky caught and released on the same day along with a 30-inch walleye.
But let's talk about Schweik…the bowhunter. Phil also actually bear hunts too, gun deer hunts and anything else that time allows him to do in the Big Outside when he's not in a boat. Client demand for his time though, means that time is very limited.
On Sunday afternoon, October 29, he was in a stand and passing shots on several does when a good 8-point buck appeared near dark working down a cornfield edge. At 70 yards, he weighed whether to use his grunt call but the wind was not favorable to the tactic so he let the buck move on naturally and well out of sight before leaving the stand for the night.
On Halloween, Schweik's fishing client cancelled and he again had a few unexpected hours to hunt the rut. This time, the wind was right for the stand if the buck cooperated with the same traveling route and at 2:00 pm that is exactly what it did. Schweik saw the same big buck working a scrape and a licking branch on the same field edge where he had seen the animal two nights before
Schweik grunted at the buck and he responded by first pawing at the ground before moving off in the opposite direction, much to the hunter's disappointment. Ten minutes later, Phil thinks likely after checking another scrape, he returned. This time Schweik used his doe bleat call, and the buck's head snapped up from the scrape and he began cautiously walking right toward the stand "three steps at a time".
At 60 yards, another deer crashed in the brush behind the stand and the buck again wandered away, with Phil working the bleat call. The buck now, though, detoured to another tree and spent the next 45 minutes eating apples. The buck eventually walked away again and Phil again worked the bleat call in an excruciating long battle of man against nature.
The buck looked back from 70 yards as another deer broke brush behind Schweik's stand. When Schweik looked again he could not locate the buck at all until the animal again lifted his head and sizeable rack. One more bleat on the can call and the buck turned to come in again. At 45 yards, it becomes clear that if the buck continued his same approach, Phil will have a broadside shot at 35 yards. The real advantage is that the buck is not reacting to the bleat call with any haste, an approach that Schweik has seen before.
"When I use my grunt call the buck will either move away quickly or come right in wild," Schweik said. "With the doe bleat, he sneaks in. This buck took two or three steps in over one-half hour. When it got down to the end of this hunt, I could feel my heart pounding through my chest. It registered for the first time that I was likely going to get a shot at this big buck. I told myself to relax and settle down. I had watched him for an hour. Now it was down to him taking one more step."
The buck cooperated, and Phil sent an arrow toward the front shoulder at 35 yards. He watched the pass-through hit and knew immediately from the amount of blood as the buck turned that the 2-inch cut rage broadhead had done the job as advertised. The buck walked off with Phil last seeing the deer in high grass 80 yards from the stand.
Not wanting to push a buck that may not yet be dead, Schweik exited the scene and without a guide trip until mid-morning the next day, returned with a friend in daylight. The 8-point buck with 16-1/4 inch inside spread was laying a short distance from the high grass where Schweik has last seen hm.
And if you think that a good hunting story from a great fisherman…check out his musky stories from the Wisconsin River now.
I'm heading out for a 3-day bowhunt. Thank God we actually have writers to bring you success stories. Thanks for connecting with On Wisconsin Outdoors. Shoot straight.
Dick Ellis