What to Chase?
Duck, grouse, pheasant, and deer have each been taking their share of our time in northern and southern Wisconsin and it has been, oh so fun. But for the next week, we're so heavy into final production of the On Wisconsin Outdoors' November-December issue that I personally am getting no field time at all. And I don't like it. The good news is that my free time will come the first week of November when those rutting bucks will be chasing the Hooper triplets and oh so stupid.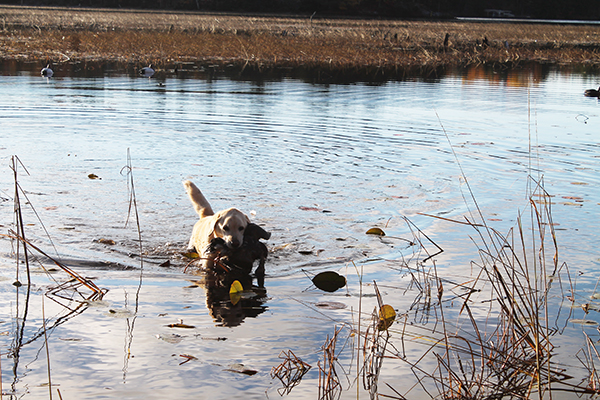 Dylan is on a greenhead that falls over the decoys in Vilas County.
Speaking of OWO, so many new national and locally-based advertisers have come on board with us that we will have the largest paper ever with a lot more color. I do like that, and thank our new and ongoing advertisers for having the confidence in us to keep this train moving forward. We appreciate it more than you will ever know.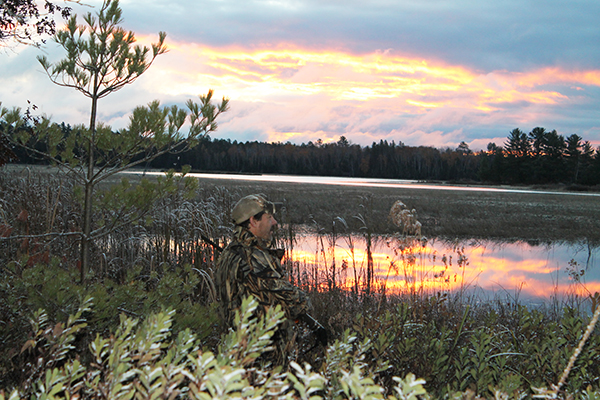 Todd Cook brings in another morning on a Vilas County backwater.
Pick up your free copy of OWO the first week of November in any Kwik Trip store in Wisconsin or any O'Reilly Auto Parts store. E-mail me direct at ellis@onwisconsinoutdoors.com if you are not near a Kwik Trip or O'Reilly's (not likely) and I will point you toward the closest Wisconsin business carrying the paper. Do you know that Kwik Trip distributes more than 30,000 papers for you outdoorsmen and women statewide? When you grab a paper, grab some gas, food, coffee and start your next hunting or fishing trip with Kwik Trip. We honestly have for years and it's a habit you will Kwikly find out you do not want to break. That is one quality place for product and service. Seriously, finding an unfriendly Kwik Trip employee is like finding a Viking Super Bowl trophy. Also, if you do need auto parts, there are several chains to choose from in Wisconsin. Who is bringing you the world of the outdoors at no cost?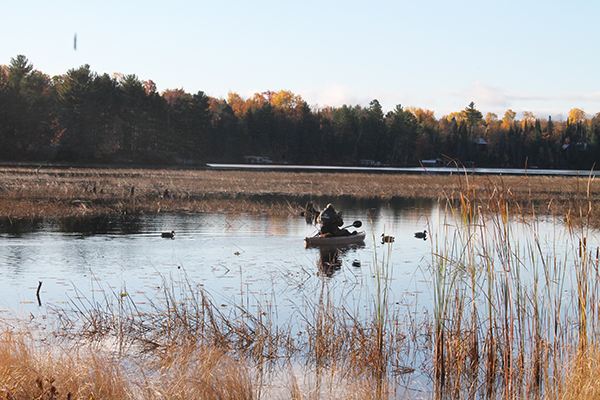 Todd Cook of Beaver Dam, a Conservation Congress Delegate for Dodge County picks up the decoys.
Long time friend Todd Cook of Horicon and I traveled to our cabin in Boulder Junction to chase ducks and grouse. We stopped in Lomira and the Midwestern Shooters Supply Friday where Todd picked up a great Savage 555 over-under .28 gauge shotgun as a grouse gun from owner Randy Boelkow. Todd baptized the gun with one shot and one grouse down but it was not for lack of birds. We flushed about seven birds in each of our two-hour hunts, but the foliage October 16 was still so thick that we couldn't shoot. The birds are abundant but apparently very streetwise. They obviously have been hunted, and often flushed at 50 yards or greater distances from our approach. Steve Ellis is reporting good bird action north of Vilas County, and scored on two grouse a few days before I write this. Rocky did the flushing and retrieving duties.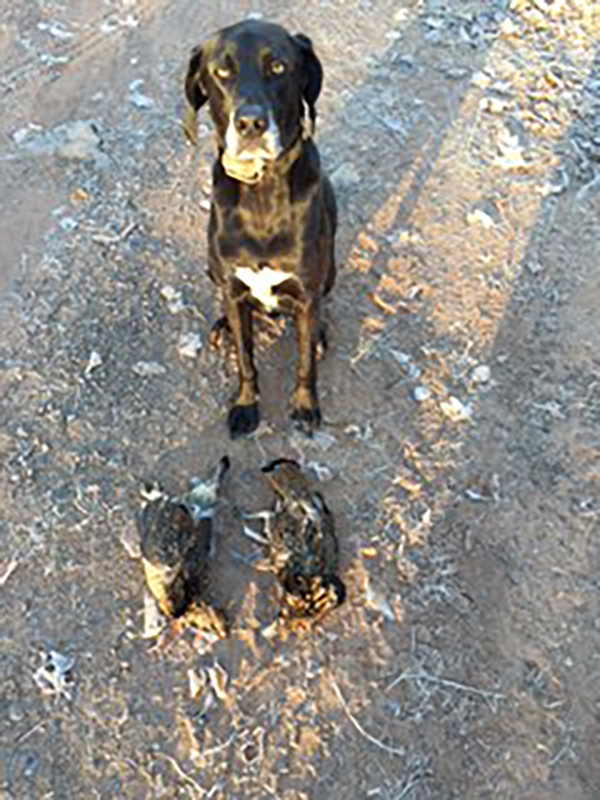 Rocky and his two grouse reward for doing such a good job of flushing and retrieving the birds hit by Steve Ellis in Iron County
We had some luck on ducks, but with better shooting would have had a very good trip. In addition to mallards, a few woodies were still hanging around with the nice weather but some isolated cold fronts also sent the first flocks of ringnecks down. We probably saw five flocks, including one ball of 15 birds that strafed us and kept right on going after weathering the flak storm we threw up. Darn Todd….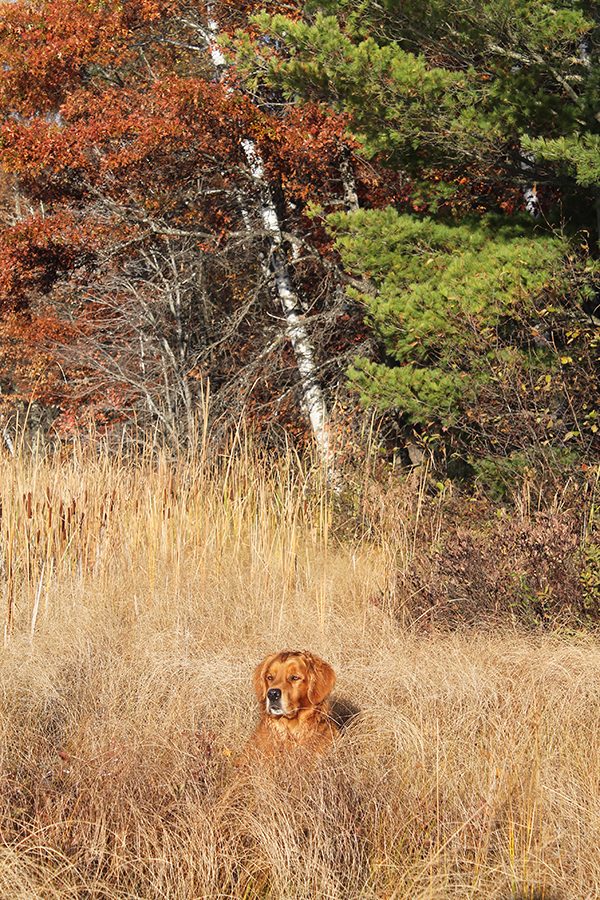 Big Mikey ponders walking life with an outdoor writer who can't shoot.
John Ellis and I hunted pheasants with our good advertiser, Wern Valley, last Wednesday and came home with 6 birds. John did the good shooting, but he let me clean the roosters. Wern Valley west of Waukesha offers a real nice pheasant strain that run a long way or hold tight before flushing. It's a great place to train your dog or keep them in shape and I love a good pheasant meal, preferably as part of shish-ke-bob. You can also buy already cleaned birds for a few bucks, and I have done that, but I did clean these myself. Sometimes it's good to remember our roots; including cleaning and using everything we take in the field.
I'm a sinner. I have not been in a tree yet, but, I am shooting now daily and am getting to that "deadly" level with the bow and arrow at 30 yards so that I feel confident heading into the rut. Still have to deal with the "controlled" buck fever, and the anything that can happen will happen in the field reality. Still, I will spend many hours in my stand in both southern and northern Wisconsin as soon as these OWO papers hit the shelves, and my money…is on me. I think Max Baer said that before fighting Jimmy Braddock.
Send your buck and doe photos to us for posting online. Send your fawn photo too brother Jim. Thank you for connecting with On Wisconsin Outdoors. Shoot straight.
Dick Ellis